British jockey Hollie Doyle's remarkable 2020 season can't be considered a breakout campaign in light of her record 116 victories last year. But Saturday at Royal Windsor, Doyle broke out bigger than ever, becoming the first woman in the history of British horse racing to win five races in one day.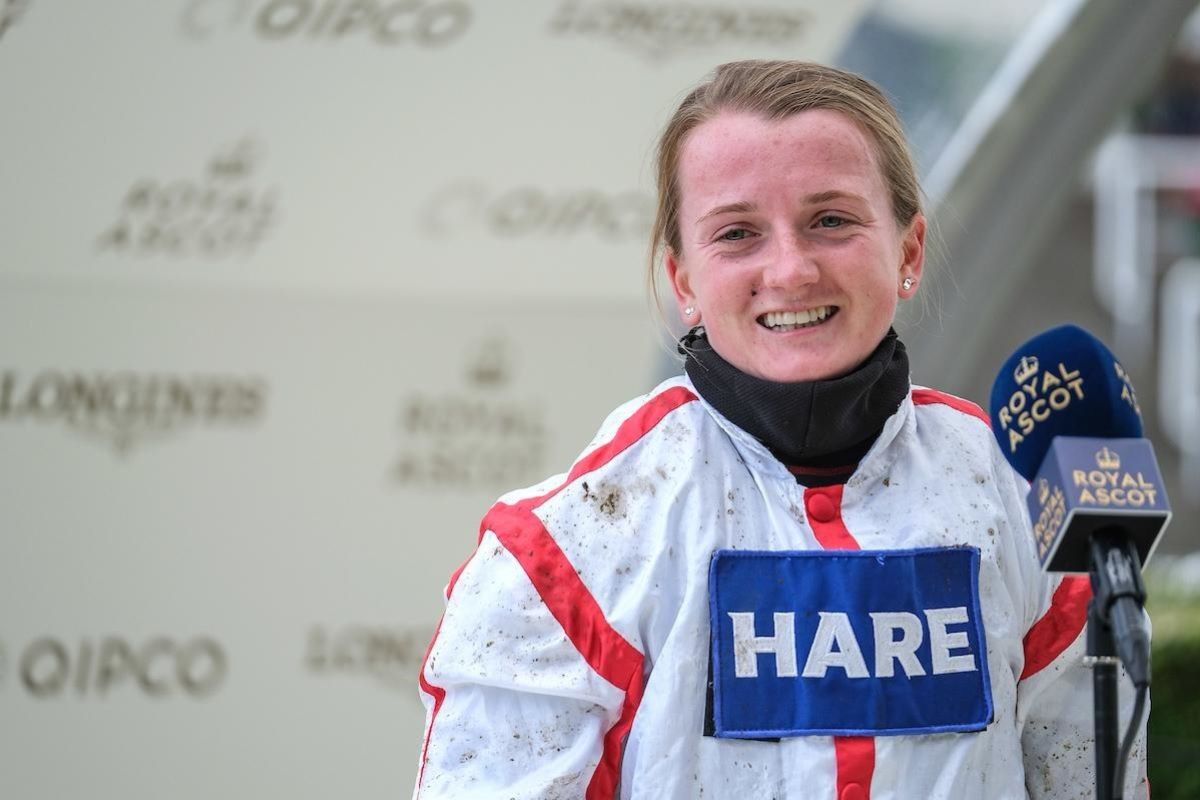 The 23-year-old Doyle went 5-for-8, winning the second, third, fifth, sixth, and eighth races. Despite riding low-priced horses – none of her rides went off higher than 11/4 — Doyle's five winners produced cumulative odds of 899/1.
"I thought it'd go one way or the other. I thought, this could be a good day or a really bad day," Doyle told the Racing Post.
It didn't start off well. Doyle opened the day finishing off the board on 4/5 favorite Dewey Road. She opened her account, however, in the second race aboard 3/1 Indian Creak, then brought home the double in the next race aboard 11/4 Sur Mer.
Extra Elusive Proves Exactly that Under Doyle's Hand
Doyle's fourth-race mount, Maurimoin, scratched. It was no matter since Doyle picked up where she left off, piloting 3/1 Le Don De Vie to the Listed August Stakes title. Then, Doyle picked up her biggest win of the day, capturing the Group 3 Winter Stakes aboard 3/1 Extra Elusive. That raised her already soaring stock in the mind of trainer Roger Charlton, who fought the talented but temperamental 5-year-old for two years.
"I'm really pleased for Hollie as it was a great ride," he told the Racing Post. "Hollie is remarkable, very strong. He's not an easy horse and is quite keen, but she had him very settled there."
Doyle was self-effacing about the entire day, but not about her trip aboard Extra Elusive, who entered August winless in his last eight races. Doyle took Extra Elusive's reins earlier this month at Haydock, snapping the two-year drought.
"I really like him and I trust him," she said. "I understand how to ride him and keep him happy. We seem to get on all right. He's got bags of ability and physically, he's beautiful. Jammy, aren't I?"
Five Wins for Five Trainers
After missing the board in the seventh aboard Aljalela, Doyle jammed in the eighth, capping her five-spot aboard Mistress Nellie, a low-rated (52) 5-year-old mare who went off at 11/4. That victory gave Doyle five wins for five different trainers.
Doyle's talent isn't exactly a secret. Her 116 victories in 2019 destroyed Josephine Gordon's two-year-old mark (106) for wins by a woman jockey in a calendar year. Last month, she won four races in one day at Wolverhampton. That came a month after Doyle won her first Royal Ascot race aboard Scarlet Dragon in the Duke of Edinburgh Handicap.
This explains why prominent horse owner Imad Al Sagar, who owns Extra Elusive, made Doyle his go-to rider. Getting Al Sagar's mounts should ensure Doyle breaks 100 victories again this season.
"I'm really blessed to get the leg up on these type of horses – good horses. I'm jammy to get the job with the owner, but I'm delighted," she said.