Money not lost is just as sweet as money won. In other words, sometimes, the best decision you can make is the decision not to bet on something that looks too easy. These fundamental laws of sports gambling are something to keep in mind when parsing over the many hundreds of Super Bowl betting propositions.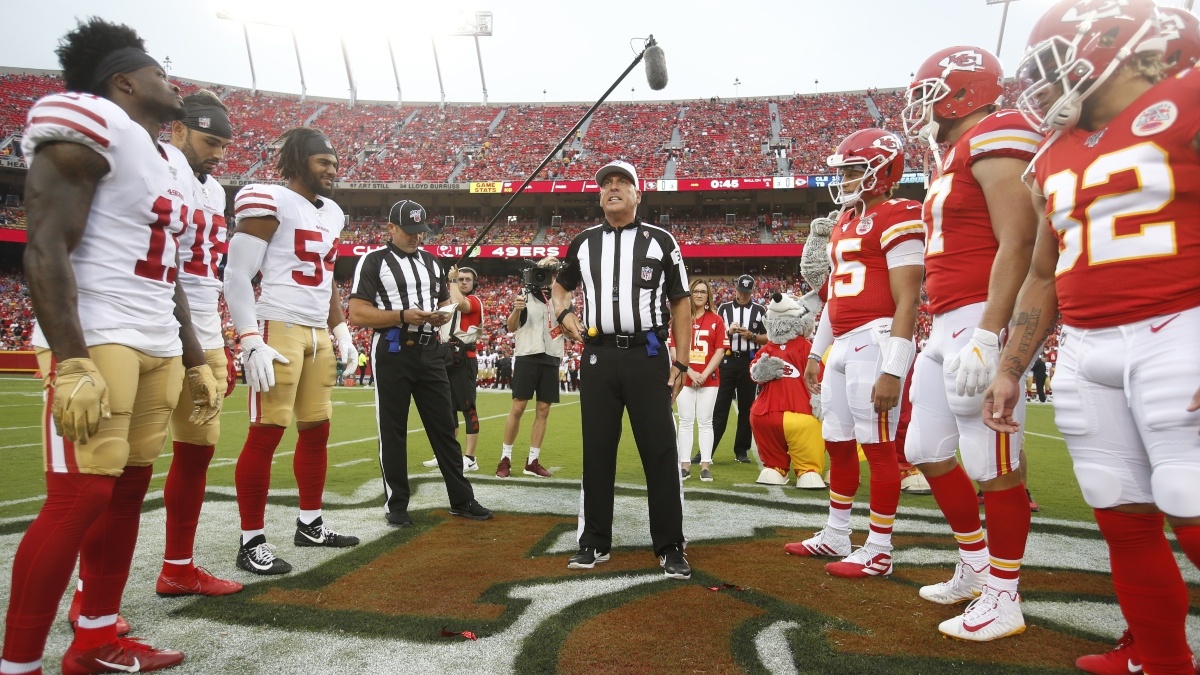 Super Bowl proposition bets are a game all their own. It's no exaggeration to say there are betting opportunities on just about everything connected to Super Bowl LIV, from the national anthem to the coin flip, the halftime show, and the final commercial that will air on television. Oh, and then there's the football game.
Many of these prop bets are purely for fun. However, just as many of these seemingly outlandish wagering opportunities actually provide positive expectations to those willing to put in the time to research and uncover hidden gems.
Let's examine some of the popular props which usually attract public money, but which are, in fact, really bad bets. Here are five prop bets you should probably avoid.
[1] Will any player take a knee during the national anthem? (10-1)
The "yes," priced at 10-1, looks tempting given our current political division  Ex-49er Colin Kaepernick began a protest movement three years ago, which dominated the national dialogue. However, the protest has fizzled to some extent, and has largely been forgotten. It seems far-fetched for any current player — from either team — to re-ignite controversy by kneeling during the "Star-Spangled Banner." Certainly, this could happen after a moment of racial strife in a midseason game. The Super Bowl is entirely a different matter. It would be viewed as a distraction. Both teams are well-coached and highly-disciplined, so it appears the odds on a kneeling player should be much higher, perhaps 25-1 or greater. The price at 10-1 is a bad bet.
[2] Will the opening kickoff be a touchback (yes — priced at -150)
This is a horrible number, based on recent history. Since 1995, only two Super Bowl opening kickoffs have resulted in touchbacks (no return — ball placed at the 25-yard-line). That's two games out of the previous 25. So, why is this number priced at -150? Miami's enclosed structure does increase the chances of a long kickoff since wind or other weather-related elements aren't a factor. However, neither kicker is known for a booming leg. Add the adrenaline factor at the start of the game, where kick-returners want to run the ball out of the end zone (assuming the ball is kicked that far), and the touchback seems unlikely.
[3] Kansas City Chiefs Moneyline (-125)
Betting on the Kansas City Chiefs to cover the point spread is fine, which is currently priced at -1 (-115) or -1.5 (-110) — note that specific numbers vary by sportsbook. Yet the Chiefs have become priced way too high on the moneyline, relative to the spread. We now see Kansas City at minus 125, which means the bettor must lay $125 to win back $100. This is an additional and unnecessary 10 to 15 percent in vig for the sole purpose of picking up the unlikely outcome of a 1-point Chiefs win. In the previous 53 Super Bowls, outcomes decided by one point have happened only once (NY Giants vs. Buffalo in 1991). In a high-scoring game (total at 54.5) this 1-point outcome is even less likely. If you like Kansas City, lay the -1 or -1.5, but skip the moneyline, which is a sucker price.
[4] Will the total points scored be an odd or even number (odd at -137)
This is an outdated line based on old scoring patterns from decades ago. In early Super Bowl games, the most common numbers included 3 and 7 (odd) — which were easy to explain based on the points awarded for field goals and touchdowns. However, more recent Super Bowl games tend to be much higher scoring. They also include missed-extra points and two-point conversations. Now, "even" is catching up. To date, the final score has landed on an odd number 30 times and an even number 23 times. However, the even has won five straight. Betting the odd at -137 appears to be a terrible wager. Unfortunately, the even bet priced only at +107 doesn't provide much value either. Skip this prop.
[5] Will the 49ers blow a 28-3 lead (100-1)
Yes, this prop is really on the board. The prop stems from Super Bowl LI three years ago when the Atlanta Falcons' offensive coordinator was Kyle Shanahan (now the 49ers head coach). Allegedly, he was at least partially responsible for blowing a 25-point lead, and his team losing to the New England Patriots. Could lightning possibly strike twice? Well, no. It's a ridiculous price, even at 100-1. The true odds of this are probably more like 100,000-1. First, the 49ers would have to establish what amounts to a 28-3 lead, and then end up losing the game. The odds of this happening are so preposterous, it's almost incalculable. Although the wager is little more than a novelty, the 100-1 price is a joke.
Note: Check back again later. We'll have lots more content on props over the next few days leading up to kickoff on Sunday.