Heading into Game 3 of the Western Conference Semifinals, the Phoenix Suns hold a 2-0 lead over the Dallas Mavs. DraftKings posted player scoring prop bets and you can bet over/under points based on specific players on the Mavs (Luka Doncic, Jalen Brunson, Spencer Dinwiddie, Maxi Kleber) and the Suns (Chris Paul, Devin Booker, Deandre Ayton, Mikal Bridges) in Game 3.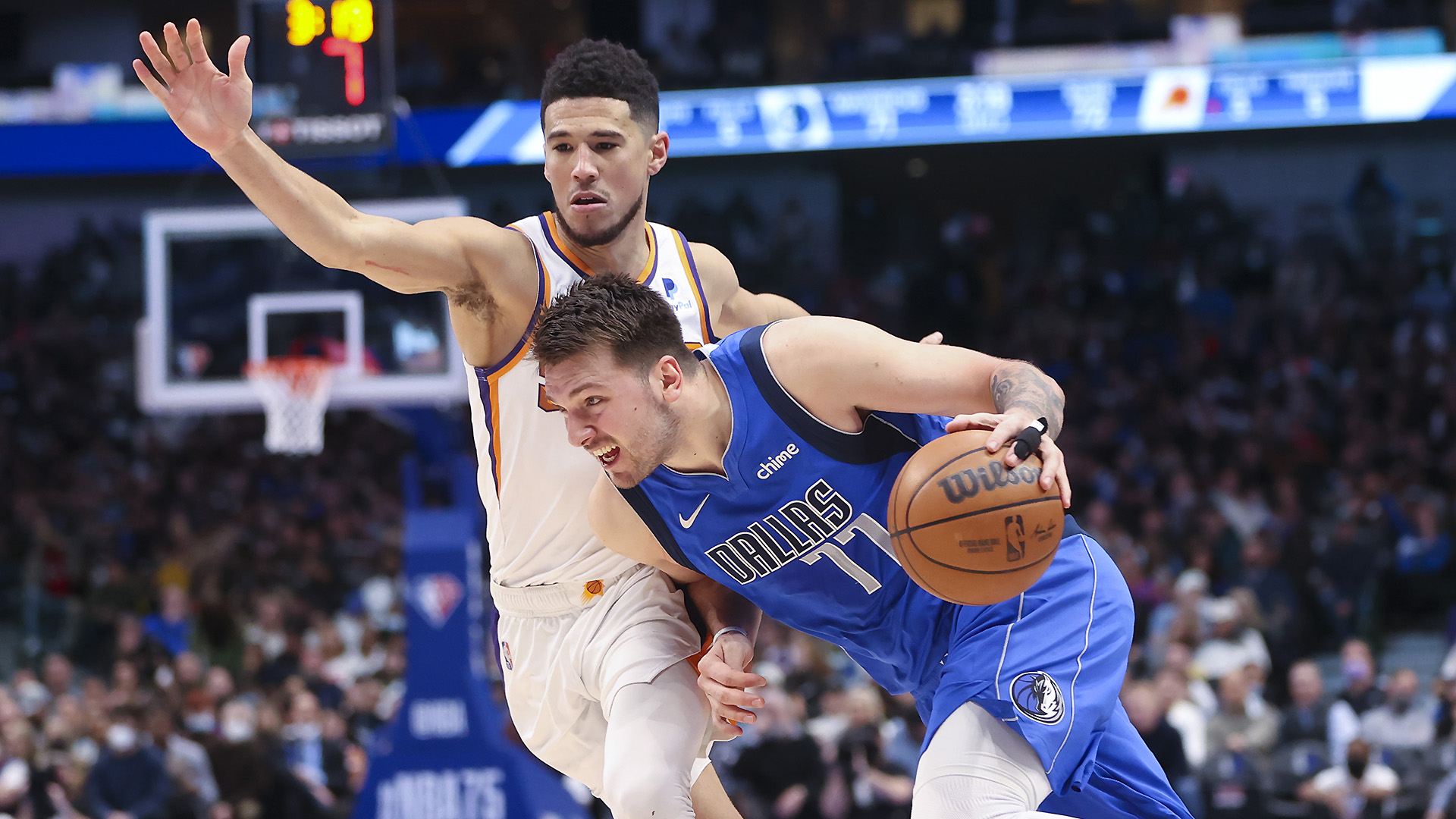 We're targeting Game 3 of the Suns/Mavs because Luka Doncic has been on fire in the postseason, despite missing the first two games of the playoffs with a strain calf injury. Doncic outscored his Mavs teammates in the starting line up in the first two games of the series. It's a Catch-22 situation for Doncic because he needs to score a lot in order to put the Mavs in a position to win, then again if he scores too much, then it takes his teammates out of their own scoring rhythm.
Doncic and the current Mavs face a classic conundrum where premier players on bad playoff teams must overcome. It happened with Michael Jordan and the Chicago Bulls in the late 1980s before Phil Jackson introduced the triangle offense and Jordan spread the ball around with his teammates. It occurred last year with Trae Young and the Atlanta Hawks. There's a fine line in which the offense runs through the hands of a superstar and they either jack up a lot of shots or try to involve their teammates, otherwise they're dubbed a ball hog (e.g. Kobe Bryant on the non-Shaq Lakers teams).
Suns Big 3: Booker, CP3, Ayton
Despite a hamstring injury and missing three games, Devin Booker leads the Suns in scoring in the postseason with 24.4 ppg. He's shooting a blistering 47.4% from 3-point range, 48.3% from the floor, and 94.7% from the free-throw line. Booker has an over/under of 26.5 points tonight, which is exactly his scoring average in two games against the Mavs.
A dominating Chris Paul dropped 33 points and shot a perfect 14-for-14 in a series-clincher in the first round against the New Orleans Pelicans. He averages 22.6 points and 9.9 assists per game this postseason, but he's only 17.5 over/under in points for Game 3.
Phoenix Suns – Game 3 Player Points Over/Under
Devin Booker 26.5 o/u
Chris Paul 17.5 o/u
Deandre Ayton 18.5 o/u
Mikal Bridges 14.5 o/u
Cam Johnson 9.5 o/u
Jae Crowder 8.5 o/u
---
Deandre Ayton was plagued with foul trouble in Game 2. Otherwise, he's been playing some of his best ball of his young career averaging 20.5 points and 9.8 rebounds per game in the opening round. If Ayton stays out of foul trouble, he can easily go north of 20 points with an over/under of 18.5 points in Game 3.
Cam Johnson plays the role of Sixth Man for the Suns who provides instant offense with the second unit. He averaged 12.5 ppg off the bench this season, and he's averaging 13 ppg in the first two games against the Mavs. He's had a quiet postseason so he's due for a big game.
Top Gun: Doncic Outscoring the Starters
Doncic is playing on a different level in the postseason and averages 40 points per game against the Suns, but he has not gotten any support from the rest of the team. In two straight games, Doncic outgunned the other starters 80-70 (45-39 in Game 1 and 35-31 in Game 2). With the other starters disappearing, Doncic shouldered the scoring burden in a losing cause.
Doncic has an over/under of 38.5 points in Game 3. If Doncic has another high-volume night, the Mavs will probably lose, but if the scoring is distributed more like it was in the regular season, the Mavs will have a better chance to win.
Dallas Mavs – Game 3 Player Points Over/Under
Luka Doncic 38.5 o/u
Jalen Brunson 17.5 o/u
Spencer Dinwiddie 11.5 o/u
Maxi Kleber 8.5 o/u
---
Brunson averaged 16.3 ppg in the regular seasons, but he stepped up in the first round with Doncic missing the first two games. He averaged 27.8 ppg against the Jazz including 41 points in Game 2. He's averaging only 11 ppg in the Suns series while shooting 16.7% from 3-point range. Mavs will be in a good position to win if Brunson can post 20-plus. His point total for Game 3 is 17.5 over/under.
Maxi Kleber averaged just 9.5 ppg this season, but he's one of the few players that increased his scoring output in the postseason. He's averaging 11.3 ppg in eight playoff games, including 14 ppg against the Suns. He's shooting 45.5% from 3-point range. We like Kleber to score double digits tonight, which exceeds his points total of 8.5 over/under in Game 3.
Checkout more coverage of the 2022 NBA Playoffs.