A couple of winning streaks got snapped last week, and the teams who lost, want to make sure they don't start a more dubious streak of losing two in a row.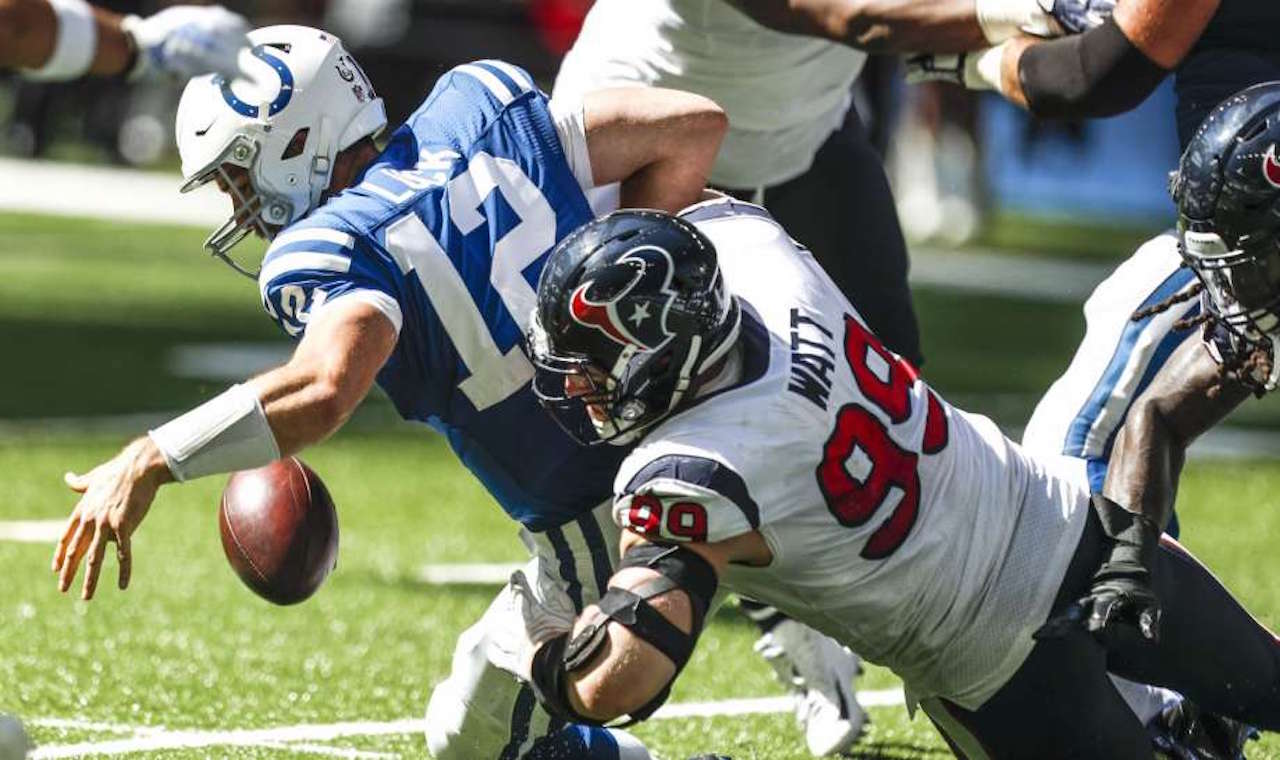 Then there are the teams that are trending in the opposite direction, desperately looking to get a win like the New York Jets did last week.
Below are five games where there are some streaks on the line, both good and bad.
1. Houston -6.5 at New York Jets
Houston saw its nine-game winning streak snapped against the surging Indianapolis Colts last Sunday. Now the Texans try and begin a new streak against the 4-9 New York Jets.
Traveling to play the Jets, and giving away only 6.5 points, seems like a great way for Houston to get back to their winning ways, and look to stay in the hunt for a first-round playoff bye.
New York also broke a streak last week, winning its first game in seven weeks. It was the Jets fourth victory of the year, and getting a fifth will be difficult here.
Take Houston and give away the points.
2. Miami +7 at Minnesota
Miami is a week removed from its upset of New England after getting nine points. Now they are a 7-point underdog against a Minnesota team that can't seem to score.
The Vikings have two touchdowns in as many games, and it cost offensive coordinator John DeFilippo his job.
Quarterbacks coach Kevin Stefanski was promoted to interim offensive coordinator, but can he do a better job? Miami is a step down from their last two opponents (New England and Seattle), so Minnesota should get the win at home.
Take Miami and the points.
3. Dallas -3 at Indianapolis
This game represents two of the hottest teams in the league with Dallas and Indianapolis. The Cowboys have won five straight, while the Colts have victories in six of their last seven.
Dallas is favored by three, but this could easily be a pick 'em. Indianapolis quarterback Andrew Luck picked apart a very good Houston defense, and could do the same this week at home.
The Cowboys, though, are looking like a team that has figured it out. QB Dak Prescott has now got a playmaker in Amari Cooper, and there is less pressure on him to carry the team.
Still the Colts should be able to prevail at home.
Take Indianapolis and the points.
4. New England -1.5 at Pittsburgh
New England was embarrassed last week at Miami and should be a much different team this week against Pittsburgh. This is the second road game for the Patriots, but putting them at 1.5 points seems a little low.
Especially when you consider the turmoil with the Steelers. As bad as the Pats loss was, Pittsburgh losing to the Oakland Raiders was much worse.
Steelers quarterback Ben Roethlisberger is probably for the game, but running back James Conner is questionable. The only injury for New England was a bruised ego.
Take New England and give away the points.
5. Philadelphia +12.5 at LA Rams
Philadelphia faces the conference co-leading Los Angeles Rams and will do so without their starting quarterback, Carson Wentz. Wentz will miss the rest of the year for the second straight season. Last year it was a broken leg, this time it is a fractured back.
Nick Foles was able to lead the team to a Super Bowl victory last year, but the defending champions are nowhere near that form. Instead they are just trying to get to .500, and it doesn't appear to likely it will happen this week.
The Eagles began as a 9.5-point underdog, but the line jumped to 12.5 after news of Wentz's injury surfaced.
Take the Rams and give away the points.