Golden State Warriors guard Stephen Curry will sit out a two-game road trip after injuring his right ankle during the team's victory over the San Antonio Spurs on Thursday.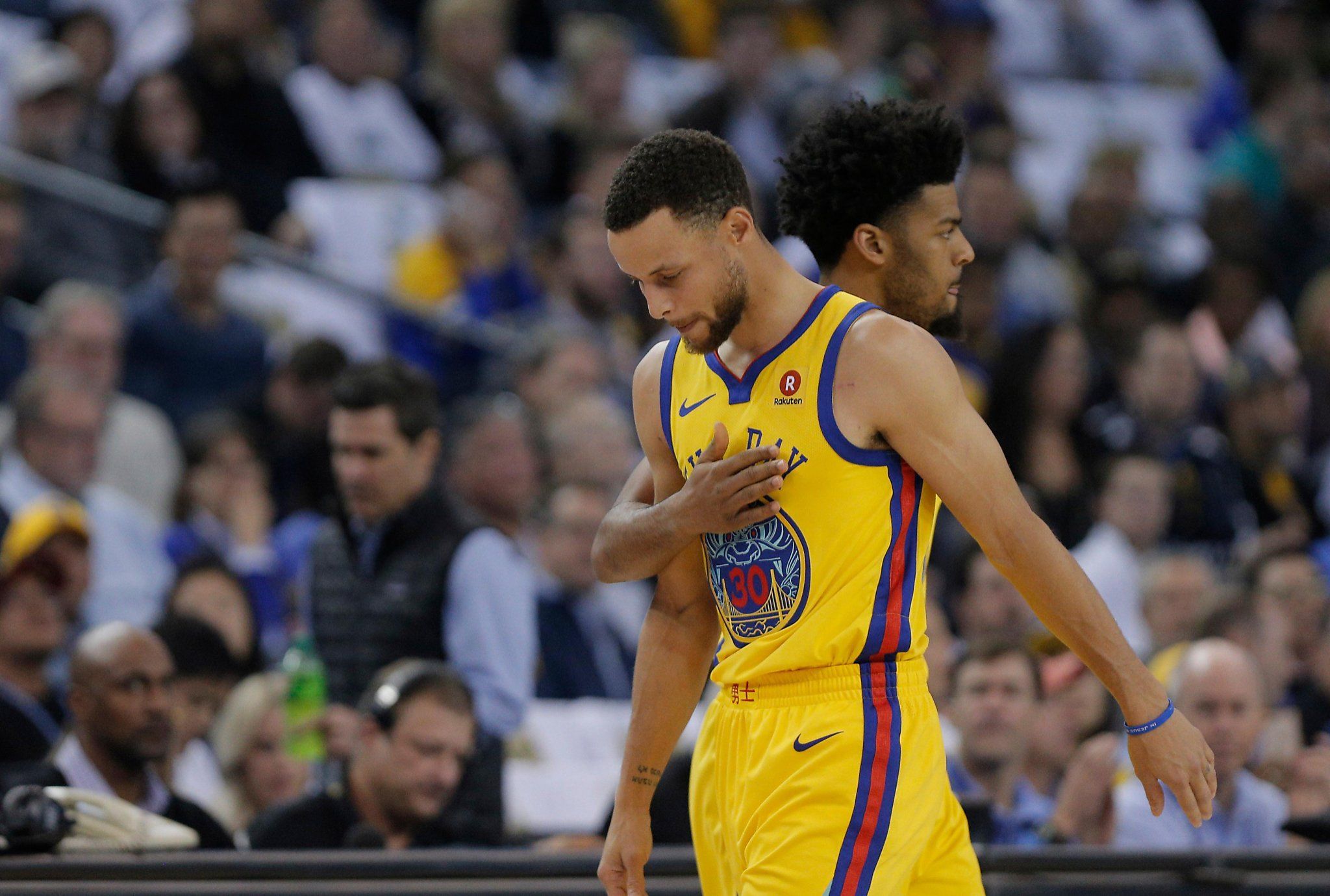 Curry twisted the ankle early in the first quarter of the game as he landed after attempting a layup. He was fouled on the shot, and though he was able to make the two free throws, he then left the game and sat out the rest of the night. The Warriors would later announce only that Curry had "tweaked" the ankle.
Rankled Ankles
While the injury appears to be minor, there is cause for concern for Golden State. Curry has a history of ankle injuries that began early in his career, which delayed his ascension into superstardom. Just this season he has repeatedly been diagnosed with various ankle ailments: just six days earlier, he tweaked the same ankle, and he missed 11 games in December after spraining his left ankle.
"With Steph's ankle injuries, it's kinda always a worry," Golden State forward Draymond Green said in his post-game press conference. "He's done it so many times where you can kind of tell immediately whether he can get through it or not by his reaction. Just by that reaction he had tonight, it's kind of a worry."
Warriors head coach Steve Kerr confirmed that Curry would not play in two road games this weekend. Golden State travels to play the Portland Trail Blazers on Friday, then heads to Minnesota for a Sunday game against the Timberwolves.
The 2017-18 season has been one of Curry's best, at least statistically speaking. He is averaging 26.3 points per game on 49.4 percent shooting, both second only to his unforgettable 2015-16 campaign.
But the injury concerns surrounding the five-time All-Star and two-time MVP have been troublesome. The 20-year-old Curry has already missed 15 games due to injury, which is more than he has sat out in any year since 2011-12. That campaign was mired by two surgeries, one in May 2011 to repair torn ligaments in his right ankle, and a second on the same ankle in April 2012.
Can Warriors Win Without Curry?
An injury that would cost Curry significant time could be devastating. While the Warriors have plenty of depth and would still be a leading title contender, they would lose their status as the clear favorite to repeat as NBA champions if he couldn't play.
Even a short absence could play a role in the battle for home court advantage in the Western Conference, as Golden State currently trails the Houston Rockets by a half-game for the top seed.
So far, oddsmakers aren't panicking about these latest ankle troubles. At bet365, Golden State is still an 8/13 favorite to win the NBA Championship this year. Houston is the second choice at 7/2, while the Cleveland Cavaliers (17/2) round out the top three.