Steph Curry scored 51 points in three quarters of play during the Golden State Warriors' blowout victory 142-122 over the Washington Wizards on Wednesday night in Oakland, California.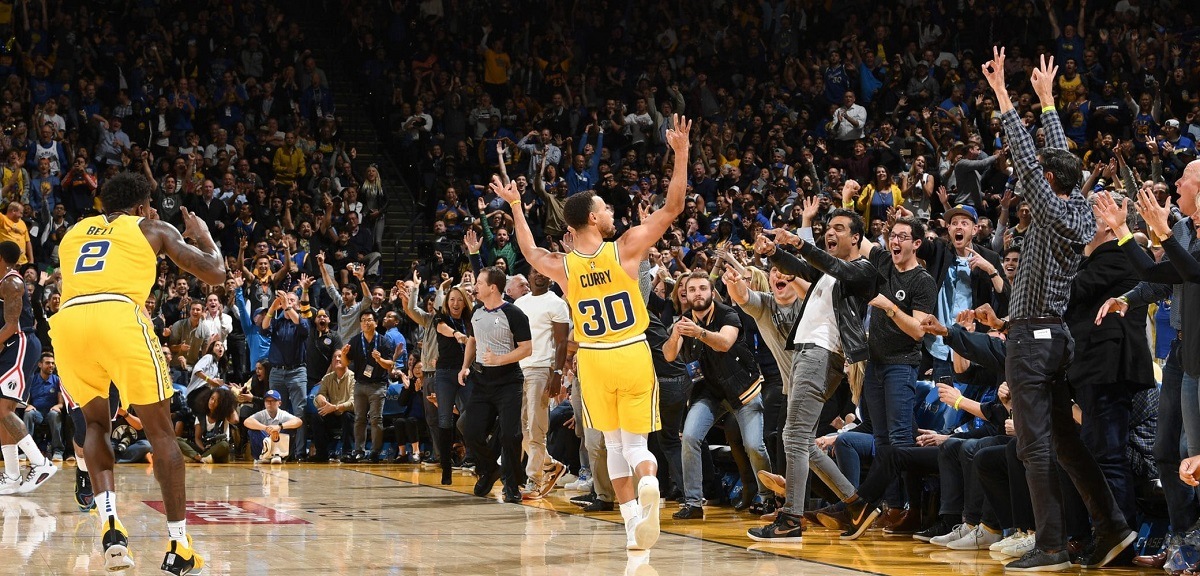 Curry drilled 11 treys and moved into fifth place on the NBA's all-time 3-pointers list.
51 Points for Curry
It seemed like an ordinary night at the Oracle Arena in Oakland but fans of the defending champion Golden State Warriors were treated to an extraordinary feat. Their beloved guard Steph Curry put on a shooting clinic with a 51-point performance.
"I don't even know how to describe what I witness tonight. Amazing.  Video game stuff," remarked head coach Steve Kerr.
Fans boisterously responded with chants of "M-V-P! M-V-P! M-V-P!" all night at Oracle Arena. Curry is a two-time MVP winner.
Curry tied his previous record for most points in a home game at Oracle with 51, which happened in 2015 against the Dallas Mavericks.
30 in First Half
Talk about a hot start. Curry dropped 31 points before halftime. That marked the ninth time Curry scored 30+ in the first half of a game.
"It's weird because I couldn't miss from 3, but missed two easy layups," added Curry.
11 Treys
Curry unleashed 11 made three pointers on only 16 attempts. If that was not impressive enough, Curry went a perfect 10 for 10 at the charity stripe.
"Everything felt in rhythm," Curry said on his near-flawless night. "The crowd gets into it, my teammates are encouraging me."
The performance in Oakland was historic because it marked the tenth time in Curry's career in which he dropped double-digit three-pointers in a game.
Steph Curry BURIES 11 TRIPLES en route to 51 PTS in the @warriors victory at Oracle Arena! ??#DubNation #KiaTipOff18 pic.twitter.com/654zlKHZnh

— NBA (@NBA) October 25, 2018
Top 5 Sharpshooter
With 2,162 three-pointers, Jamal Crawford was 5th in career treys before the game started. Curry whizzed by him to secure a spot in the top 5. Curry's next target is Kyle Korver, who has 2,214 and counting.
In 2015-16, Curry set the NBA record for most three-pointers in a season with 402. Curry is on pace to smash his own record. With 33 treys through 5 games, Curry is on an accelerated 500+ pace where he would finish with 540 three-pointers.
In the NBA finals last June, Curry set a NBA Finals record with 9 treys in a Game 2 win over the Cleveland Cavs.
Dropping 54 at MSG
In a game against the New York Knicks in 2013, Curry scored a career-high 54 points at Madison Square Garden. At the time, Curry set a franchise record with 11 treys. It was the first time in NBA history a player scored 50 or more points with the aid of 10 or more three-pointers.
Many NBA historians look back at that explosive night as a future blueprint for a highly-efficient and exciting modern NBA offense.