McKulick was named after trainer Chad Brown's former bookkeeper, the late Mary McKulick. The filly was the daughter of the legendary sire Frankel. That sire was named after the late Bobby Frankel, the Hall of Fame trainer who Brown apprenticed for before heading out on his Eclipse Award-winning career.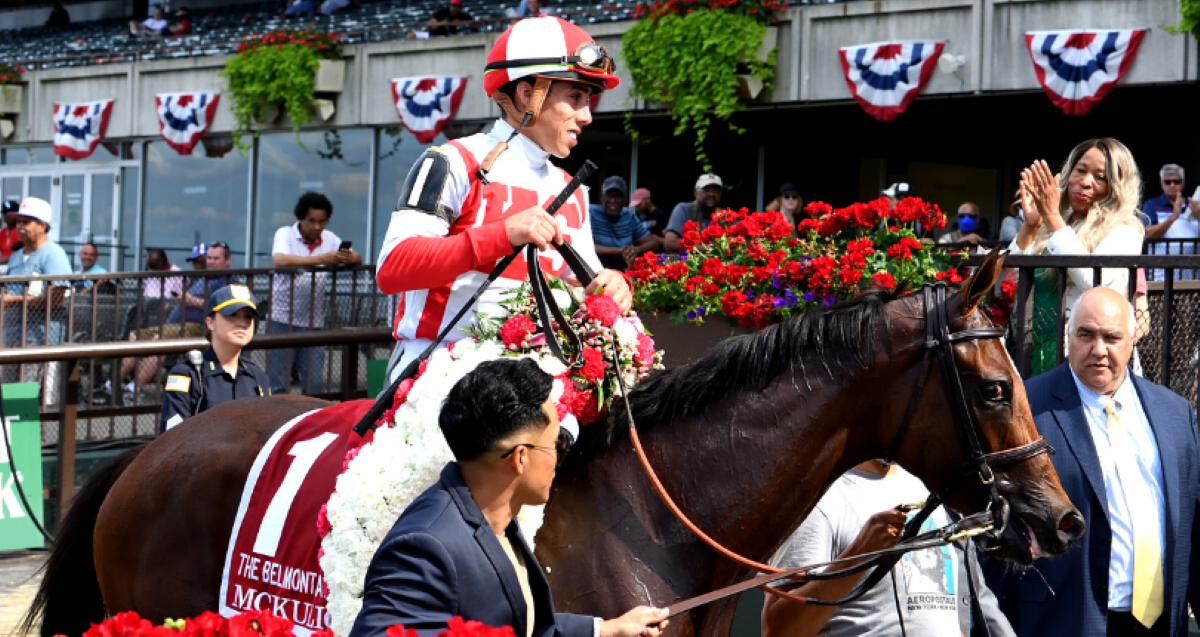 The stars aligned further Saturday at Belmont Park, when McKulick won the Grade 1 Belmont Oaks Invitational. The filly won her first Grade 1 race on July 9, which happened to be the birthday of trainer Frankel.
None of this was lost on Brown, who won his sixth career Belmont Oaks and first since 2017.
"It's an extra special win with it being Bobby Frankel's birthday today," Brown told the New York Racing Association's Brian Bohl. "This horse is the first offspring of Frankel that I actually bought. (Owner) Seth Klarman was nice enough to let me name this filly after my very first employee after I left Frankel. That's why I chose this horse, being by Frankel. And wouldn't you know on his birthday, she wins a Grade 1. The irony and the importance of it today, his birthday, means everything to me personally."
McKulick came into the 1 ¼-mile Belmont Oaks 0-for-3 in graded stakes, although she finished in the money in all three. She had a third in the Grade 2 Miss Grillo last October at Belmont Park, and two seconds. Those came at Churchill Downs earlier this year: in the Grade 3 Regret last out in June and the Grade 2 Edgewood on the Kentucky Oaks undercard in May.
McKulick improved mightily at 3
But turning 3 turned McKulick loose. Her Equibase Speed Figures went from the low 80s (81 in her first two races as a juvenile) to 103 in her two Churchill Downs outings. Saturday, it all came together. McKulick clocked a career-best 112 for her 1 ¾-length triumph over 7/1 With The Moonlight. Brown's Consumer Spending finished a head back in third at 7/1, giving the trainer two-thirds of a trifecta that paid $152.75 for a 50 cent wager.
At 5/1 McKulick returned $12.80, $6.70 and $3.90. The $2 exacta brought $110.50.
Through three quarters of a mile, McKulick and jockey Irad Ortiz Jr. were content letting Cairo Memories set the pace. Coming out of the far turn, With The Moonlight took command. That gave Ortiz his cue. He took McKulick four wide and pounced. By the eighth pole, they were alongside With The Moonlight. By the sixteenth, they had that lead.
She was faster than the boys
McKulick stopped the clock in 1:59.62, more than a third-of-a-second faster than Belmont Derby winner Classic Causeway clocked for the same distance two races later.
"I got a beautiful trip. I broke and followed the instructions – tried to save ground and let her get to some position," Ortiz Jr. said after the race. "She broke sharp and she put me in good position right in behind horses. I bided my time and saved some ground. At the three-eights pole, I started asking her a bit and she just ran really good and nice."
Both Brown and Ortiz said the 10 furlongs were the difference. This was the longest race McKulick ran in her five-race (2-2-1) career and she neatly illustrated she wants more distance.
Stretching McKulick out was a work in progress
"She was really born to run a mile and a quarter. We were patiently waiting for a long time to get her to this distance and my whole team did a super job with this horse in all divisions this filly has been in throughout the year," Brown said. "She's special and she finally got enough room to fully utilize that closing kick she has."
The Belmont Oaks was the first leg of the NYRA Turf Triple series for fillies. Next up is the 1 3/16-mile Grade 3 Saratoga Oaks Aug. 7 and the 11-furlong, Grade 3 Jockey Club Oaks Invitational during the Belmont Park Fall Meet.