The Tampa Bay Lightning could become only the second team ever to close out a Stanley Cup Final in Montreal against the Canadiens. To do it, they must win Game 4 at the Bell Centre on Monday night.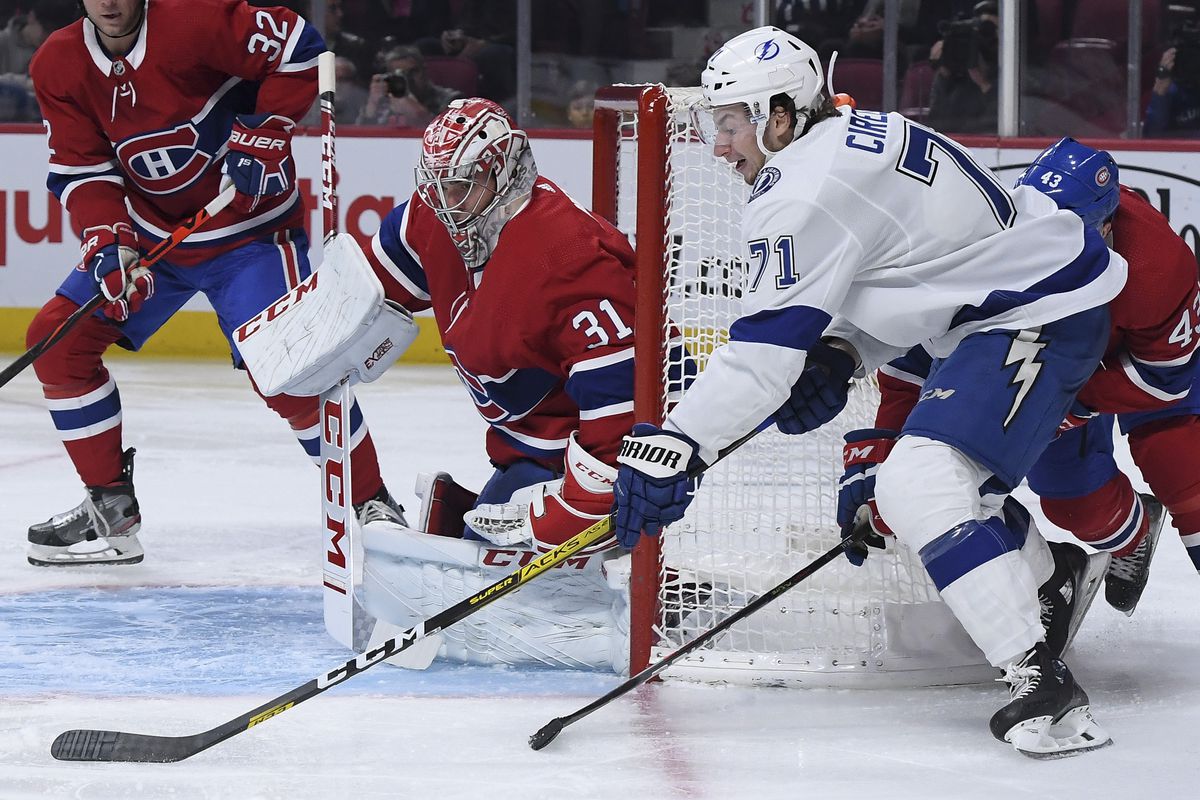 The Lightning can also become the first team to sweep a Stanley Cup Final since 1998 when the Detroit Red Wings blanked the Washington Capitals.
Montreal making changes ahead of Game 4
All signs point to a sweep being a very real possibility. Tampa Bay has dominated the series so far, outscoring Montreal by a 14-5 margin. The Canadiens hung around throughout Game 3 after the Lightning scored two quick goals to jump out to a 2-0 lead in the first 3:27 of the first period. Tampa Bay repeated that rapid-fire offense in the second period to take a 4-1 lead. The Canadiens would close to within two goals on two different occasions, but never got within striking distance of winning at home.
Now, Montreal plans to make changes ahead of Game 4 in the hopes of sparking a change and extending the series. Forward Jake Evens will join a line with Paul Byron and Artturi Lehkonen in an effort to provide energy and pick up the pace against Tampa Bay.
"They can play against the other team's top lines," Canadiens coach Dominique Ducharme said of the trio. "They showed it against [Connor McDavid's line] in two games. Brought offense at the same time. Brings energy. Many things as a line that can be doing a lot of stuff on the ice."
Naturally, the Lightning come into Game 4 confident after three emphatic victories. They stand one game away from repeating as Stanley Cup champions, a feat only one team has accomplished during the salary cap era: the 2016/2017 Pittsburgh Penguins. But for the moment, Tampa Bay coach Jon Cooper says he's not taking anything for granted.
"There's a long way to go," Cooper told reporters on Sunday.
Tampa Bay not celebrating early

The Lightning players agreed with that assessment.
"It's a great opportunity for us to go out there and take it, but it's going to be hard," Tampa Bay defenseman David Savard told reporters. "We know that team on the other side doesn't want to go down without a fight."
Tampa Bay comes into Game 4 as a -162 favorite to wrap up the series on the road, according to FanDuel Sportsbook. Montreal's prospects of winning the series are far grimmer: The Lightning are -5000 to win the Stanley Cup, with the Canadiens fetching +2700 on a miraculous comeback.
---
Stanley Cup Game 4 Odds (via FanDuel Sportsbook)
Tampa Bay Lightning: -162
Montreal Canadiens: +136
Puck Line
Lightning (-1.5): +164
Canadiens (+1.5): -200
Series Odds
Lightning: -5000
Canadiens: +2700
---
But Montreal isn't thinking about the odds – just about what it needs to do tonight to extend the Stanley Cup Final.
"Everyone on the team knows we can play better," Canadiens forward Paul Byron told reporters. "It's a big challenge for the team, but everyone has to play to their potential tonight. I like the energy. I like the atmosphere on the team. We'll see tonight."