Mo Forza built himself quite the career running under your radar. One of the best turf milers in the country – or the world, according to trainer Peter Miller – is also one of the best horses you've probably never bet.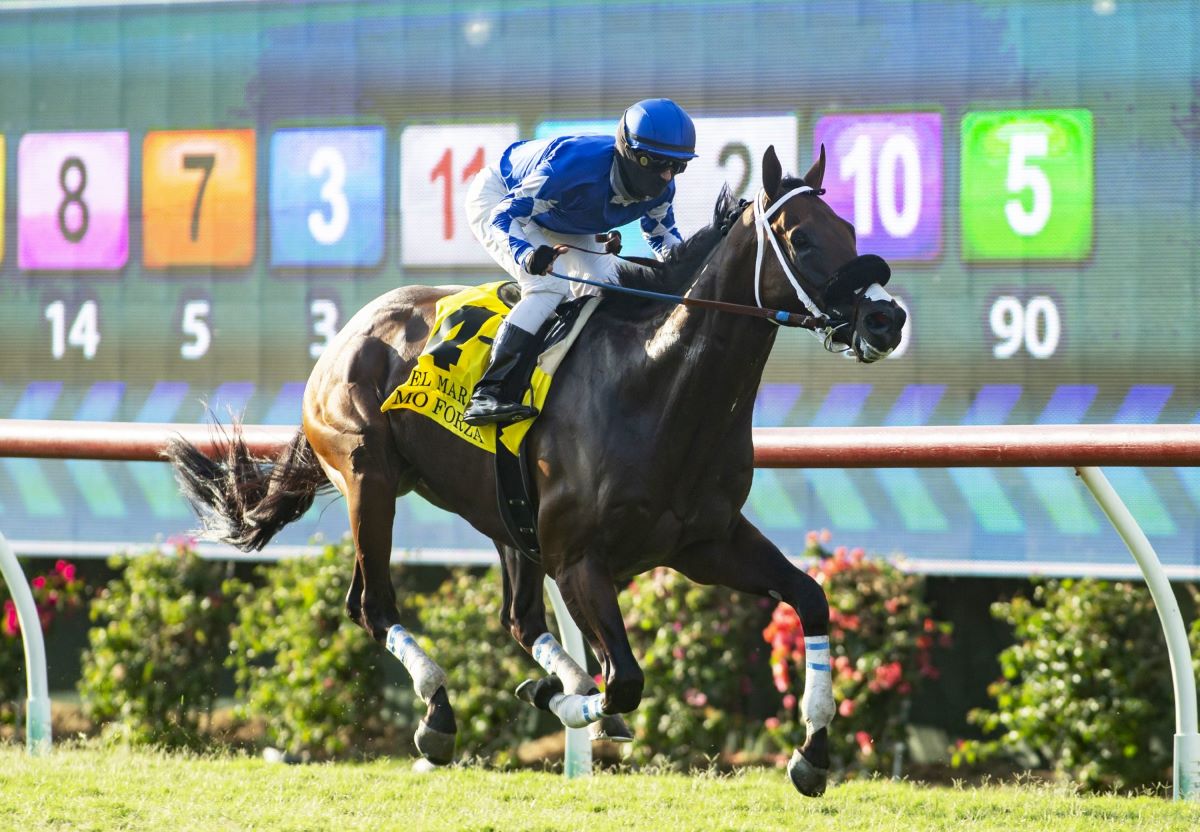 If you have, you're undoubtedly relishing the windfall this 5-year-old horse brought you. Because had you bet Mo Forza in all 13 of his career races, you'd have cashed tickets in 11 of them. Had you bet him in a mile turf race, you'd have cashed win tickets in six of eight.
And this is why the Uncle Mo progeny is your 6/5 favorite in Saturday's Grade 2 City of Hope Mile at Santa Anita Park.
Mo Forza faces familiar foes
Mo Forza won this race last year, but repeating won't be easy. Not with the consistent Smooth Like Strait present as the 8/5 second-favorite. He's 4-for-8 in turf miles – with all four wins coming at Santa Anita. Not to be ignored is 3/1 Hit the Road, the Kilroe Mile winner at Santa Anita last winter, one of his five victories in six races there. Those three went 1-2-3 in August's Grade 2 Del Mar Mile Stakes, with a length covering all three.
But Mo Forza is 4-for-6 over the Santa Anita turf. His last three Beyer Speed Figures were 103, 104, and 106. Those represented victories in the 2020 Del Mar Mile, the 2020 City of Hope, and this year's Del Mar Mile.
Before that, there was that ninth by nearly seven lengths in the 2020 Pegasus World Cup Turf. That stands out like a blip in Mo Forza's universe because it snapped a four-race winning streak dating to a maiden-breaking victory in September 2019.
How did he go 0-for-his-first-5 — then 7-for-his-next-8?
It took Mo Forza six tries to break his maiden, which – given what transpired – was mind-boggling. He missed the board in only one of those first five races, a fourth in an August maiden special weight at Del Mar.
Miller inherited Mo Forza from the late trainer, Barry Abrams, who died last October – six days after Mo Forza won the City of Hope Mile by nearly two lengths. Miller immediately made plans to send his new star into the Breeders' Cup Mile, but scratched those plans late after an undisclosed ailment.
The trainer told Santa Anita's Ed Golden that "I think he's the best turf miler in the world and I'm disappointed he won't be able to prove it this year."
The break did Mo Forza very well
Even after a 10-month hiatus, one Miller explained as "he just needed time," Mo Forza is back to proving his worth. He's won seven of his last eight races, six of those are graded stakes, including a Grade 1 (Hollywood Derby) and five Grade 2s.
And Miller, who owns the last two Del Mar training titles, is salivating at the prospect of turning Mo Forza loose in the Breeders' Cup Mile on the seaside track in a little more than a month. Mo Forza owns three wins and two seconds in six career Del Mar starts.
"He should move forward off his last race since he's training better than he was for the Del Mar Mile," Miller told Golden. "When he's on and he's himself, I still think he's the best turf miler in the world. From the standpoint of figures, he is."
A career record of 7-3-1 in 13 outings – along with that formidable record in turf miles – lends credence to that claim. Knowing all that means Mo Forza should be on everyone's radar now.