The failed Super League might well change club football after all as fans in England are putting pressure on the billionaire owners of Manchester United and Arsenal to leave.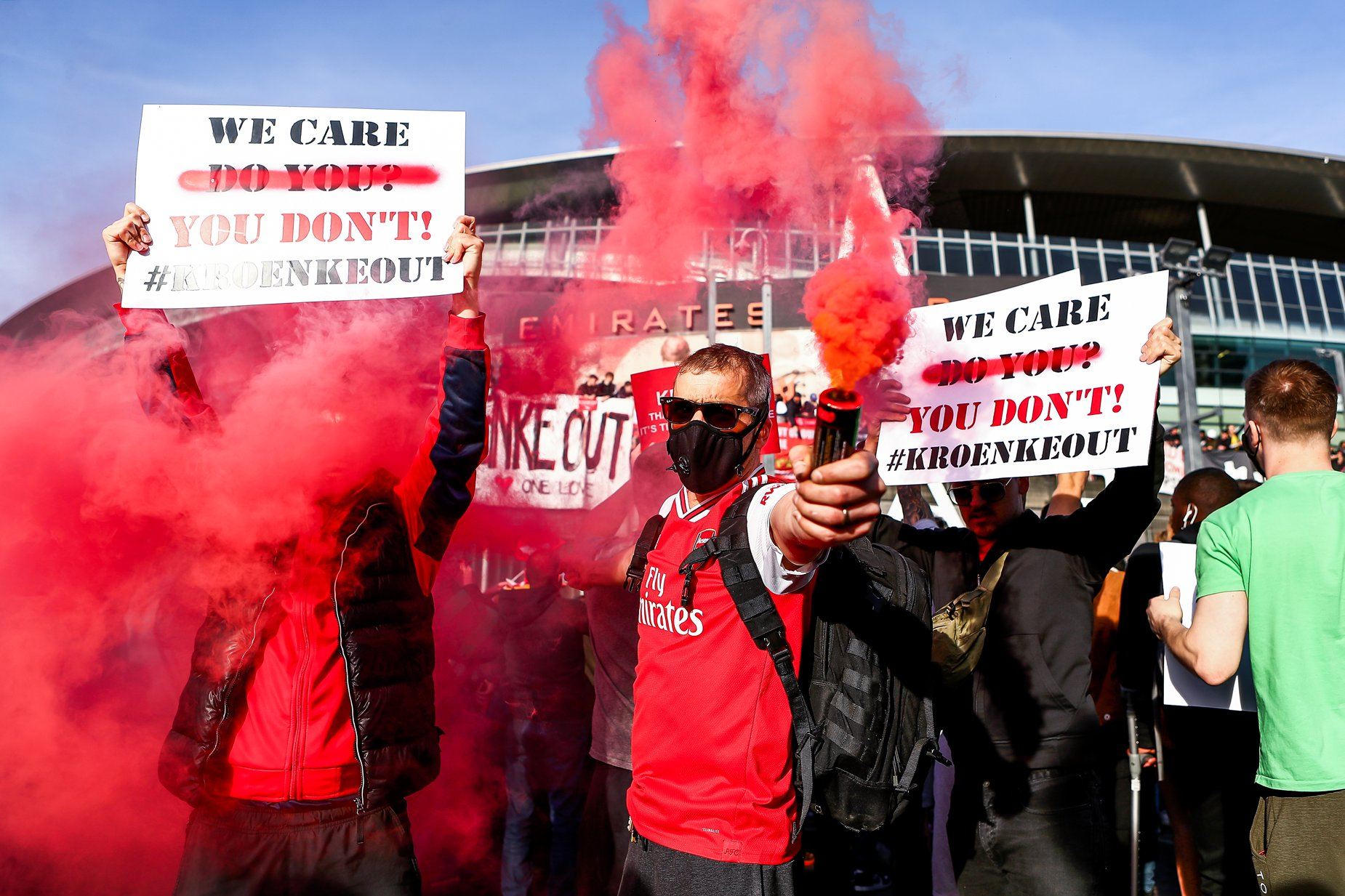 The Kroenke family, who also owns LA Rams, Denver Nuggets, Colorado Avalanche, and Colorado Rapids is on Arsenal supporters' blacklist following the club's subscription to the Super League. Last week, 12 of the most powerful teams in Europe partnered to start a project that would draw a new map of the entire football system.
The plan was met with heavy criticism by UEFA (the European Football Association) and the national leagues in which the founding clubs compete. Players, coaches, and fans throughout the game also raged at the possibility of the plot becoming reality.
English supporters have been the most vocal in their disapproval, marching in the thousands in London and Manchester. The letter of apology sent by the Glazers — Man United's owners — and the Kroenkes didn't help much, as fans fear that a similar Super League episode could happen again if the current chiefs remain in charge.
Difficult to get an estimate on numbers pic.twitter.com/BCzVyXg6Ma

— Simon Collings (@sr_collings) April 23, 2021
Spotify's owner wants to buy Arsenal with help from the club's legends
Daniel Ek announced his intention to take over from the Kroenkes in a Twitter post on Friday.
"As a kid growing up, I've cheered for Arsenal as long as I can remember," he wrote. "If KSE would like to sell Arsenal I'd be happy to throw my hat into the ring."
As a kid growing up, I've cheered for @Arsenal as long as I can remember. If KSE would like to sell Arsenal I'd be happy to throw my hat in the ring.

— Daniel Ek (@eldsjal) April 23, 2021
The 38-year-old Ek is a Swedish billionaire with a passion for football. Some thought his tweet was just a PR stunt, but Ek has already taken steps toward a takeover. According to The Guardian, the Kroenke's selling price wasn't disclosed, but wouldn't be lower than $2.8 billion. The paper claims "an official approach could be made as soon as next week".
Ek is worth around $4.7 billion. To support his potential takeover, the businessman has reportedly contacted Arsenal legends Thierry Henry, Dennis Bergkamp, and Patrick Vieira, whom he wants to be part of his team. Ek has never had direct involvement in — or been on the board — of a football club, but he's shown interest in Premier League clubs before.
Spotify is the world's most popular audio streaming subscription service, with 345 million users and 155 million subscribers. The app is available in 178 markets and has paid songwriters and rights owners more than $25 billion in revenue since its launch in 2008.
What's next for the Super League?
Plans to start the Super League are "on standby," according to Real Madrid president Florentino Perez. Talking to the Spanish media, Perez revealed clubs "can't withdraw from the Super League" and insisted that the financial giant behind the plan, JP Morgan, is in a similar situation, waiting to see what happens next. Perez believes the Super League will exist, one way or another. JP Morgan has committed to providing a $4.2 billion financial package for the glamorous competition.
"This project or something very similar will happen. I hope it's soon. The bank hasn't left either. They've taken time to reflect, like the 12 clubs. The Super League is the best thing we've thought can be carried out," Perez told AS in Madrid.