The overwhelming favorite at the beginning of the season remains the top choice to win the NBA Finals, which begin today with Golden State hosting Game 1 against Cleveland.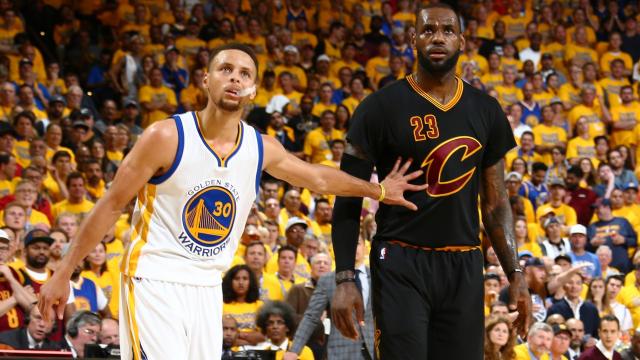 This is the third consecutive year the two teams have met in the championship contest. Golden State won in 2015, four games to two. Cleveland was victorious last year in seven games after the Warriors blew a 3-1 advantage.
Bookmakers don't believe the Bay area team will repeat that collapse and have them as minus-260 to capture their second Larry O'Brien Trophy in three years. They were favored at the beginning of the season at 3-2 and maintained the top choice throughout the playoffs.
Though they are accustomed to each other, both teams are not taking that familiarity for granted.
"We're familiar with them, they're familiar with us," Warriors guard Shaun Livingston said. "So we understand what to expect. It's for all the marbles, so guys are playing at a high level, it's the highest level right now."
Home Teams Favored
If the Cavaliers are going to capture its second championship they are going to have to win all of their three home games and steal a game at Oracle Arena. This is not impossible and the precedent has been set as Cleveland managed to win twice on the road last year, including Game 7.
However, the sportsbooks are not convinced the defending champions can do that this year. SportsInformationTraders.com has the home team favored in every game. But while the Warriors are no less than six-point picks in any of their home games, Cleveland gets just a two point advantage when they host their first two and are at 2.5 points in Game 6 if necessary.
The odds support the series going seven games. The Westgate LV SuperBook and Station Casinos have Golden State a 7-2 favorite to win in seven, 9-2 to win in six and 5-2 to close out the series in five games.
Tempting Prop Bets
While there isn't much value with betting on the series outcome or individual games, the proposition bets might be enticing to gamblers.
One that jumps out is the largest lead of the game by either team. The line is 18˝ and many believe it will be a tightly fought contest and that neither squad will run up that much of an advantage on the other.
Another wager worth a look is LeBron James breaking the all-time record for triple-doubles in the Finals. He has seven, Magic Johnson has eight. James has played in 40 finals games, meaning he hits that mark every 5.7 games. Even if the series goes seven games, James would be expected to just tie the feat.