Sport climbing made its Olympic debut on Tuesday, thrilling audiences with frantic scrambles and creative grips. But the new discipline didn't just surprise viewers, as the format of the competition in the Tokyo Olympics is new to the athletes as well.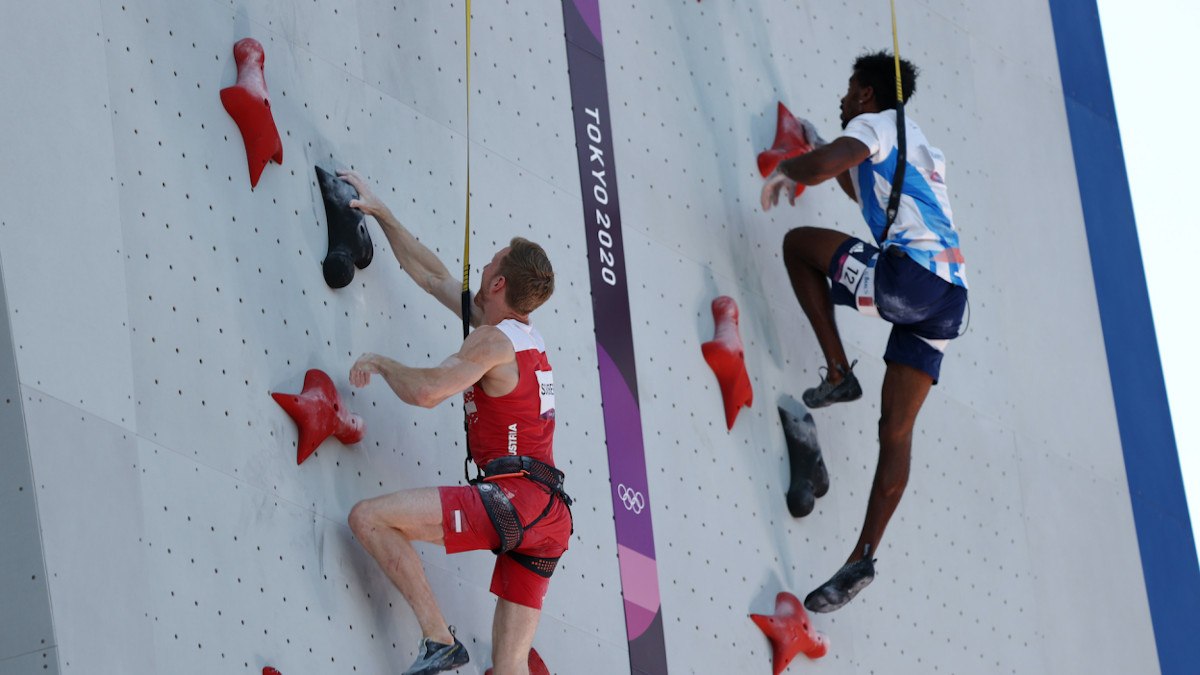 Men and women are each competing for just one set of medals, combining speed, bouldering, and lead competitions into a single event.
Athletes scramble to learn new skills
That decision was controversial, to say the least. The International Federation of Sport Climbing (IFSC) knew it could only have one event and didn't want to exclude speed from the Olympics. But athletes rarely – if ever – combine speed climbing with the other two disciplines. Climber Lynn Hill compared the decision to "asking a middle-distance runner to compete in the sprint."
Regardless, the IFSC set its format, and climbers have come to Tokyo knowing exactly what they need to do in order to medal. The result is a varied and wild competition in which anything can happen, prizing all-around skills more than specialism.
lol wut pic.twitter.com/Vr8YFZHSQe

— Hannah Keyser (@HannahRKeyser) August 3, 2021
In speed, climbers must sprint up a 15-meter wall as quickly as possible. The route is always exactly the same, meaning this competition is all about technique and power, not creativity. In bouldering, climbers have a set amount of time to complete as many set routes – known as problems – as possible. Finally, lead climbing challenges athletes to get as high as they can get on an extremely difficult wall.
"You have to tap into different skills for each discipline," French lead climbing coach Cecile Avezou told France 24. "For the speed event it's about explosive power. For bouldering, it's strength, imagination and creativity. Lead climbing requires a more sustained effort, so it involves adaptation, information gathering and control."
The scoring system multiplies a climber's rank in each discipline, meaning a lower score is better. For instance, French climber Mickael Mawem finished third in speed, first in boulder, and 11th in lead during Tuesday's preliminary men's sport climbing round. That gave him a total of 33 – good enough for the top spot in qualification.
Speed climbing could end hopes for technical specialists
The top eight athletes moved on to the medal rounds. The odd combination of events hasn't punished any top contenders too harshly yet: the top three in each individual climbing event all moved on to the final. But the medal rounds could prove to be a different story, with some athletes worried that speed will ruin their chances.
"It is really the least attractive, least understandable format of all climbing formats imaginable," Czech climber Adam Ondra – who finished third in boulder and fourth in lead, but just 18th in speed to qualify in fifth place overall – told The New York Times. "Yes, it was part of climbing, but it was a very narrow group of people dedicating themselves to the speed."
---
Olympic Women's Sport Climbing Odds – To Win Gold (via DraftKings Sportsbook)
Janja Garnbret (Slovenia): -285
Akiyo Noguchi (Japan): +575
Miho Nonaka (Japan): +700
Shauna Coxley (Great Britain): +2200
Brooke Raboutou (USA): +2800
Jessica Pilz (Austria): +3500
Julia Chanourdie (France): +5000
Laura Rogora (Italy): +5500
---
The women's sport climbing competition begins on Wednesday. DraftKings Sportsbook rates Janja Garnbret of Slovenia as the -285 favorite to win gold.
Technical climbers will earn a reprieve in the 2024 Paris Olympics when speed climbing will become its own separate medal event.