Germany lost at home to North Macedonia, 1-2, in the most surprising result of the European Qualifiers so far.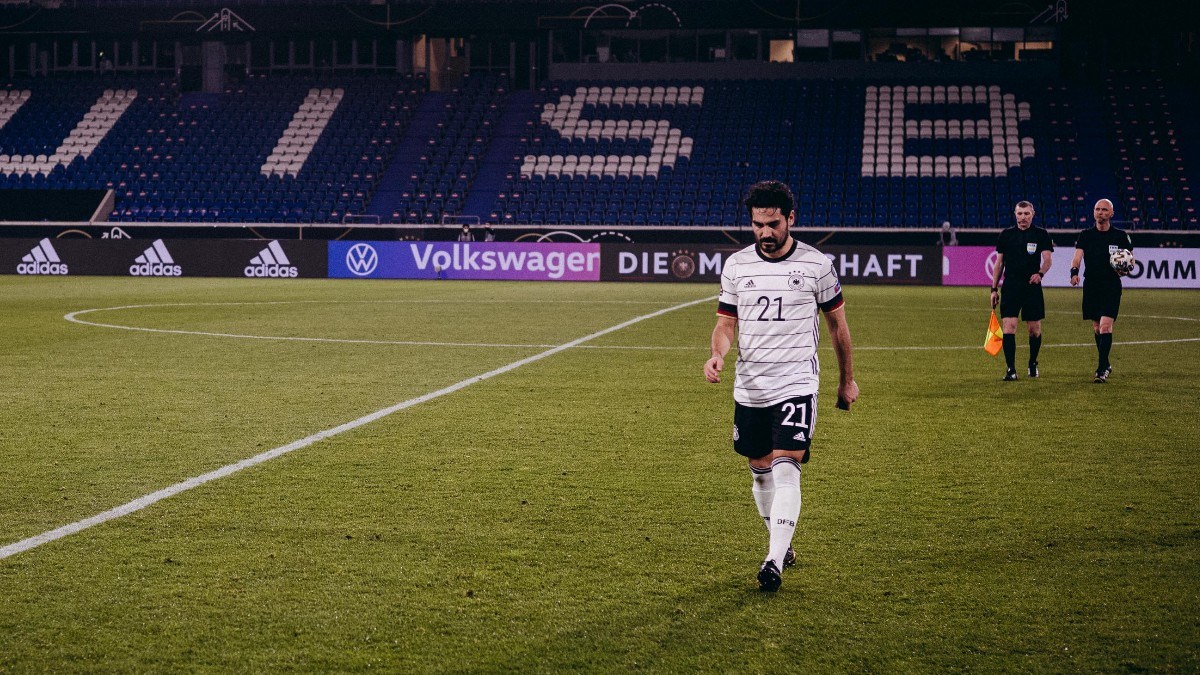 After just nine minutes, Bayern's Goretzka hit the woodwork and it seemed the game in Duisburg was about to take the direction of the predicted walkabout. But North Macedonia managed to keep it tight at the back and, surprisingly, left the pitch with a one-goal lead at half-time. 37-year-old Goran Pandev scored in the first minute of added time in the first half to give North Macedonia an unexpected 1-0 advantage.
In the second part of the game, Germany equalized thanks to a penalty from Manchester City's in-form man, Ilkay Gundogan. Germany had 30 more minutes to find a winner and all odds were in their favor. Timo Werner, Chelsea's $58.3 million acquisition from Leipzig last summer, missed an open goal chance in the 79th minute, then another earthquake hit. With a draw becoming more and more a possibility, North Macedonia managed to find a winning goal in the 85th minute. Napoli's Eljif Elmas scored from a few meters out, giving North Macedonia their greatest ever win in football.
"We feel a huge disappointment. We didn't have freshness, we made too many mistakes, we were slow. We couldn't find solutions to unblock a team that was defending deep," German coach Joachim Löw said after the game.
"Such a defeat should never happen to us," Gundogan said, struggling to accept the reality of the result. "There is no explanation. This is not who we want to be."
The defeat by North Macedonia ended a 35-game unbeaten run for Germany in World Cup qualifiers. The last time they lost was 20 years ago in the campaign leading to World Cup 2002. Germany has only lost three games in the preliminary rounds of the World Cup in history: 0-1 vs Portugal in 1985, 1-5 vs England in 2001, and now, 1-2 vs North Macedonia.
Group stage drama for Germany, Iceland, and Romania as Armenia takes the lead
Germany is part of Group J in the European Qualifiers. So far, the results here have been unexpected, to say the least. Germany, which is by far the biggest fish in this tank, is now third after three games. Armenia, a National team that has never qualified for a major tournament, sits first, with nine points out of a maximum of nine in their first three games. On Wednesday, they managed to win at home against Romania, 3-2.
Germany is still seen as the favorite to win the Group and progress to the World Cup. The 2014 World Champions are -900 to finish ahead of Armenia, North Macedonia, Romania, or Iceland on their way to Qatar 2022.

Each side has seven games remaining, with the winner earning an automatic trip to Qatar. The 10 runners-up go to a playoff to determine the last three European teams to qualify for the 2022 World Cup.
All eyes on the Euro finals: Germany aims to win it
"We'll have to be on our top form by the end of May," Gundogan said after the defeat in front of North Macedonia. Germany aims to win the Euros this summer. The final tournament was postponed for a year because of the pandemic and is supposed to take place across 12 cities in 12 different European countries from June 11 to July 11. Germany is part of the toughest group (G), where they'll face France, Portugal, and Hungary for a place in the knockout stages.
Joachin Löw's superstars are +850 to lift the trophy at London's iconic Wembley Stadium after the final.