If there is a golfer gamblers should probably stop betting on, Sergio Garcia would be a good choice. The 39-year-old Spaniard's latest temper tantrum at the Saudi Invitational is being written off as his trademark immaturity, but a deeper look might reveal a much bigger problem.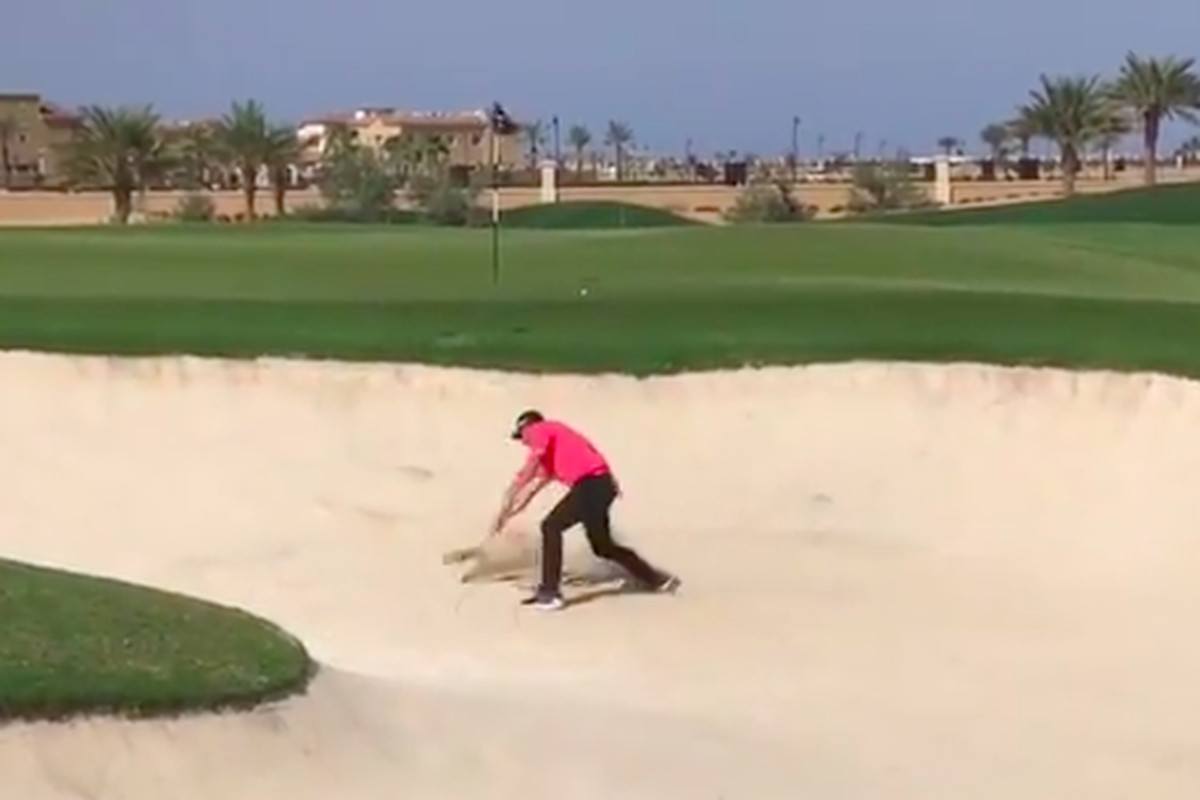 Garcia is not playing good golf. He was even par through three rounds at the Saudi Invitational before being informed he was being disqualified for causing scuff marks and a divot hole to the putting surfaces at the Royal Greens Golf and Country Club.
The damage was reported to rules officials by golfers playing behind Garcia. European Tour officials made the decision for the disqualification, but chose not to suspend him. Garcia later apologized for his actions in a statement.
"I respect the decision of my disqualification," Garcia wrote. "In frustration, I damaged a couple of greens, which I apologize for, and I have informed my fellow players it will never happen again."
Leading Up to Disqualification
The key word in Garcia's statement is frustration. The day before his DQ, he went postal on a bunker after it took him two tries to get out of it. As he was swinging and swearing, he blamed it on a caddie that didn't rake it properly. This is not the action of a golfer who is feeling good about his game.
At Saudi Arabia, Garcia was a 14/1 pick to win, but was 10 strokes behind eventual champion Dustin Johnson after the second round. In 54 holes he had an eagle and eight birdies, but countered that with 10 bogies.
Since winning his first major, the 2017 Masters, he hasn't had too many appearances at the top of the leaderboard, especially in marquee tournaments.
As the defending champion at the Masters last year, he set the record for the highest score on No. 15 with an 8-over 13. He missed the cut, as well as the cut for the next three majors.
With three top 10s on the PGA Tour since April 2017, it might be wise to scratch Garcia off your possible choices at his next event.
Fowler Avoids Disaster
Rickie Fowler, who was an 18/1 pick to win the Waste Management Open, avoided catastrophe in the final round to pick up his fifth PGA Tour victory. Fowler is shaky when holding a lead, but managed to survive a mini-meltdown on Sunday.
He won for the second time out of seven tries when having the final-round lead. It was also the first time in nine instances where he's been leading after two rounds.
His odds didn't reflect his struggles staying at the top. After two rounds he was 9/4 to win, and going into Sunday he was 4/11.
Johnson Favorite at Pebble
Fresh off his victory at the Saudi Invitational, Johnson is the top pick at this week's At&T Pebble Beach Pro-Am. He is at 5/1, with Jason Day at 8/1. Johnson won there in 2010, and finished second last year.
Since the US Open will be held at Pebble this year, this will be a good indication of who might have success in June. Look at the two rounds that are played at the iconic course, though, not the other two days golfers are at the other courses in the rotation.
This Week's Picks
At the AT&T, I really like Johnson and believe this could be a preview of the US Open. It's a good value as well at 5/1.
On the Champions Tour, David Toms is a nice choice at 12/1. He finished fourth there last year, and is playing strong golf.