The second version of the Tiger-Phil match is going to be a foursome.
Turner Sports announced that the second incarnation of the golf match is going to have famed quarterbacks Peyton Manning and Tom Brady joining Tiger Woods and Phil Mickelson for the competition. Manning is pairing up with Woods, while Brady will be Mickelson's teammate.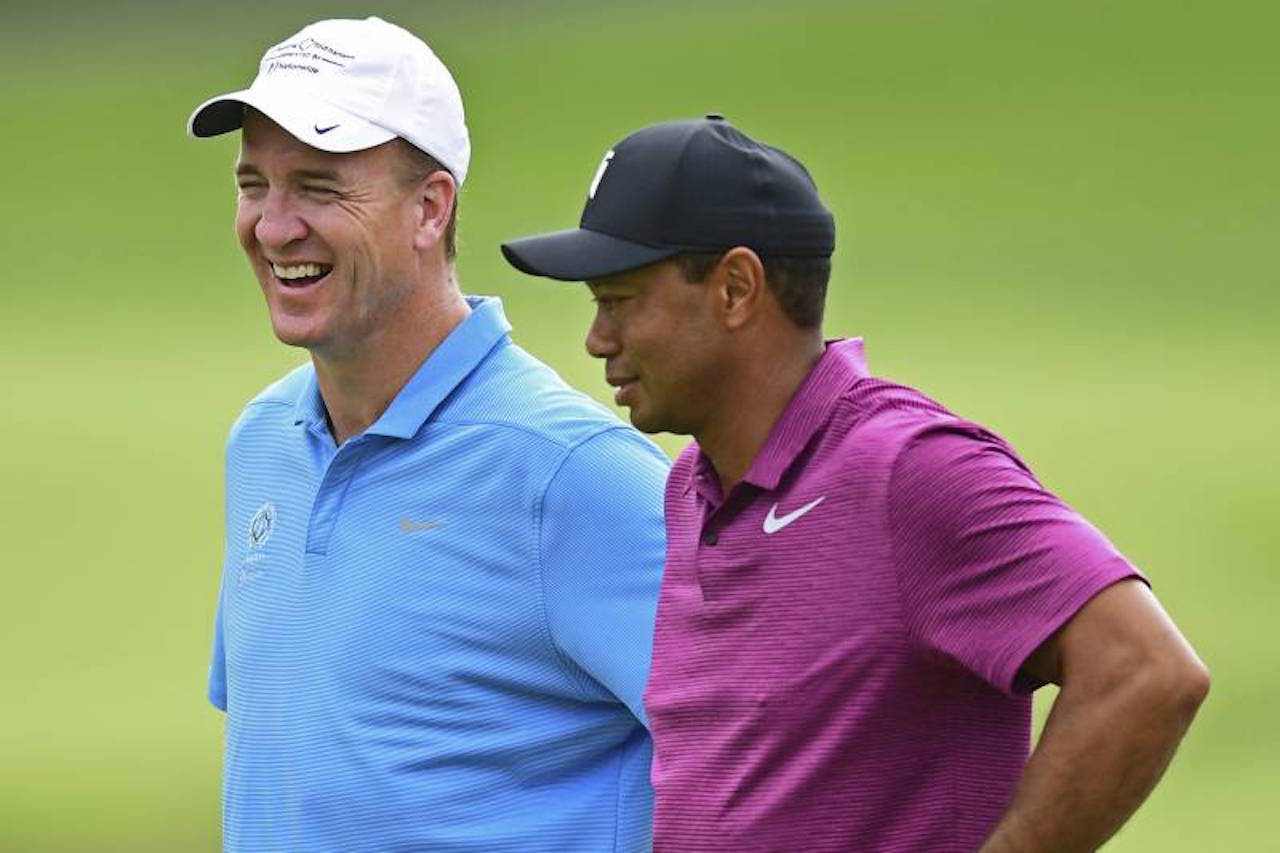 Billed as "The Match: Champions for Charity," the second go-round between Woods and Mickelson will raise money for coronavirus relief. The COVID-19 global pandemic suspended golf since mid-March. The first edition of the Tiger-Phil match took place at ShadowCreek in Las Vegas in November 2018, and wasn't a hit with fans.
No venue has yet been announced for this year's competition, though Turner Sports said in a statement that they are working with event organizers and public health officials to ensure local regulations are satisfied wherever the match takes place. It's assumed there will be no fans allowed on the course when the match is played.
After feeling the sting of defeat the first time around, Looks like @TigerWoods is bringing a ringer to The Match (#PeytonManning).

I'm bringing a 🐐 @TomBrady – Ready to hit 💣's? https://t.co/ilaqS05QQs

— Phil Mickelson (@PhilMickelson) April 22, 2020
Speculation is that the competition will take place in Florida, where Gov. Ron DeSantis has classified golf courses essential services that aren't subject to closure like other businesses in the Sunshine State. He told reporters last week he would welcome the competition.
"I'd like to see Woods and Mickelson do the golf, or whatever, because that's social distance," DeSantis said. "You wouldn't have a gallery there. You wouldn't have crowds. But to put that on TV, I think people have been starved for content."
Tiger Favorite over Phil at Westgate
Just like the first time around, Woods is favored over Mickelson in the upcoming match. Jeff Sherman, vice president of risk management at the Westgate's SuperBook USA, posted on Twitter that, "if this 18-hole match is played, @SuperBookUSA would have Phil Mickelson/Tom Brady +130, Tiger Woods/Peyton Manning -150."
Woods was the -200 pick in the 2018 match while Mickelson, who won the event, was listed at +170. Sherman told the Las Vegas Review-Journal that he would expect huge traffic on this match.
"It would be probably 10 times what we had, just because there's not many sports coming back at that time," Sherman said. "We'll offer a lot of props on this and a lot of wagering options. I can easily see 10 times the handle we wrote the first time. It'll be nice to have something like that."
Starving Golf Fans Should Feast on Free Broadcast
Ever since the PGA Tour canceled the Players Championship on March 12, past highlights and reruns of old tournaments are the only golf television viewers have been able to watch. Turner Sports said that, unlike the first match, which was on pay-per-view television, this edition will be broadcast on TNT.
Mickelson was the first to bring up the possibility of a Tiger-Phil rematch in March. When asked by a Twitter follower if he and Woods could get together again, Mickelson said yes.
"Working on it," Mickelson responded, adding, "I don't tease. I'm kinda a sure thing."
Manning went on a Denver radio station on Wednesday and confirmed the charity match.
"There was (sic) talks about doing it all along anyway," Manning said. "And now, to have a chance to have a major fundraising event for COVID-19 relief, almost like a telethon if you will … if that can take place, I'm all-in for that."