Some major league team owners bought shares in the sports betting company DraftKings prior to its April 24 public offering. James Dolan, Robert Kraft, Hal Steinbrenner, and Jerry Jones all held shares either directly or through affiliated companies, according to a document filed with the Securities and Exchange Commission that became public on Tuesday.
Shares of DraftKings (NASDAQ: DKNG) shot up 7.5% as market watchers learned that, in addition to the sports team owners, early investors included ESPN owners Disney (NYSE: DIS), the NHL, and famed billionaire George Soros.
The public offering of DraftKings came as part of a tie-up with SB Tech, a gambling and sports betting technology platform. Overall, DraftKings stock has more than doubled since its market debut.
Pro Sports Leagues Hedging Bets
Shakespeare wrote that "Misery acquaints a man with strange bedfellows." So does profit. In the investment world, getting shares of a company when it debuts on the stock market can result in an embarrassment of riches. There's even more money to be made, however, by getting cheaper shares when a company is still private.
Historically, there has been a love/hate relationship between pro sports leagues and gambling. But now it's just complicated — and even more so with big-name team owners positioned to profit from growing the handle bet on their games.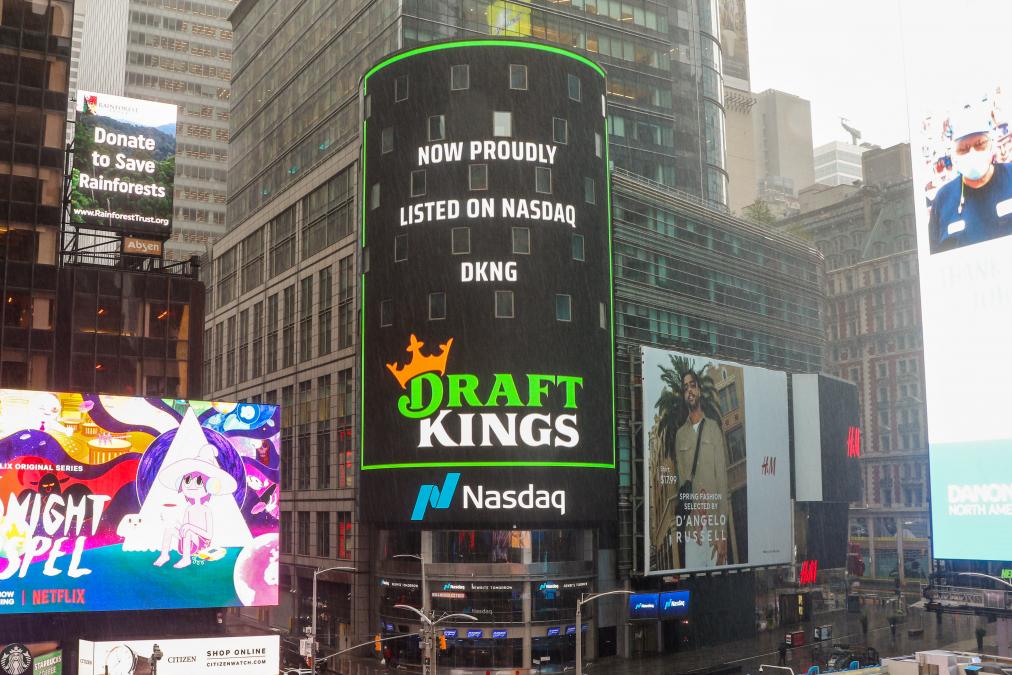 DraftKings' earliest shareholder list reads like a who's who of sports team owners and hedge fund managers — and one well-known Fortune 500 company.
The Walt Disney Company was one of DraftKings' largest private shareholders, through its affiliate TFCF Sports Enterprises. Disney picked up more than 18 million shares when it acquired the assets of 21st Century Fox in March 2019. Famed hedge fund manager George Soros also had a private DraftKings stake through his Quantum Fund.
Both the NHL and WWE had shares of DraftKings stock going into its first day of trading. Patriots owner Robert Kraft and family had roughly 3.5 million shares of DraftKings. Meanwhile, Legends Hospitality — the joint venture between the New York Yankees and Dallas Cowboys — secured nearly 200,000 shares.
It's possible that owners weren't the only major leaguers to get an early piece of DraftKings. The MVP All-Star Fund, which specializes in private investments for celebrities and professional athletes, had roughly 2.7 million shares of the sportsbook.
Owners Profit from Gambling while Prohibiting It
All leagues have strict rules that prohibit players from betting on sports. Players, like Arizona Cardinals cornerback Josh Shaw, have faced suspension for betting-related infractions. But that hasn't stopped team owners — or leagues — from buying into the expansion of legalized sports betting.
Granted, many leagues forged a relationship with DraftKings back when it was just a daily fantasy sports provider. But once the US Supreme Court overturned the ban on sports betting, there was serious money to be made by legal sportsbooks.
DraftKings, already a DFS market leader, was a logical contender. Apparently, some team owners recognized the early investment opportunity.
---
Disclosure: OG News Finance and Industry Reporter Amy Calistri bought a "very small" amount of DraftKings common stock, and she swears this article is not part of any pump-and-dump scheme.