Who Dat Nation is in mourning after news broke that Sean Payton will not return to the New Orleans Saints when the head coach retired after 15 seasons.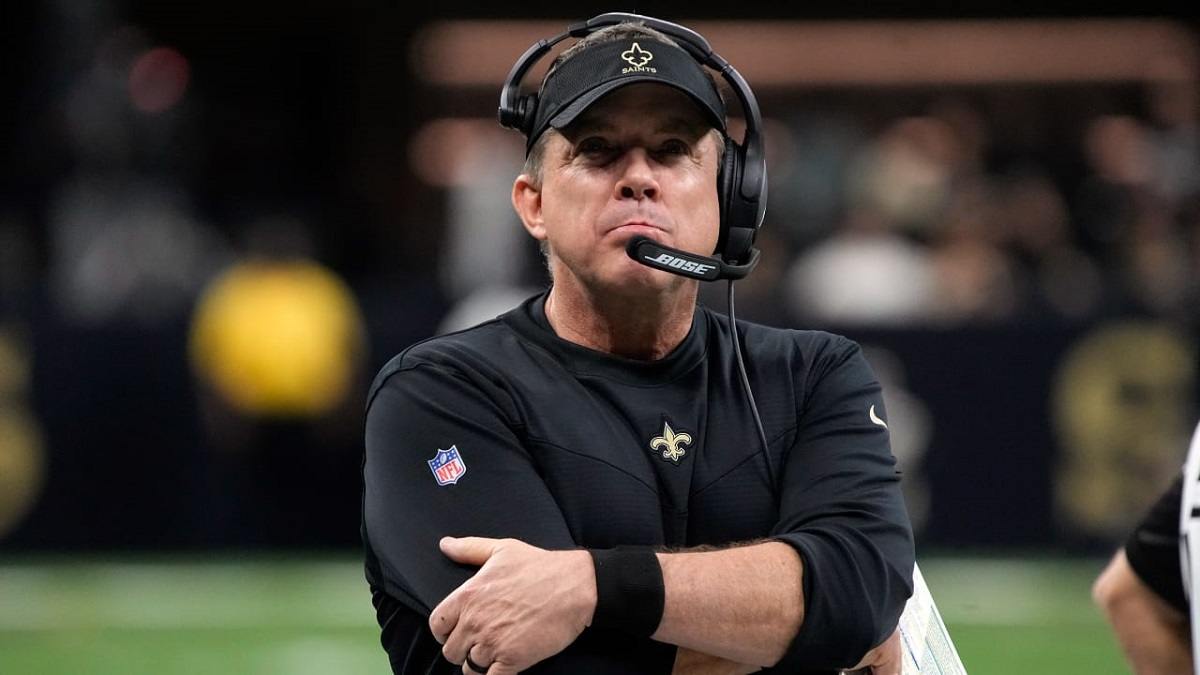 Payton is still under contract for three more seasons, so it's doubtful he coaches another team next season as he heads into retirement. If he decides to seek employment elsewhere in the NFL ranks as a coach, his new team would have to compensate the Saints.
Payton could pivot to a media job as an analyst, with ESPN the most likely landing spot. When former Saints quarterback Drew Brees retired, NBC gobbled up Brees.
In 15 seasons with the Saints, Payton posted a 152-89 record, plus 9-8 in the postseason. The Saints won their only championship under Payton during the 2009 season with a victory in Super Bowl 44. He served a one-year suspension from the NFL in wake of the Bounty Gate scandal and he did not coach the Saints in 2012.
Payton is one of four head coaches since the merger with four seasons of 11-plus wins along with Bill Belichick, Tom Landry, and Don Shula.
Before he retired with the Saints, Payton had the second-longest tenure in the NFL at 15 seasons behind Belichick's 21 seasons with the New England Patriots.
You became our coach after the biggest natural disaster in U.S. history hit our state

You forever changed the culture of our organization, bringing us to unbelievable heights

Our gratitude for the impact you have made on our state, city, & team is immeasurable#ThankYouSean 🙏 pic.twitter.com/bQgRM2l9IF

— New Orleans Saints (@Saints) January 25, 2022
Burned Out Payton?
Anyone close to the Saints knew that Payton was considering stepping down after the final game of the season. Whispers circulated in the Big Easy among fans that they probably saw the last of Payton. Payton spoke to team owner Gayle Benson and key figures in the Saints front office — team president Dennis Lauscha and GM Mickey Loomis — about his decision to bid adieu. They all tried to talk him out of leaving. Payton took a week off to confirm his gut feeling, but his mind had been made up.
Over the weekend, there were numerous rumors that Payton was calling it quits because he refused to answer calls or text messages to his phone. At the time, Payton went on vacation with his family and turned off his phone for privacy reasons. However, as soon as he turned his phone back on, his first call was to Benson to confirm his decision to step down as head coach.
"I don't know what's next, and it kind of feels good," said Payton during an official press conference. "I felt like it was time, but not with any regret."
After 15 seasons with the same team, Payton decided it was time to move on, but without a specific destination. There's a scenario where he returns to coaching after time away from the game.
You can watch the full press conference and the Payton farewell here.
Miracle Season at 9-8
The Saints went 9-8 this past season and bubbled an NFC Wild Card berth. Despite missing the playoffs, many insiders credited Payton with one of his best performances as a head coach guide the Saints to a winning record despite numerous setbacks.
The season started off with a natural disaster. New Orleans is no stranger to hurricanes, but a nasty Hurricane Ida displaced the entire team to Houston then to Fort Worth, Texas. The Saints spent the first month of the season away from home and played Week 1's game at TIAA Bank Field in Jacksonville.
The Saints then had to fend off a COVID-19 outbreak among their coaching staff. Payton, who had COVID in 2020, tested positive again this season.
To complicate matters, the Saints lost starting quarterback Jameis Winston to an ACL knee injury in Week 8. It was just another crappy bad beat in a season of horrendous beats for Payton and the Saints.
"At some point you've gotta smile and then bow up a little bit and get ready for the challenge still," said Payton.
The Saints were 5-2 at the time of the Winston injury, but they lost their next five games. Payton and the Saints went on a 4-1 run to end the season, but they bubbled the playoffs. Payton still managed to lead the Saints to a winning season at 9-8 considering all the COVID drama, hurricane displacement, losing a QB to a season-ending injury.
Who Will Coach Who Dat?
The news of Payton stepping down is less than an hour old. The Saints will have to scramble to find a new head coach. Eight other teams are a couple weeks into their head coach search and that list includes the Chicago Bears, Jacksonville Jaguars, Houston Texans, Minnesota Vikings, New York Giants, Las Vegas Raiders, Miami Dolphins, and Denver Broncos.
If the Saints decided to promote from within the organization, they could tap defensive coordinator Dennis Allen, or offensive coordinator Pete Carmichael Jr. There's also a long list of ex-head coaches that are looking for a job this season. The NFL has a revolving door when it comes to head coaches, so it's hard to break into the league. The Jacksonville Jaguars found out the hard way this season when they gambled on Urban Meyer, who was fired after a 2-11 start.
Ex-head coaches that could return to the sidelines next season include Todd Bowles, Jim Caldwell, Bill O'Brien, Vic Fangio, Brian Flores, Dan Quinn, and Mike Zimmer.
Several assistant coaches and coordinators could get their first head coaching position with nine vacancies available. Eric Bieniemy, the offensive from the Kansas City Chiefs, is the most-coveted OC right now, but he's prepping the Chiefs for another Super Bowl run. Byron Leftwich (Jacksonville Jaguars), Kellen Moore (Dallas Cowboys), Brian Daboll (Buffalo Bills), Nathaniel Hackett (Green Bay Packers), Marcus Brady (Indianapolis Colts) are all on the short list of potential OCs that could become a head coach next season. All of them should get a shot at the Saints gig if they decide to hire a rookie head coach.