With 11 victories in 58 races and a modest $56,880 in career earnings, Popcorn Deelites defined journeyman on the racetrack. But as one of several Thoroughbreds to portray Seabiscuit in the 2003 film of that name, he was a star on the screen.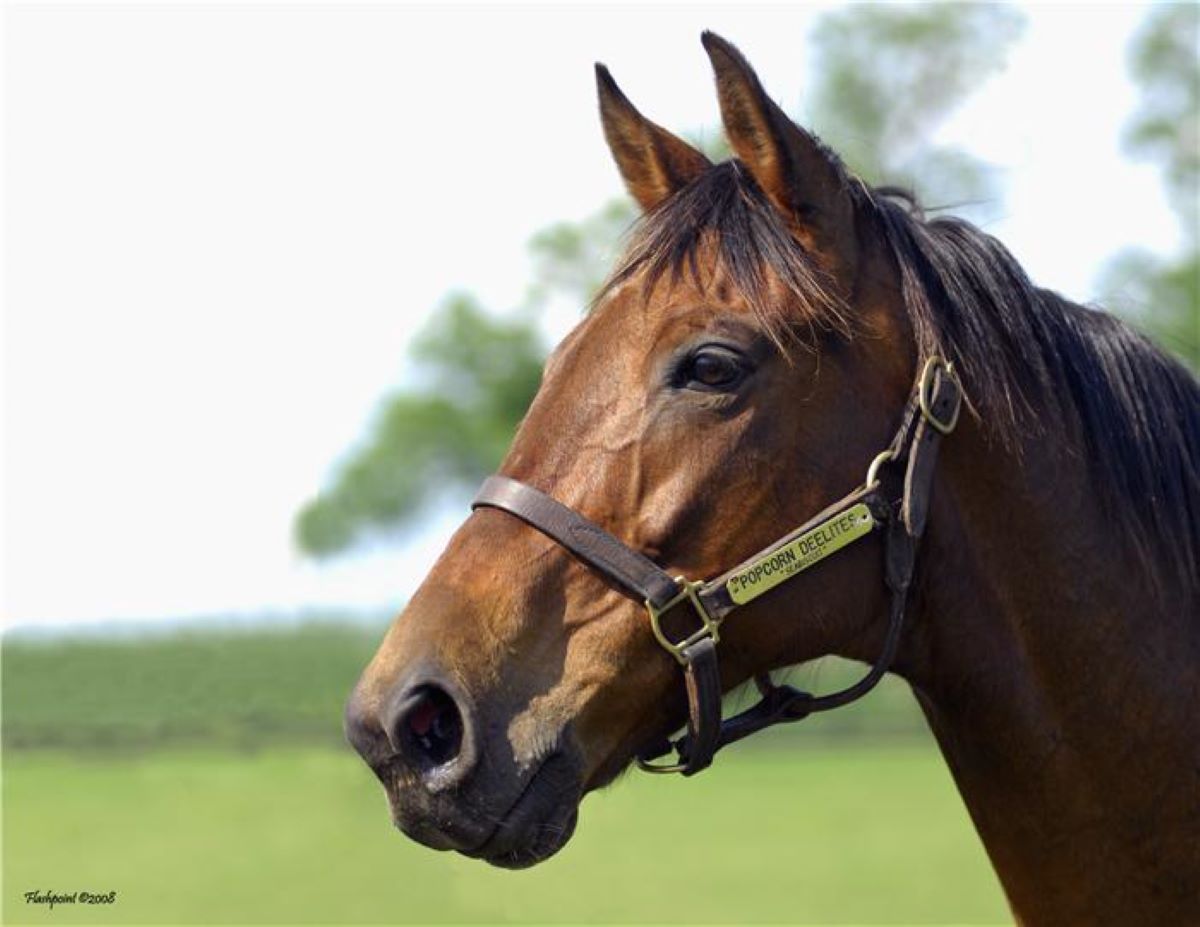 The 24-year-old gelding died Thursday of complications from colic at Old Friends, the Kentucky Thoroughbred retirement farm. Popcorn Deelites lived at the non-profit retirement farm alongside his sire, Afternoon Deelites, since 2005.
"Pop's Hollywood history made him an enormous fan favorite, of course. But what really won people over was his warm personality and friendly demeanor," Michael Blowen, founder and president of Old Friends, said in a release. "Fans adored him and he adored the fans. He will be sorely missed here on the farm, but I'm sure that his old pal and paddock mate, Special Ring, will miss him the most."
Foaled in 1998, Popcorn Deelites took eight tries to break his maiden, which happened in an April 2001 maiden claimer at Oaklawn Park. He never raced in a stakes race — graded or otherwise. His career-best Equibase Speed Figure was a 91, which came in a Turf Paradise allowance victory in April 2004.
Popcorn Deelites wound up in the minor leagues
It was the only time Popcorn Deelites broke 90 on the Equibase scale in 58 career races. The fact he was running at a single-A-level track like Turf Paradise illustrated his limited talent at that point in his career.
But Popcorn Deelites' talent manifested itself in a different venue. He bore an uncanny resemblance to the iconic Seabiscuit. That earned him a prominent role in the Oscar-nominated movie based on Laura Hillenbrand's New York Times best-selling book of the same name.
He appeared in numerous scenes in the movie, most notably during the climactic scene where Seabiscuit beats Triple Crown winner War Admiral in that 1938 match race.
Hall of Famer Gary Stevens loved his co-star
Hall of Fame rider Gary Stevens, who played jockey George "The Iceman" Woolf in the movie, remembered a horse who never missed his mark.
"He was my go-to guy in all the big scenes. He not only won real races multiple times, but he won the famous match race playing Seabiscuit," Stevens said in the release. "He was kind, fast, and a great friend that lived out his life at Old Friends in the paddock next to my other buddy — Silver Charm."
Stevens rode Silver Charm to the 1997 Kentucky Derby and Preakness Stakes winner's circles. The 28-year-old horse — the oldest living Preakness winner — was pensioned to Old Friends in 2014 after his stud career ended. With nearly $7 million in career earnings and 11 stakes victories (12 total wins) out of 24 career starts, he is the flip side of Popcorn Deelites in terms of racing success.
But not in terms of acting success.