The San Francisco 49ers have had their share of injuries during training camp, and now they have lost their first-round draft pick, Nick Bosa. The Ohio State defensive end, who was the second pick in the 2019 NFL Draft suffered an ankle sprain.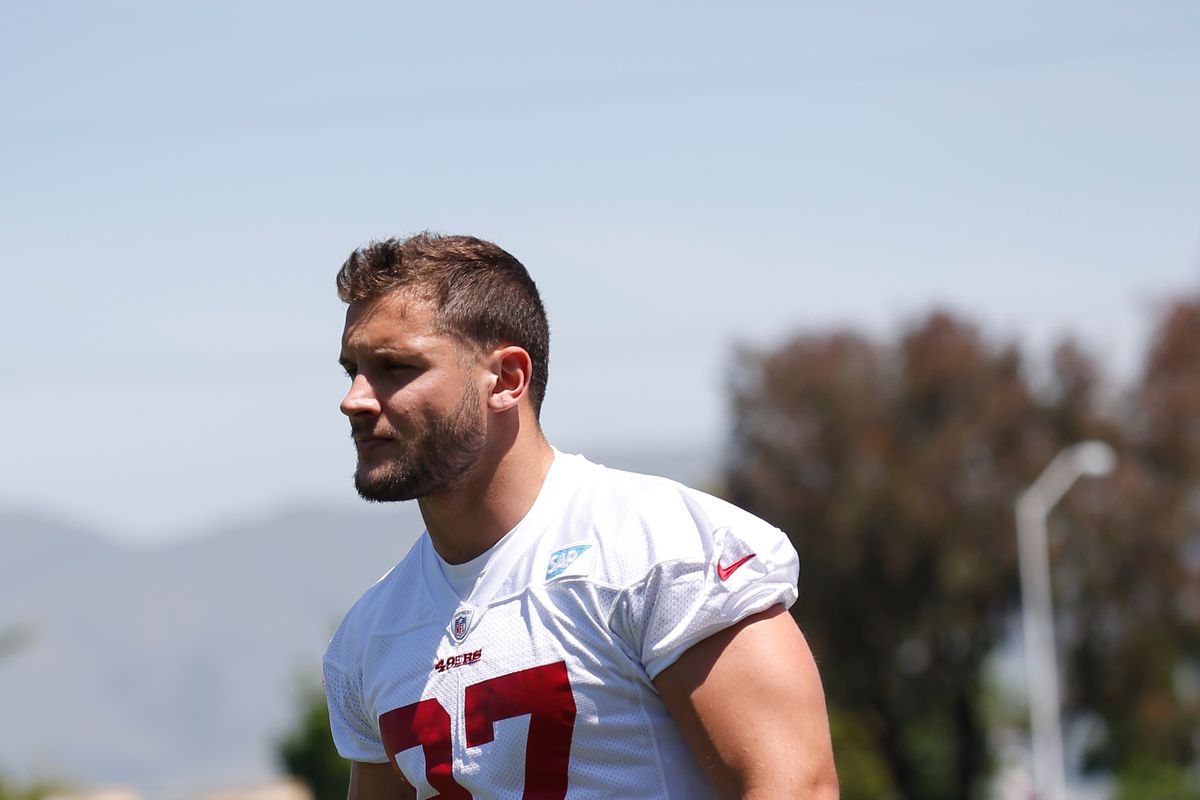 General manager John Lynch went on KNBR radio in San Francisco and said that it wasn't the more serious high ankle sprain, but it did have some similarities.
"It's a significant ankle sprain, and there's that dreaded high ankle sprain — he doesn't have a full-blown one — but it has some components of that," Lynch said. "As for timing, I think what we're comfortable saying — and a lot is going to happen here with kind of the follow-up today, they've got the scans — it's safe to say we won't see him in the preseason and then we're going to be very prudent."
Lynch also said the goal is to have Bosa ready for the season opener against Tampa Bay on Sept. 8. Lynch quickly added, though, that they will not rush the rookie back into the lineup.
"We want him right," Lynch said. "We're gonna do what's in the best interest and trust the medical staff on that. And trust Nick. We'll see where that goes."
Bosa joins a list of 49ers that will miss the preseason because of various injuries. Running back Jerick McKinnon, center Weston Richburg, and cornerback K'Waun Williams have knee injuries. Cornerback Jason Verrett is out with an ankle injury. Coach Kyle Shanahan is hopeful most of them return before the start of the regular season.
Rodgers' Sniping Continues
Quarterback Aaron Rodgers can't seem to stop critiquing his new boss, coach Matt LaFleur. On Tuesday after Green Bay concluded a joint practice with the Houston Texans, LaFleur talked about how much he liked the idea.
"Absolutely, 100 percent I want to do this again," LaFleur said. "I'd like to do it multiple times if we could."
Rodgers provided the rebuttal.
"I'm glad it's over," Rodgers said. "I wouldn't mind if they didn't do it for another 14 years."
Rodgers has been taking subtle, and not so subtle shots at his new boss. Earlier in the summer Rodgers was critical of LaFleur's offensive philosophy.
Then on Tuesday after he took a shot at LaFleur scheduling a joint practice, he blasted his coach for running a special teams drill.
"We bring a team in — I understand the point of it — but I don't think doing live special teams drills are very smart," Rodgers said. "I think the PA (players association) is going to look at that, for sure. Kickoff, especially, is one of the most dangerous plays in football, and that's why they've tweaked different things over the years. To do close to a live kickoff drill, I don't think is the best use of inter-squad practices."
Freak Injury to Brown
Chalk this up to one of the more freakish sports injuries to a player. New wide receiver Antonio Brown reportedly suffered frostbite on the bottom of his feet after not wearing the proper foot protection in a cryotherapy machine.
The 31-year-old put a picture up on social media showing his blistered feet. Head coach Jon Gruden would not disclose the nature of the injury, but he was noticeably annoyed when addressing reporters about it.
"I think we're all disappointed," Gruden said. "We want to get the party started."
There is no timetable for the former Pittsburgh Steelers return.
Dallas Defensemen Down
Defensive end Robert Quinn was questionable on his availability for Dallas Cowboys' season opener with a fractured left hand. Now even if the hand heals, he will be on the sidelines.
Quinn was suspended by the NFL for two games for violating the league's policy on performance-enhancing substances.
The front line was already down with injuries to rookie DeMarcus Lawrence (shoulder), and Tyrone Crawford (hip). Randy Gregory remains on the PUP list and has yet to practice. Tyrone Crawford is in the same boat with a hip injury and could be facing action from the NFL regarding a summer off-the-field incident. Randy Gregory remains suspended for substance abuse, and his timetable for return is unknown.