New York Jets rookie quarterback Sam Darnold began his career with a whimper, but ended it with a roar over the Detroit Lions on Monday night. The former USC signal caller, who was taken third by the Jets in April's draft, led his new team to a 48-17 demolition of the Lions.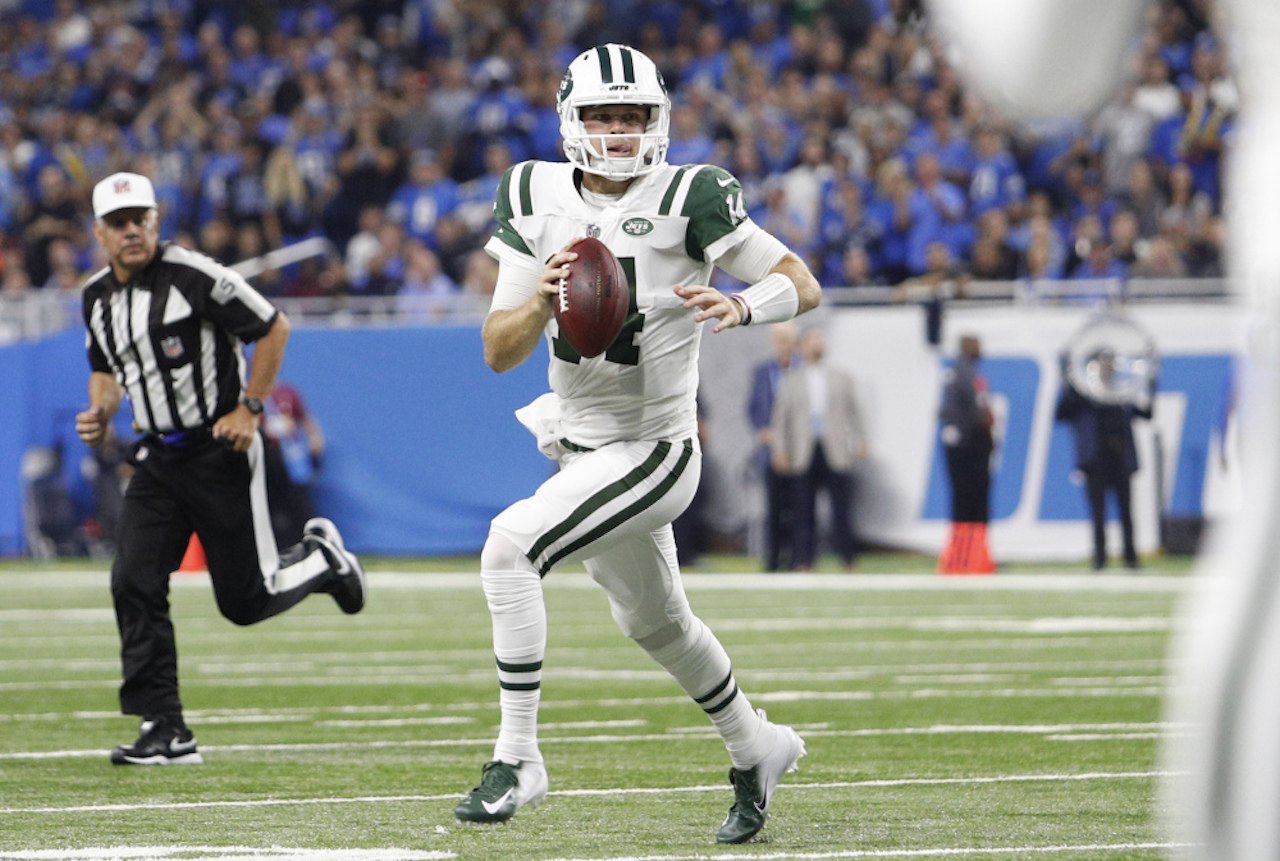 Darnold finished 16 of 21 for 198 yards and two touchdowns. He is the first quarterback to win his first start by 31 or more points since Tom Brady in 2001, per ESPN Stats & Info.
The youngest QB to start a season open since 1970, Darnold earned the praise of the team's most famous player at that position, Joe Namath. "Broadway Joe" told the NewYork Post he thought the rookie was going to make an impact.
"Barring any kind of misfortune," Namath said, "he should be around a long time playing a high grade of football at quarterback."
Auspicious Start
Darnold's career definitely didn't start that way. The first-year player took to the field on the Jets first possession, and did something fans had seen all to often. He made a big mistake.On his first throw
Darnold floated a pass on the left side of the field that Detroit cornerback read perfectly and intercepted, running it back 37 yards for a touchdown.
"I was licking my chops a little bit too much on that play, and right when I let it go I thought I had him," said Darnold, who admitted to having to some nerves.
It could have been an omen for long-suffering Jets fans, who haven't been to the playoffs since 2015. Coach Todd Bowles was even able to joke about the interception.
"I could sit here and tell you we planned it that way so he could get the jitters out but we didn't," Bowles told reporters in his post-game news conference.
Darnold was realistic about joining Tampa Bay's Jameis Winston (2015) and Brett Favre (1991) as quarterbacks who had their first pass intercepted and returned for a score.
"It can't get much worse than that," Darnold said. "Put it behind you and play the game and that's what I did," he said. "The biggest thing for me was letting the game come to me."
Cream of the Crop
Darnold was one of five quarterbacks selected in the first round of this year's NFL Draft. Baker Mayfield went No. 1 to Cleveland, Josh Allen No. 7 to Buffalo, Josh Rosen No. 10 to Arizona, and Lamar Jackson No. 32 to Baltimore.
Darnold was the only one to start on Week 1 on Sunday. Allen came in and relieved Nathan Peterman in the Bills 47-3 loss. The former Wyoming alum was 6-15 for 74 yards.
While the others were rumored to start this season, Darnold was the only sure bet. He was listed at -150 to be the first of the five to start. Oddsmakers had put the over/under on how many would start at 1.5.
While all of the quarterbacks are expected to have bright careers, but be brought along slowly, it appears the future is now for Darnold.