With the Sacramento Kings no longer in contention for the Western Conference play-in tournament, the team could shut down Domantas Sabonis (knee injury) and De'Aaron Fox (hand) for the remainder of the season.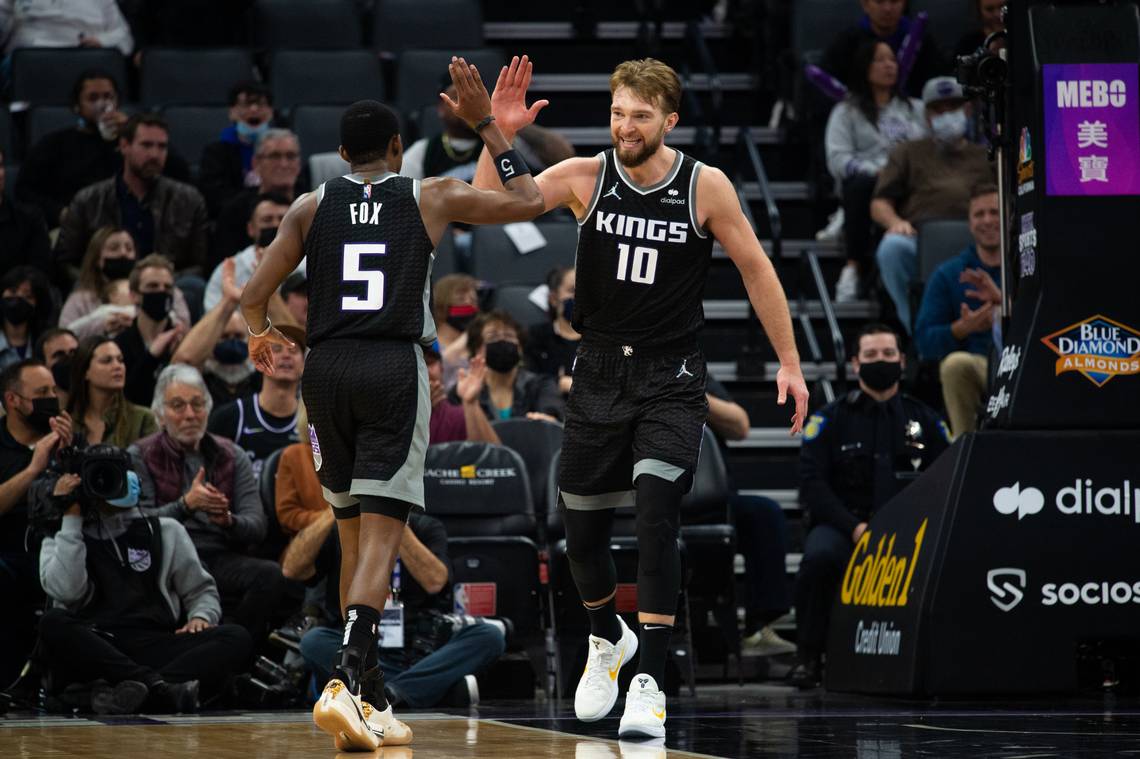 Sacramento beat reporter Jason Ham initially reported the news about the Kings potentially losing two starters in the last stretch of the season.
Sabonis went down with a left knee injury over the weekend against the Phoenix Suns when he banged knees with Mikal Bridges. The Kings feared the worst, but they got a lucky break when an MRI revealed that there was no ligament damage, nor a fracture.
"You never want to see an injury," said back-up big man Damian Jones. "When I saw Dom get hit, it looked like knee-to-knee action. I was like, dang, because that stuff really hurts. Seeing him get up and stuff was good to see."
With nine games remaining in the regular season, the Kings (25-48) currently occupy the #12 seed in the Western Conference playoff standings. They're 5.5 games behind the New Orleans Pelicans (30-42) in the #10 seed, and 6.5 games back of the Los Angeles Lakers (31-41) in the #9 seed.
The San Antonio Spurs (28-44) are on the bubble in the #11 spot and trail the Pelicans by two games. The Portland Trail Blazers (27-44) sit in the #12 spot, but they're 2.5 games behind the Pelicans.
Nothing is 100 percent, but there is a very good chance that we have seen the last of De'Aaron Fox and Domantas Sabonis this season for the Kings.

— James Ham (@James_HamNBA) March 22, 2022
Sabonis out with sore knee
The Kings indicated that Sabonis will be out for at least 10 days while recovering from his knee injury. It makes sense that he's dunzo for the rest of the season.
Sabonis averages 18.9 points, 12.3 rebounds, and 5.8 assists per game this season. The Indiana Pacers decided to implode their team before the trade deadline, and they dealt Sabonis to the Kings. In one sense, it was an exile because NBA players want to avoid playing in dreaded Cow Town. But to put a positive spin on it, the Kings struggled to entice free agents to play in Sacramento, so it gave them a chance to upgrade their roster with an All-Star caliber player.
The Kings begin a five-game road trip on Wednesday, which includes Sabonis' old team and the Indiana Pacers.
Without Sabonis in the lineup, expect head coach Alvin Gentry to give extra playing time to big men like Chimezie Metu, Alex Len, and Damian Jones. Metu started 20 games but only averages 8.6 points and 5.4 rebounds per game. Len, who is one of two NBA players from Ukraine, started 10 games this season. He averages 6.1 points and 4.4 rebounds per game. Damien Jones had six starts, and he averages 6.4 points and 3.9 rebounds per game.
Fox nursing hand injury
Fox missed the last two games with a hand injury. He was cleared for practice and he's traveling with the team on this upcoming road trip, but he won't play Wednesday night in Indiana.
Fox averages 23.2 points, 5.6 assists, and 3.9 rebounds this season. He's been the subject of trade rumors, but the Kings insist that Fox is part of their future. Instead, the Kings traded Buddy Hield and Tyrese Haliburton and stuck with Fox by teaming him with Sabonis.
Fox has been shooting lights out in March, averaging 30.9 points and 7.4 assists per game. He tallied two 40-point games since early March, including a season-high 44 points against the Dallas Mavericks. Fox also lit up the Utah Jazz for 41 points, 11 assists, and two steals a couple of weekends ago.
Fox could play later this week, but if the Kings want to make sure they're among the bottom five teams to improve their NBA Draft Lottery chances, then they'll sit Fox for the rest of the season.