NBA rookie Trae Young lived up to Steph Curry comparisons in his third-career game. Young scored 35 points and added 11 assists to lead the Atlanta Hawks to a win over the Cleveland Cavaliers 133-111.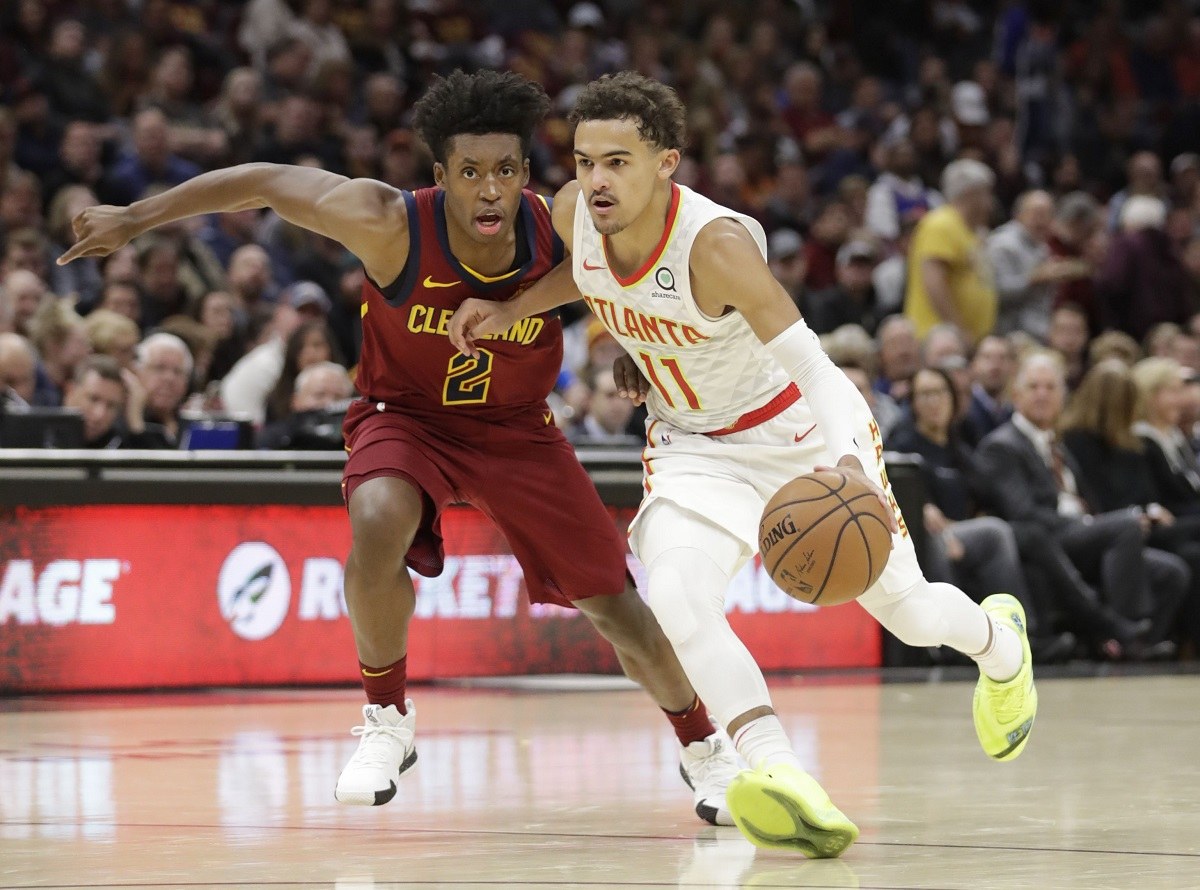 Trae Drops 35
Against the Cleveland Cavs, playing this season without LeBron James who bolted for Hollywood, Trae Young unleashed 35 points. Young scored 18 points in the second quarter, missing only one off seven shots.
When the night was over, Young finished with 11 assists and 35 points on 11 of 23 shooting.
"Trae is fearless," teammate Kent Bazemore said.
Young outplayed Collin Sexton, a rookie from Alabama. The Cavs picked Sexton with the #8 pick in the draft. The highly-touted Sexton finished with only four points and he missed 9 shots.
Lottery Pick Shuffle
The Atlanta Hawks tanked last season and finished in last place in the Southeast division with a 24-58 record. Despite the worst record, the Hawks were only awarded the third pick in the lottery. The Hawks selected top European player Luka Doncic and traded him to the Dallas Mavericks in exchange for Trae Young.
As one of the top point guards in the rookie class, Trae Young led the NCAA in scoring (27.4 ppg) and assists (8.7) at Oklahoma. Young played only one season at Oklahoma for declaring himself eligible for the NBA draft.
Steph Curry vs. Trae Young
Scouting reports compared the 6'2″ Trae Young to Golden State's superstar Steph Curry. The two guards were similar in size and demonstrated the ability for prolific scoring with stunning accuracy. At Oklahoma, Young scored 43 points or more on four separate occasions.
It's one thing to be compared to someone by scouts and then live up to the hype against professionals. Young struggled in Summer League, but his game started to gel in the preseason.
For his third game as a pro, Young struck gold against the Cavs. The 35 points marked the most points by a rookie since Steph Curry scored 35 points for the Golden State Warriors in March 2010.
Hawks Score 133
The Atlanta Hawks (1-2) won their first game of the year. The Hawks were the worst team in the NBA last season with a 24-58 record. The Cavs (0-3) were denied their first win of the season.
The Hawks scored 133 points and set a record with 22 made three-pointers. Trae Young added 6 treys on 14 attempts.