Julio Rodriguez has planted himself firmly in centerfield for the Seattle Mariners, quickly becoming one of their most dependable offensive weapons. If he keeps it up, Rodriguez might just claim the AL Rookie of the Year award, too.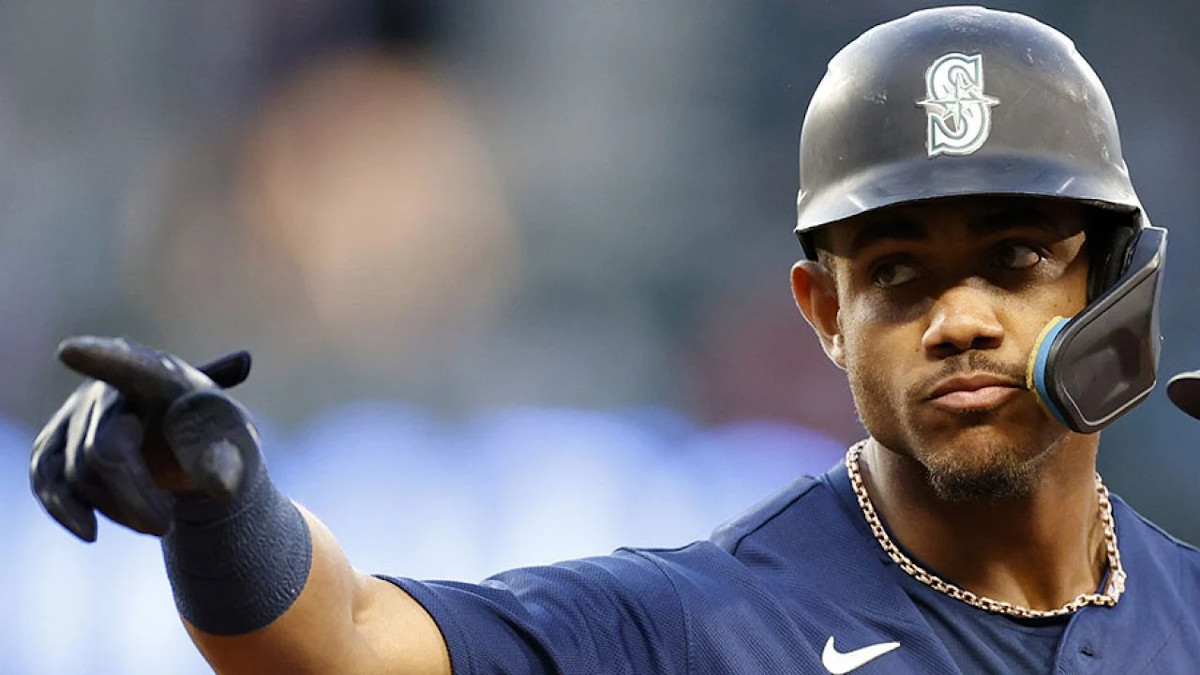 Rodriguez ranks as the +100 favorite to win AL Rookie of the Year at FanDuel Sportsbook, clearly separating himself from the pack as summer approaches.
Rodriguez's speed stands out in Rookie of the Year debate
The Mariners debuted Rodriguez on Opening Day this season, and while he struggled early, he found his form within a few weeks. The 21-year-old is hitting .263 with eight homers and a .752 OPS, solid numbers in a year where offensive production is down across the league.
While his bat took a while to get going, Rodriguez's speed has played since day one. He leads the majors with 17 stolen bases, while catchers have only caught him sealing three times. That's a bonus for a player that scouts didn't project to be a speedster as he came up the ranks.
"Before, I was definitely not the fastest runner, but I wasn't the runner people said that I was," Rodriguez said earlier this season, via Yahoo Sports. "Just got to put the work in and show them that they're wrong. That was basically what I did."
---
Rookie of the Year Odds (via FanDuel Sportsbook)
American League
National League
Julio Rodriguez: +100
MacKenzie Gore: +180
Jeremy Pena: +300
Nolan Gorman: +420
Bobby Witt Jr.: +750
Seiya Suzuki: +950
Joe Ryan: +2000
Oneil Cruz: +1300
Adley Rutschman: +3000
Spencer Strider: +1300
---
That newfound speed has helped Rodriguez dash past the other leading AL Rookie of the Year contenders.
Astros shortstop Jeremy Pena (+300) has performed brilliantly, helping Houston fans forget that they've lost star Carlos Correa at that position. Pena is hitting .277 with nine homers on the year, though his bat has slowed in recent weeks. Meanwhile, preseason favorite Bobby Witt Jr. (+750) remains in the Rookie of the Year race, but is hitting just .246 with a paltry .289 on-base percentage for the Kansas City Royals.
Gore continues to shine in Padres rotation
Over in the National League, Padres starter MacKenzie Gore (+180) has come out of nowhere to take the lead in the Rookie of the Year race. While Gore had a tough start on Saturday, giving up six runs in 2.1 innings against the Colorado Rockies, the 23-year-old southpaw has pitched to a 4-2 record and a 2.50 ERA over his first nine career starts.
"Man, he is some kinda good," Padres manager Bob Melvin said after Gore threw seven scoreless innings against the Pittsburgh Pirates on May 29. "Seems like he's even getting more economical. Now he's throwing strikes, he's getting deeper in games, where we can mentally push him a little bit farther."
Gore's chief competition could come from St. Louis Cardinals second baseman Nolan Gorman (+420). While Gorman has struggled lately, he started red hot and still boasts a solid .771, even if he's not hitting for much power and hasn't stolen a base.
Japanese import Seiya Suzuki (+950) was an early favorite for Rookie of the Year honors. But after winning the April Rookie of the Month award in the NL, Suzuki went ice cold, hitting just .211 with no homers in May. He is currently on the injured list after hurting his left ring finger while sliding into second base against the Reds on May 26.