With the Matt Patricia era over in Detroit, players and fans want to know who the next head coach of the Lions will be. Management seems to be in no hurry to replace Patricia, and will probably have to hire a general manager first since Bob Quinn was let go along with Patricia.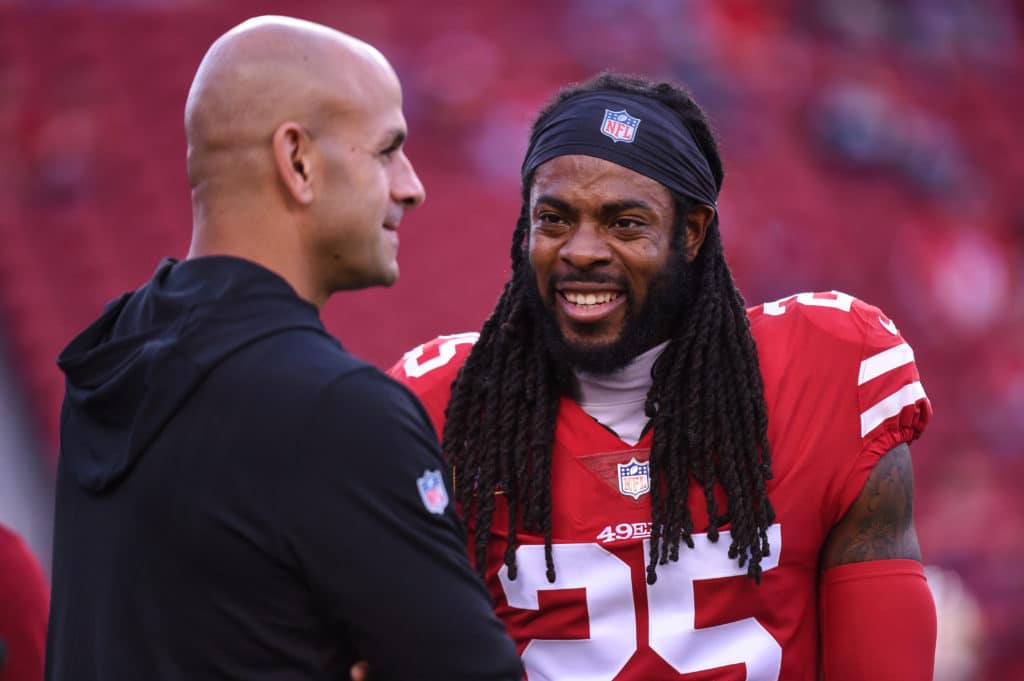 Though Detroit has set no timetable for hiring a new head coach, BetOnline has put out a prop bet on who it thinks the likely candidates are to fill the position. The favorites are two names that seem to pop up for every head coaching vacancy, but for some reason, can't seal the deal.
---
Next Detroit Lions Head Coach Odds
| | | |
| --- | --- | --- |
| Candidate | Current Position | Odds |
| Robert Saleh | San Francisco defensive coordinator | +550 |
| Eric Bieniemy | Kansas City offensive coordinator | +600 |
| Lincoln Riley | Oklahoma head coach | +650 |
| Jim Harbaugh | Michigan head coach | +700 |
| Kellen Moore | Dallas offensive coordinator | +750 |
| Darren Bevell | Detroit interim head coach | +800 |
| Byron Leftwich | Tampa Bay offensive coordinator | +1000 |
| Brian Daboll | Buffalo offensive coordinator | +1000 |
| Nick Saban | Alabama head coach | +1400 |
Source: BetOnline
---
Robert Saleh, defensive coordinator for the San Francisco 49ers and Eric Bieniemy, offensive coordinator for the Kansas City Chiefs, are the two top picks at the internet sportsbook. Saleh has odds of +550, and Bieniemy is right behind at +600.
Some of the other candidates are also have familiar names. Oklahoma head coach Lincoln Riley is at +650, and Michigan head coach Jim Harbaugh is at +700.
Saleh Makes Sense
When the Cleveland Browns had to hire a new head coach last year, their decision reportedly came down to Saleh and Kevin Stefanski. The Browns went with Stefanski, but Saleh impressed a lot of people. Saleh might go from bridesmaid to bride this time around.
The 41-year-old was born in nearby Dearborn, Michigan, and went to high school and college in the state. He was also a defensive assistant at both Michigan State and Central Michigan.
Saleh has worked as an NFL coach in Houston, Seattle, Jacksonville, and most recently, at San Francisco. He's been the defensive coordinator for the 49ers since 2017.
One player who spoke glowingly about Saleh is San Francisco cornerback Richard Sherman. The veteran told reporters after the team's victory over the Los Angeles Rams on Sunday that Saleh doesn't get the recognition he deserves.
"You have to give him an unusual amount of credit, and I don't think he's getting enough credit not only here, but in the league, in general," Sherman said. "I expect him to be a head coach next year, because of what he's able to do. He's able to rally men. He's a leader of men, and that goes a long way."
Bieniemy Gets Big Recommendation
One person who could easily pull off the upset and take the job away from Saleh is Bieniemy. The longtime offensive coordinator for the Chiefs has also had his name mentioned for several head coach openings, including with the New York Jets, who instead went with Adam Gase.
Kansas City head coach Andy Reid has been championing Bieniemy to be a head coach for the past few years. He told reporters that his offensive coordinator is long overdue.
I'd say hire him, like right now," Reid said last December. "That's what I'd tell you. I don't want to lose him, but if you're asking me if he's ready to be a head coach? Yeah, he's ready. He was ready last year. Nobody is in more control than what he is within this game. He is a leader of men. He knows football, but he knows the offense like the back of his hand."