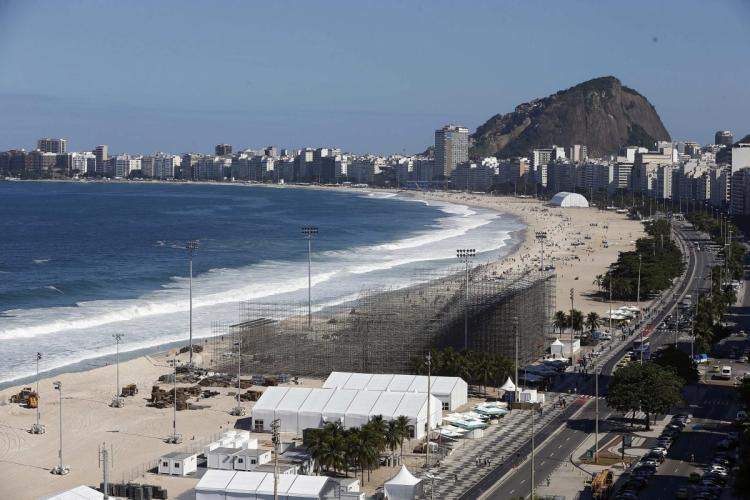 The Rio Olympics commence on August 5, meaning we're now less than 30 days away from the Summer Games. Athletes and fans eagerly await the quadrennial Olympics, but in 2016 numerous controversies surrounding the host city are largely overshadowing the upcoming competitions.
Rio de Janeiro has done its best over the months to conceal what hand it was really playing. But now as final preparations are being made and media outlets begin descending on the Brazilian city, officials are starting to come clean.
This week Rio Mayor Eduardo Paes said at a press conference that the city is ready to go and the stadiums are complete. However, he also urged visitors not to expect perfection.
"We ask you to compare Rio with Rio," the mayor pleaded. "Rio's metro is late by 100 years."
Concern #1: Safety
City police are using the Olympics as a bargaining tool for higher wages.
Law enforcement employees stood outside GaleĂŁo International Airport this week holding a sign that read, "Welcome to hell. Police and firefighters don't get paid, whoever comes to Rio de Janeiro will not be safe."
On the heels of a major economic collapse throughout the country, crime and theft is of great concern to incoming visitors. The government impeached President Dilma Rousseff in May on charges of falsifying government financial accounts.
Brazil's federal government is responsible for Olympic security. The federal government recently freed an additional $850 million for security personnel as growing trepidations mount.
Concern #2: Zika
The best athletes in the world are coming to Rio, but it's the tiny mosquitos that are swarming the headlines. The most controversial subject in the 2016 Rio Olympics, the Zika virus continues to keep some athletes away.
Though Zika is a relatively mild disease that commonly arises as a rash and low-grade fever, it's very dangerous to women who are pregnant or might soon become pregnant. Zika can transmit to the fetus and cause microcephaly, a condition that shrinks the baby's head and prevents the brain from developing.
Numerous athletes have bowed out of the Summer Games on Zika fears. But lo and behold, Brazilian officials say there's no reason for alarm.
Brazil Sports Minister Leonardo Picciani shockingly said this week there is no threat to athletes or spectators.
Concern #3: Pollution
Rio is one of the most congested cities in the world. Rush hour traffic makes Los Angeles look like a breeze.
But it's not automobile pollution that has outsiders concerned. It's the water.
Researchers have found alarmingly high levels of viruses and bacteria in the waters surrounding the city. Several human body parts even washed ashore on Copacabana Beach where the beach volleyball games will be contested.
Officials brushed off the body parts report by saying it's a problem any major city could have. "These things could happen in big cities all over the world," one Rio 2016 organizing committee member said.
And the Oscar Goes to… Jail
On other tarnished Olympic news, former Olympian Oscar Pistorius will spend the next six years behind bars. The South African double-leg amputee who competed in the 2012 Olympics was sentenced on July 6 to six years in prison for murdering his girlfriend on Valentine's Day in 2013.
Once a celebrated athlete and inspiring hero to those with physical disabilities, Pistorius' fall from grace is one of the more shocking Olympic stories in recent history. Rio might change that next month.