School is in session around the country, and this week several ranked teams will face their first real test. The biggest such college football game this weekend is probably No. 3 Georgia hosting No. 7 Notre Dame. And in the Big Ten it's a conference showdown between No. 11 Michigan at No. 13 Wisconsin. The last ranked game is No. 8 Auburn traveling to No. 17 Texas A&M.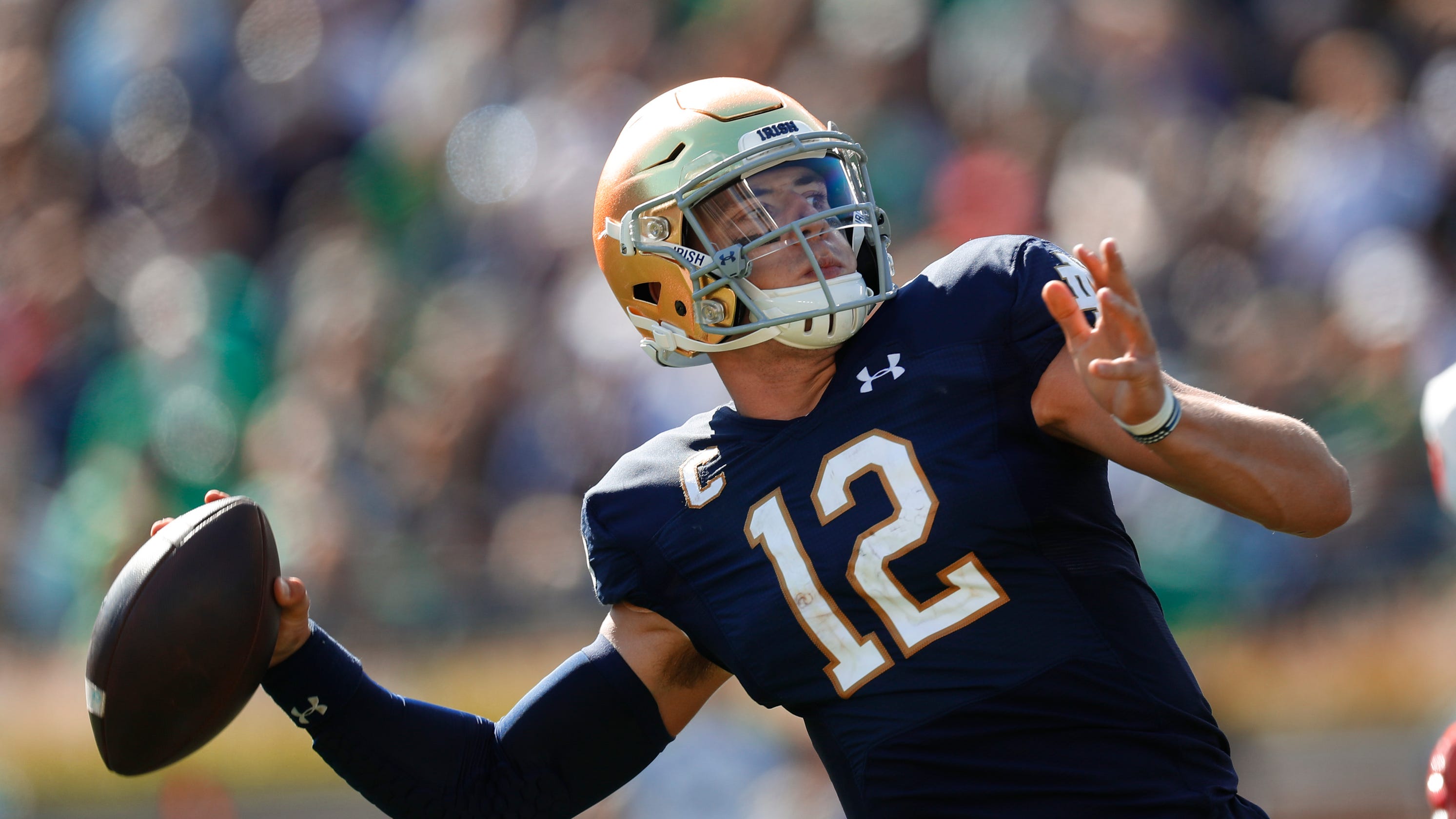 The Georgia-Notre Dame game is the only one of the three with a double-digit line. It also has had the biggest movement. The Bulldogs began as a 12.5-point favorite, but the line has jumped up to 14.5. The over/under has gone from 69.5 to 58.5.
Michigan-Wisconsin began at three, and has stayed there at most sportsbooks. A couple, like William Hill, have moved it to 3.5 in the Badgers favor.
Auburn will try and become the second Top-10 team in the AP Top 25 College Football Poll to defeat the Aggies. Top-ranked Clemson defeated them 24-10 two weeks ago.
Battle of Top 10 Ranked Teams
Georgia has played a pretty easy non-conference schedule up to this point. They opened with Vanderbilt, winning 30-6. They then throttled Murray State, 63-17, and last weekend shutout Arkansas State, 55-0.
Now comes the real test with the Fighting Irish in one of three college football games featuring ranked teams. Notre Dame is also undefeated, having beaten Louisville and New Mexico, but coach Brian Kelly knows this will be a test.
"The competition that we're playing this weekend will certainly require us to play our very best, Kirby Smart and the Georgia program are synonymous with winning and being successful, and we're quite aware of that," Kelly said. "We played them a couple of years ago in a hard fought game which we came up short. So again, we know the talent that they have. Offensively, an outstanding offensive line, they have four, five starters back there. Andrew Thomas is probably a first-round draft pick. But, their extremely physical and a big offensive line that moves very, very well and protects Jake Fromm very well."
Can Auburn Stay in Top 10?
Auburn has enjoyed a quiet ascent to becoming one of the top-10 ranked teams. Now they would like to stay there. If coach Gus Malzahn can win on the road, it would likely give him some job security. Malzahn was rumored to be on the hot seat before the season, but winning his first three games has helped keep that talk at bay.
Now comes Malzahn's biggest test in one of three college football games featuring ranked teams The key to the Tigers winning will be quarterback Bo Nix. Malzahn believes he is ready for his first road game in the SEC, and Nix said he is preparing hard for the experience.
"I've never been to College Station and am looking forward to it," Nix said. "I'm doing a lot to prepare so that it's not a shock when I play my first SEC game on the road."
Texas A&M will try and get some revenge after the Clemson loss. Coach Jimbo Fisher knows how good Nix is, and that his defense will have to stop him.
"He is a great player, and he's going to continue to be, certainly an outstanding player before he leaves Auburn, probably one of the best in the country one day," Fisher said. "So, really good player and he's got great bloodlines, that's for sure."
Big Ten Showdown
Michigan has never had much success playing at Camp-Randall Stadium, and could have more of the same this Saturday in one of the featured three college football games. The Badgers have the No. 1 defense in the country, and should give Wolverines quarterback Shea Patterson a hard time for most of the afternoon. Patterson's job will be even tougher if starting running back Zack Charbonnet can't play because of a knee injury in this Big Ten showdown.
Coach Jim Harbaugh knows how difficult this game is going to be.
"Challenge of this game is big," Harbaugh said. "Always — played Wisconsin now three times, going for the fourth. They're just good every year. Seems to be every time you face them, a really talented, veteran, well-coached football team. Camp Randall is a tough venue – that's a tough one to get. We haven't won in four or five tries. It's a big game for us, big challenge. At Camp Randall, we haven't won in the four or five times we've been there."