The Tampa Bay Lightning will try to build on a dominant Game 3 performance when they host the New York Rangers again in Game 4 of the Eastern Conference final on Tuesday night.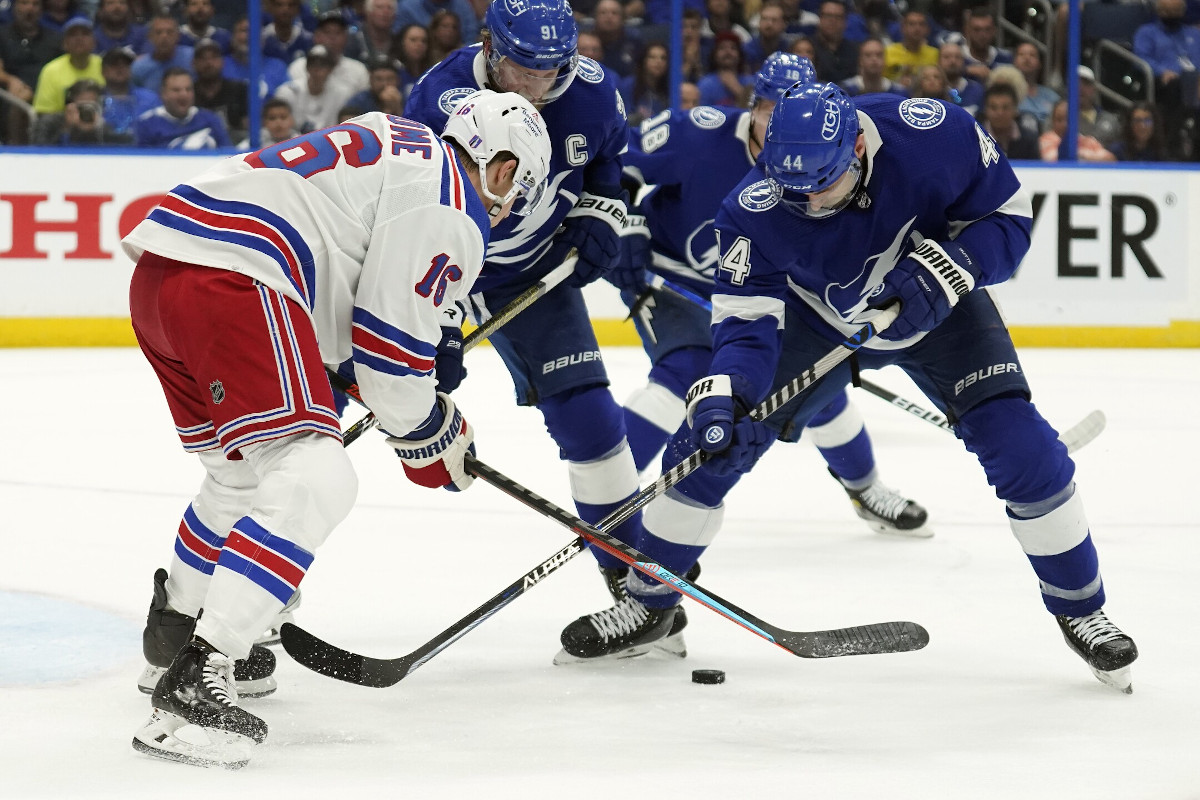 The Lightning enter Game 4 as a -178 favorite over the Rangers (+146), according to FanDuel Sportsbook.
Lightning come from behind to win Game 3
New York jumped out to a 2-0 lead in Game 3 thanks to second-period power-play goals by Mika Zibanejad and Chris Kreider. But Tampa Bay controlled the game the rest of the way, tying the score early in the third and taking the lead with under a minute left on an Ondrej Palat goal to score a 3-2 win.
That score makes the game appear much closer than it was. The Lightning outshot the Rangers 52 to 30 in a strong effort from a team that desperately needed a win.
"We've got to compete and we've got to battle," Rangers coach Gerard Gallant told reporters ahead of Game 4. "We've got to play a little grittier than we did last game. But there was a lot of good things. Keep playing our game, keep working hard. And like I said, it's 2-2 or it's 3-1. So we'll see where it goes."
The Lightning had won every postseason game following a loss dating back to the 2020 playoffs. That streak ended in Game 2, as the Rangers won twice at home to take a 2-0 series lead. Now that Tampa Bay has bounced back, they want to keep up the momentum to get back into the series.
"Anytime you're in a series, you've got to turn a page at some point," Tampa Bay defenseman Ryan McDonagh told reporters. "We have to do that even on a win at times, too. You just can't think that we did it once, it's going to be easily replicated."
New York bristles at physical play on Shesterkin
The Lightning will once again play without forward Brayden Point, who suffered a lower-body injury in Tampa Bay's opening-round series against the Toronto Maple Leafs. Point scored 28 goals and added 30 assists during the 2021-22 regular season.
"He makes progress every day and I think when you start getting closer, maybe the anticipation gets to be a little bit more," Lightning coach Jon Cooper told reporters on Tuesday. "So, hopefully, there's no more setbacks and we can see him at some point. But it's definitely not tonight."
The Lightning seem to be making a point of getting bodies in the face of Rangers goalie Igor Shesterkin in an effort to disturb the likely Vezina Trophy winner. New York has taken issue with just how physical Tampa Bay has been around the net, even as the referees called two penalties related to its play in the crease – both of which led to power-play goals.
"I don't like it," Gallant told reporters. "I don't think it's a big part of it and hopefully when we talk to the supervisor tomorrow, they'll take care of some of that, because it wasn't right."