UEFA announced the suspension of Ondrej Kudela, a defender from Slavia Prague, following a racist incident during a game in Glasgow last month. In the dying moments of the Europa League's round of 16 game between Rangers and Slavia on March 18, Kudela was accused of racially abusing Rangers' midfielder Glen Kamara.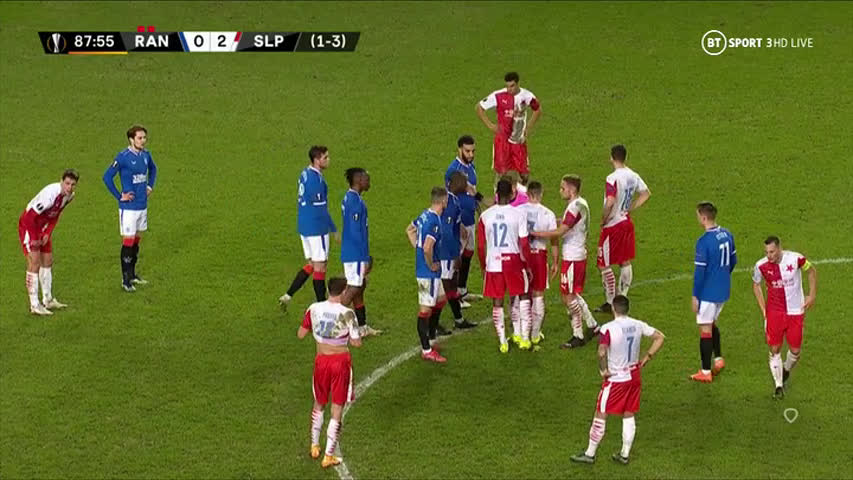 Kudela has been suspended for 10 games for "racist behavior." Kamara, meanwhile, was handed a three-match ban for assaulting Kudela.
Kamara: 'He said: you're a f*****g monkey, you know that yourself'
Kudela was filmed speaking directly into Kamara's ear in the 87th minute. Rangers were already down to nine men on the pitch, and Slavia had secured qualification.
Kudela covered his mouth with his palm and said something that instantly infuriated Kamara, who went straight to the referee to complain. Another Rangers player had the same reaction, telling the match officials he also heard everything loud and clear. Minutes of madness followed and nothing could be done to stop the fire. Rangers manager Steven Gerrard addressed the situation in his first interview after the game, confirming that Kamara was racially abused. Gerrard spent minutes talking to Slavia's manager Jindřich Trpišovský on the pitch once the final whistle was blown.
Slavia stood by their player. Later in the evening, the Czech club released a statement saying Kudela was assaulted by Kamara with his fists in the tunnel, with people from UEFA "watching in shock."
"Kudela was arguing with a Rangers player and after I tried to intervene, he told me to shut up," Kamara wrote in a statement released on social media by Rangers a few hours after the game. "He then came over to me covering his mouth, leaning into my ear, he uttered the words – 'You're a f*****g monkey, you know you are.' I was shocked and horrified to hear such racist abuse from a professional football player," Kamera's statement continued.
Kudela's claim that he simply swore at me and said "You're a f*****g guy" is a complete utter lie, which does not stand up to any form of scrutiny, Kamara added. Kamara called Kudela's actions "deliberate and premeditated," adding that he spoke loudly enough for Kamara's teammate, Bongani Zungu, to hear what was said.
UEFA slaps Kudela with a lengthy ban
On Wednesday, UEFA stopped Kudela from playing on the international stage for 10 games. The 34-year-old defender could end up missing a year in Europe. In its statement, UEFA's Control, Ethics, and Disciplinary Body announced that made the decisions to:
Suspend SK Slavia Praha player, Mr. Ondrej Kudela, for the next 10 UEFA club and representative team competition matches for which he would otherwise be eligible to play, for racist behavior, which includes the one-match provisional suspension served by the player during the quarterfinal first leg match against Arsenal FC on 8 April 2021.
Suspend Rangers FC player, Mr. Glen Kamara, for three UEFA club competition matches for which he would otherwise be eligible to play, for assaulting another player.
Kudela's ban is the heaviest ever against a professional at this level on charges of racism.
Slavia 'respect the decision,' Rangers 'welcomes the suspension'
Right after the incident in Glasgow, Slavia started a campaign to promote unity and the fight against any form of discrimination.
Following UEFA's verdict in the Kudela vs Kamara case, Jaroslav Tvrdik, the chairman at Slavia, said the club will continue support any action aimed at building a "Slavia for everybody."
"One of our goals is to create a club with zero tolerance towards hatred, racism, and discrimination. Slavia never discriminated against any minority as a club," Tvrdik wrote. "We want to learn even more from this situation and we are open to cooperation with major anti-racism British organizations."
Slavia received UEFA disciplinary decision.

➡️ https://t.co/jS692UbYRQ pic.twitter.com/DZohVrqu3z

— SK Slavia Prague EN (@slavia_eng) April 14, 2021
Rangers, meanwhile, released a short statement welcoming the sanctions imposed on Kudela.
"We welcome the suspension imposed on Ondrej Kudela. This not only vindicates Glen Kamara's evidence but underlines the severity of the comment, given the number of games which have been imposed by UEFA," Rangers wrote.
The club went on to say it believes the sanctions imposed on its two players (Kamara and Roofe) "are severe," and that it is seeking clarification in writing on the basis that "we intend to appeal the suspensions on both of our players."
Club Statement: https://t.co/4vpz5RBZHe pic.twitter.com/YjZFDu6Viw

— Rangers Football Club (@RangersFC) April 14, 2021
Apart from Kamara, who was sanctioned for his physical conflict with Kudela in the tunnel, Rangers forward Kemar Roofe got a four-game ban as well. This was for his dangerous attack on Slavia keeper Ondrej Kolar, which sent the Czech player to the Emergency Room in need of medical attention. Roofe saw a red card for his UFC-style move.
Kolar returned to the stadium a half-hour later and was pictured in the stands as Slavia celebrated advancing to the next round.
Ondrej Kolar against Arsenal.He's not gonna take it off. pic.twitter.com/Yqbz4ngyE7

— Petr Hajek (@PeeterpoolPetr) April 9, 2021
Slavia shocked Arsenal and dreams of the semifinal
Last Thursday, Slavia Prague managed to leave London unbeaten in the Europa League quarterfinals' first leg. Arsenal went 1-0 up in the 86th minute thanks to Nicolas Pepe, but conceded a goal in stoppage time from Slavia's Tomas Holes. The English giants are now in danger of missing out on the biggest objective still reachable this season — winning the Europa League.
Arsenal is at +180 for a win against Slavia, while the Czech team is at +450. A draw is at +350. The bookies still regard Arsenal as favorite to go through, at -250, with Slavia at +275. French forward Lacazette is at +450 to score first in the game, while Pepe, Arsenal's man with the goal last week, is at +550 to repeat his performance in Prague.