Given his history in such geographic matters, the fact Golden Pal is back in the US and back at Saratoga bodes well for one of the best turf sprinters in North America.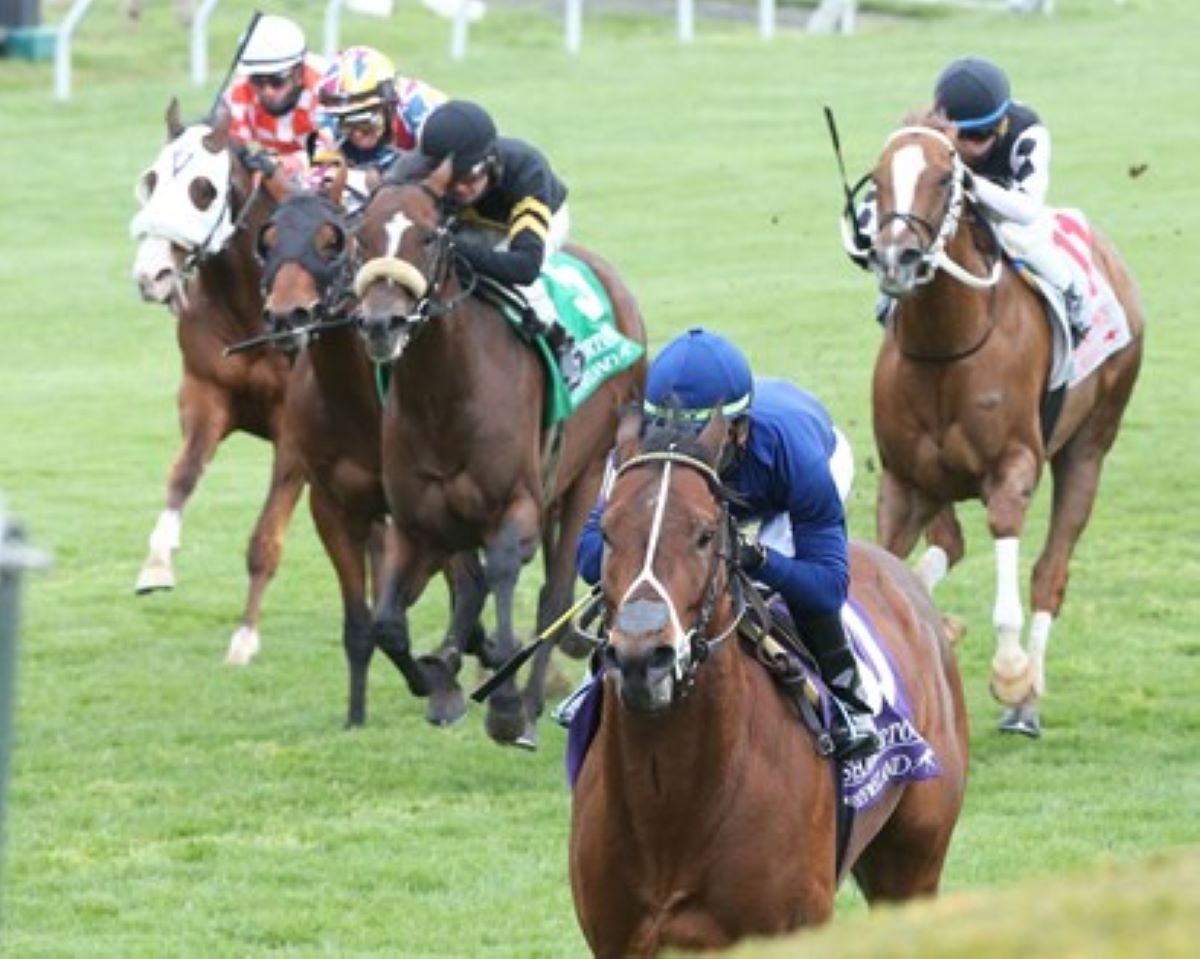 This particular stop is Friday's Grade 3 Troy Stakes at Saratoga. It should be no hill for this climber.
Golden Pal is not only going for his third Saratoga stakes victory in as many starts, he's running for his seventh North American stakes victory. The 4-year-old son of Uncle Mo is unbeaten in six previous North American stakes races, dating to his August 2020 maiden-breaking score in the Black-Type Skidmore at the Spa.
This segued into Golden Pal's first of two Breeders' Cup titles: the Juvenile Turf Sprint at Keeneland, site of this year's Breeders' Cup.
Golden Pal finds plenty of gold at the Spa
And yes, Saratoga has been very good to Golden Pal. He opened his 3-year-old campaign there last summer winning the Grade 3 Quick Call. That, in turn, springboarded him to victories in the Grade 2 Woodford at Keeneland and his second Breeders' Cup score: the Turf Sprint at Del Mar. That second Breeders' Cup win came with one of the most dominant performances of the weekend. Golden Pal wired the field en route to clocking a 107 Beyer Speed Figure and 126 Equibase Speed Figure.
In fact, Golden Pal is 6-for-7 in the US. His only domestic loss came in his debut, when he finished second to Gatsby in an April 2020 Gulfstream Park maiden special weight. That was one of the first races of the year for the 2020 crop of 2-year-olds.
Golden Pal is so dominant that he's led at every call in all six of his North American victories. He breaks exceptionally well, holds his tactical speed perfectly and does not permit rivals to pass. Trainer Wesley Ward brought out another attribute that explains Golden Pal's 6-2-0 record in 10 starts and his more than $1.4 million.
Golden Pal has 'a beautiful mind'
"He's got a beautiful mind," Ward told the New York Racing Association. "As we bring these horses up, a lot of them will get a little on edge and a little hot and sweaty. But if you notice him, he's just really cool and composed and focused. Very few horses are like that. He knows what he's already going to do. There are a lot of horses that anticipate things, so that's one thing when you lead a horse over for a big race, a lot of them run part of their race prior to going in the gate. But you'll never see that with this horse. He's just dead-on ready to go."
However, Golden Pal doesn't have his typical momentum going into the 5 1/2-furlong Troy. Because as invincible as Golden Pal has been on this side of the Atlantic, the British Isles have been Kryptonite to an otherwise dominant sprinter.
We last saw Golden Pal June 14, when he finished last-of-16 as the 15/8 favorite in the Group 1 King's Stand at Royal Ascot. After the race, Ward said his star sprinter missed the break because jockey Irad Ortiz Jr. turned around to look at a horse who hadn't loaded in yet. That horse was later scratched.
Run fast, yet finish last
"Irad was looking back at the horse that wouldn't load. He didn't realize they scratch horses over here," Ward told racingpost.com. "He said he almost fell off."
And yet, Golden Pal still left a mark with his blistering speed. According to At The Races' sectional timing expert Simon Rowlands, Golden Pal ran the fastest individual furlong in Royal Ascot's last three meetings. He covered his second furlong in 10.36 seconds.
This is scant consolation for Golden Pal's record outside the US. Ward sent Golden Pal to England three times for races. The colt is 0-for-3, hitting the board only once in those three excursions. That came in his second start: the Grade 2 Norfolk Stakes at the 2020 Royal Ascot meet, when Golden Pal finished a solid second.
Royal Ascot? What's Royal Ascot?
Golden Pal comes into the Troy working like he wants to forget Royal Ascot. He's clocked two bullet workouts at Saratoga: both sub-1-minute five-furlong breezes. His last work, Friday's 1:01.86 five-furlong breeze, was third of 20 that day.
"His last work was awesome, so we were ready," Ward said. "With the track the way it was (Friday) morning, the turf with the rain the night before, we couldn't have asked for anything better than that."