Championship Sunday is almost here and DraftKings has posted a prop bet on which player will catch the most receiving yards in the AFC or NFC Championship, with Cooper Kupp the favorite at +225 odds, followed by Ja'Marr Chase, Tyreek Hill, and Travis Kelce.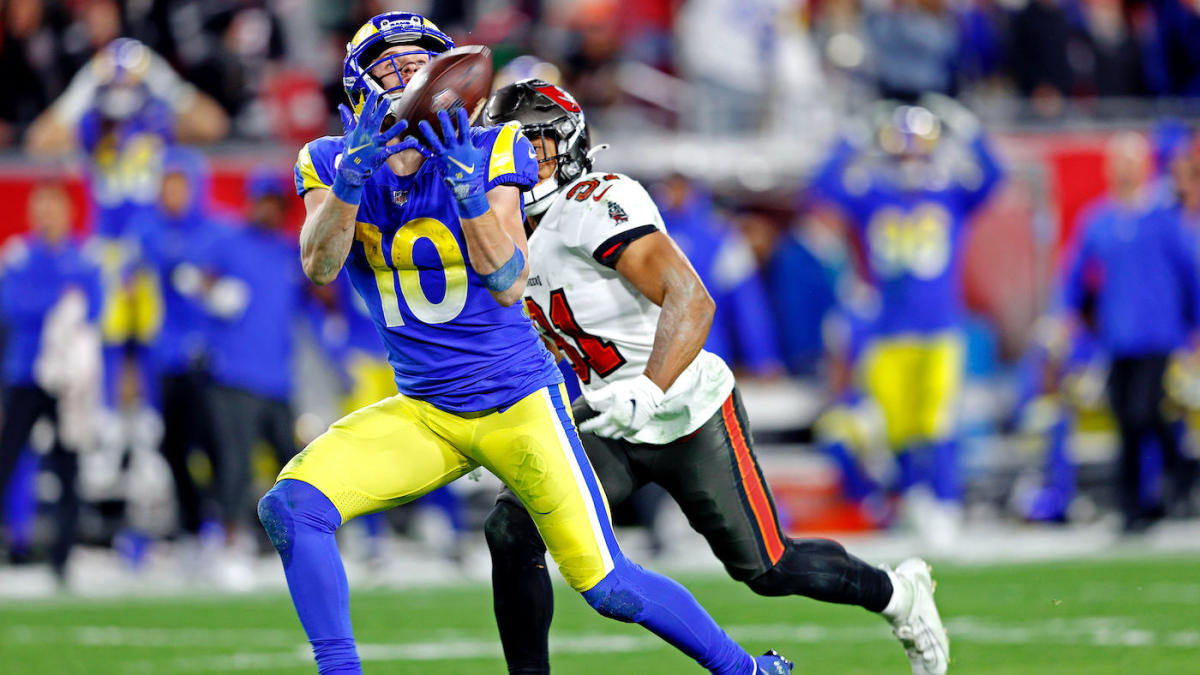 Last week, Gabriel Davis from the Buffalo Bills stunned the world with four touchdown receptions via Josh Allen on eight catches for 201 yards. He wasn't even in the top 20 on the board, but still paid off handsomely at +6000.
---
Most Receiving Yards – Conference Championship Sunday
Cooper Kupp +225
Ja'Marr Chase +450
Tyreek Hill +600
Travis Kelce +650
Tee Higgins +850
Deebo Samuel +1000
George Kittle +1200
Odell Beckham +1400
Brandon Aiyuk +2000
Tyler Higbee +2500
Tyler Boyd +2500
CJ Uzomah +2500
Van Jefferson +3000
Byron Pringle +3000
Mecole Hardman +4000
Joe Mixon +4000
Jerick McKinnon +4000
Jauan Jennings +4000
Cam Akers +5000
DeMarcus Robinson +5000
---
Davante Adams from the Green Bay Packers was the favorite during the Divisional Round at +350 odds. Adams tallied only 90 yards in a heart-breaking, walk-off loss against the San Francisco 49ers. Adams wasn't even the top target for Aaron Rodgers, with running back Aaron Jones catching a game-high 129 receiving yards.
Kupp +225
Cooper Kupp just missed setting an NFL record in receptions and receiving yards during the regular season, but he set a combined record when he passed the 2,000-yard mark.
In 19 total games, including 17 in the regular season and two in the postseason, Kupp tallied 129 receptions for 2,191 yards. He passed Michael Thomas from the New Orleans Saints who caught 156 catches in 17 combined games in 2019. He also topped Larry Fitzgerald's record from 2008 in which he tallied 1,977 yards in 20 games when the Arizona Cardinals went to the Super Bowl.
Kupp is the betting favorite at +225 yards to post the most receiving yards against the San Francisco 49ers in the conference championship. He's Matthew Stafford's favorite target and has a knack for getting open on the fly after 19 games together. He's like a jazz musician who can improvise a solo on the spot and find the right space. Stafford hooked up with Kupp on two huge plays in crunch time to defeat the Tampa Bay Bucs in the NFC Divisional Round. He finished the game with nine receptions for 183 yards and a touchdown.
STAFFORD FINDS COOPER KUPP. UNBELIEVABLE.

(via @NFL)
pic.twitter.com/nx128toQUI

— Bleacher Report (@BleacherReport) January 23, 2022
Chase +450 or Hill +650
Cheetah or the rookie? This would be a great head-to-head prop bet on who can catch the most receiving yards on Sunday. Hill is nicknamed the Cheetah for a reason. The Kansas City speedster creates havoc for opposing defenses. If you take your eye off Hill for a second, he'll slip by the secondary and Mahomes will find him in mid-stride. Hill comes in at +650 odds, but Mahomes spreads the ball around, so you never know which member of the Chiefs will rack up the most receiving yards on any given Sunday.
Ja'Marr Chase from the Cincinnati Bengals is a lock for the Offensive Rookie of the Year. Chase and Joe Burrow have a long history that dates back to their time in the bayou together. They won a college football championship together at LSU and they're two wins away from winning a Super Bowl together in Chase's rookie season.
Chase only caught five passes for 109 yards and no touchdowns last week, but he's still the primary target for Burrow during the two-minute drill or when TSHTF.
In Week 17, the Bengals upset the Chiefs 34-31 thanks to a three-touchdown performance from Chase. Burrow targeted Chase 12 times and Chase caught 11 passes for a whopping 266 receiving yards. He even torched the Chiefs for a 72-yard touchdown. Chase offers up great value at +450 odds to secure the most receiving yards in the conference championship round.
Never forget when Ja'Marr Chase torched the Chiefs 🔥

(🎥 @NFLFantasy)pic.twitter.com/bdIN823tJw

— PFF Fantasy Football (@PFF_Fantasy) January 27, 2022
Kelce +650
Kansas City Chiefs tight end Travis Kelce also has jazz vibes when it comes to running routes. He can improvise based on what the defense gives him, but more importantly, he's developed an ESP with Mahomes.
In the greatest playoff game in NFL history against the Bills, Kelce and Mahomes drew up a sand-lot play with eight seconds remaining in regulation, which set up a game-tying field goal to force overtime. The Bills doubled-teamed Kelce in crunch time, but instead of running a specific route, Kelce told Mahomes that he could get open.
"Kelce wasn't necessarily supposed to do that," said Mahomes. "After the timeout, we got a look at what the defense was doing, and he actually said it to me, 'If they do it again, I'm going to take it down the middle between both the guys guarding me.' And he went up the field, I gave him the ball and he got into field goal range."
"Do it, Kels! Do it, Kels!" screamed Mahomes at the line of scrimmage.
Kelce is the top tight end on the prop betting board at +650 yards to lead the pack with the most receiving yards in the conference championships.
"DO IT": Isolated and enhanced pic.twitter.com/7MKfHa9BzD

— Kali Mahomes (@ClayWendler) January 24, 2022