Brooks Koepka and Tiger Woods haven't had great starts to 2020, but that hasn't deterred one sportsbook from offering a prop bet on how many PGA Tour wins they'll earn this year. BetOnline recently posted the wager for both players, laying odds on whether they will win anywhere from zero events to four or more.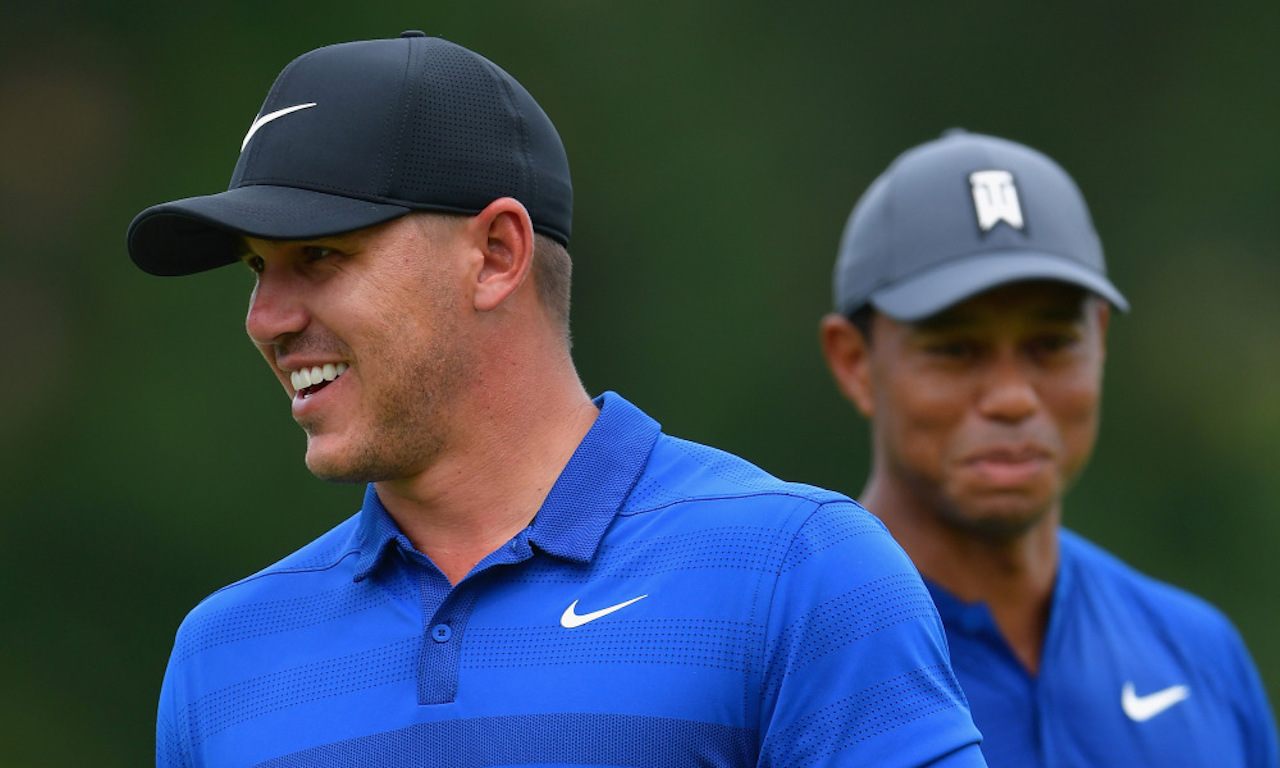 Both golfers are favored to win at least one tournament. BetOnline has Woods at -165 to win one or more tournaments, while Koepka is at -275 to win one or more. In 2019, Woods won the Masters and the ZOZO Championship. Koepka captured the PGA Championship and the St. Jude Invitational.
The odds get longer for other bets regarding the two golfers. Woods is at +135 to win no tournaments, while Koepka is at +225. Two or more wins returns +240 for Woods and +100 for Koepka. Three or more victories is +800 for Woods and +350 for Koepka. The longest odds are for four or more tournaments, with Woods getting +2200, while Koepka is at +1400.
Woods, Koepka Face Challenges in 2020
The beginning of the season has been a struggle for both players. Woods had a draining end to 2019. He hosted his own tournament in the Bahamas that benefits his foundation, then was in Australia two days later as captain of the victorious Presidents Cup team.
Woods began his 2020 season January 26 at the Farmers Insurance Open in San Diego, and said then he was excited to start the season.
"I think for me, managing adrenaline takes a little bit of time," Woods said. "I'm so amped up to play that I really have to dumb myself down, to calm myself down to play, because it's one of the things I've always struggled with, because I just want to get out there and compete."
Woods finished tied for ninth at Torrey Pines, and was generally happy with the week.
Koepka was coming back from knee surgery after damaging it for the second time during October's CJ Cup in South Korea. His first event of the year was overseas at the HSBC Championship in Abu Dhabi in January. Like Woods, Koepka was ready to play golf again.
"I miss competition," Koepka said before the start of that event. "I've missed showing up to an event preparing for something, because I haven't had anything to prepare for. When you have three months off, it's not fun, I know that. But it makes me appreciate the game more every time and, hopefully, I don't have anymore of those situations."
Koepka finished tied for 34th in the tournament, and followed up that performance with a tie for 17th two weeks later at the Saudi Invitational.
Duo Struggle at Riviera
Both Woods and Koepka entered last week's Genesis Invitational at Riviera County Club in Southern California. The tournament was hosted by Woods' foundation, and being an hour away from his boyhood home, was special to the 44-year-old. Those factors make it even more frustrating for Woods that he hasn't ever won the event.
"I've played here so many rounds," Woods said. "It suits a natural cutter of the golf ball, so I figured that's what I have done pretty much my entire career, but when it comes right down to it, you've got to hit the ball well here because the greens are so small and they're so slopey."
Woods struggled yet again at Riviera, making the cut, but finishing last among the golfers that did. He talked about how fatigued he was after the four rounds of play.
"I was just off, it happens," Woods said. "I'm off and I got a chance to have the week off tomorrow and this week — sorry, this week and do a little prep, a little practicing, some training, be at home and all positive things."
Koepka fared slightly better. He finished tied for 43rd.
The two will now take this week off. Both are expected to play the following week at the Honda Classic at PGA National in Palm Beach Gardens, Florida.