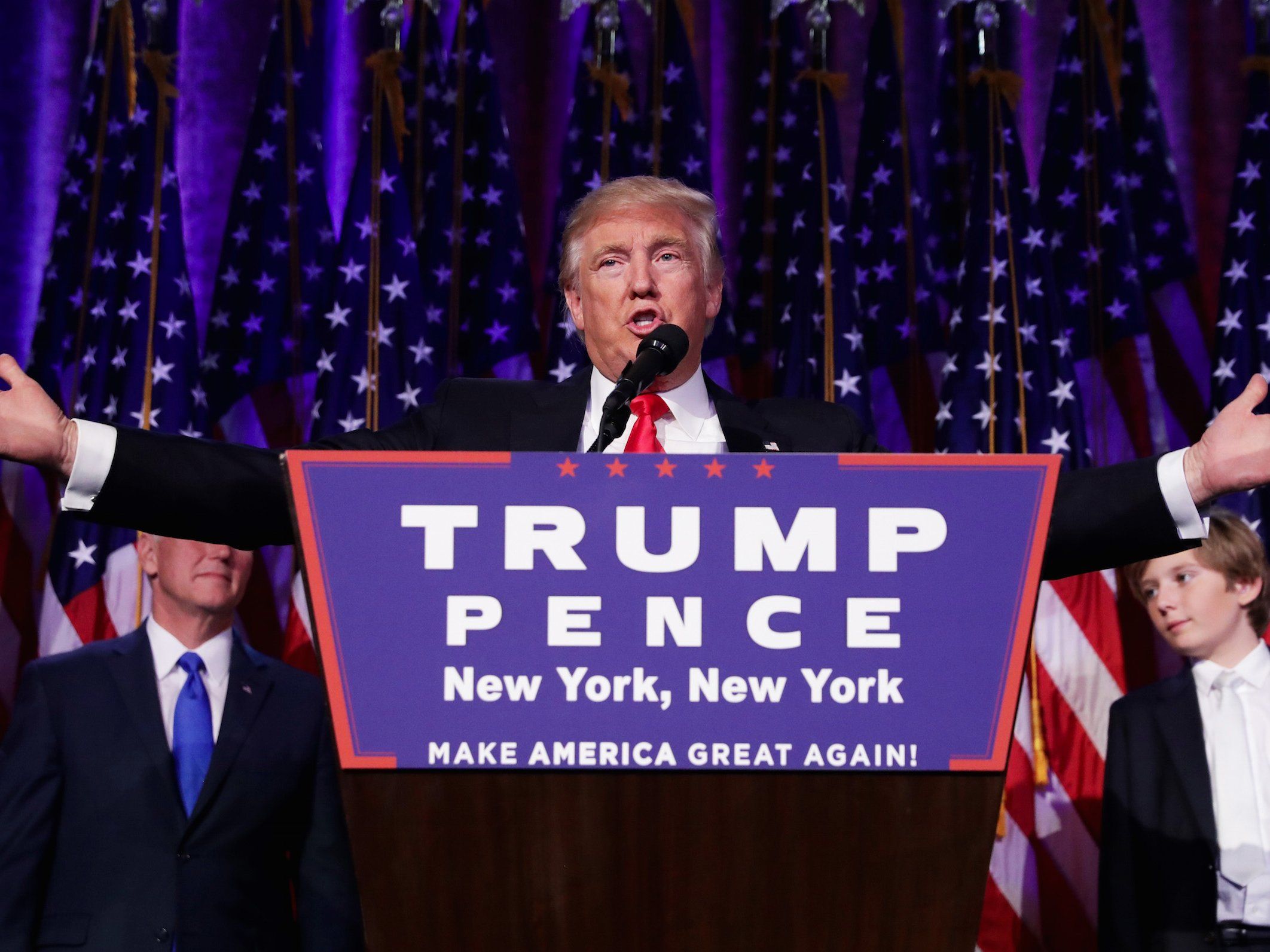 Presidential bets placed on Republican Donald Trump are quickly making the bank accounts of those who took the wagers much greater in value. Trump's campaign tagline has been to "Make America Great Again," and for those who predicted what is perhaps the biggest upset in US political history, that's a motto already coming to fruition.
Betting on election outcomes is illegal in America, but overseas it's a popular pastime. A record amount of wagering was received in the UK, and following Trump's surprising victory on November 8, bookies are delivering big payments to The Donald's betting supporters.
One of the largest came on Spreadex, a British-based online sportsbook, which paid out a more than $600,000 net win to a gambler who risked nearly a quarter of a million dollars on Trump.
"It was a costly night for us with the shock Trump win seeing punters walking away with more than a million pounds," Spreadex's Connor Campbell told Pound Sterling Live, an online media source that covers financial markets. "We congratulate those bold investors who had the foresight."
Trump Wins, Bettors Win
The unnamed Spreadex winner isn't alone in celebrating the Trump triumph.
British businessman John Mappin also made a substantial bet on the Republican presidential candidate. Mappin, who was born into the Mappin & Webb jewelry line and now owns the Camelot Castle Hotel, tells CNNMoney that he won $124,000 on the election on a slew of bets totaling around $6,200.
Mappin says he began placing small wagers on a Trump win about a year and a half ago.
"It's the first bet I've ever placed," Mappin revealed. "I don't care about the money. I care about the fact that this candidate has done something that this world really, really, really needed."
UK books took a record $284 million on the US election race from European bettors.
Reality Star for President
Trump won't officially become the president of the United States until January 20, 2017, but oddsmakers are already taking bets on who'll win in 2020. And Trump bettors won't have the favorable odds they did for the 2016 election.
Trump is the favorite to win the 2020 election at both Paddy Power and Ladbrokes with respective odds of 11/10 and 6/4. Trump's VP Mike Pence has the second-best odds at 7/1 on both sites.
First Lady Michelle Obama is thought to be a viable option in four years, and is listed at 8/1 on Paddy Power and 12/1 on Ladbrokes.
In 2014, Trump had odds of 250/1 to become the next occupant of the White House. Another reality television star, Kim Kardashian, has odds not too far off from those. Never one to shy away from a seemingly outlandish betting opportunity, Paddy Power lists Mrs. Kanye West at 275/1.
The Kardashian line is likely getting little action, as it would seem unthinkable that the E! television star could possibly become president. But of course, anything is possible.