Dustin Johnson has never won the Players Championship, but will head into TPC Sawgrass as the favorite to win the so-called fifth major this weekend.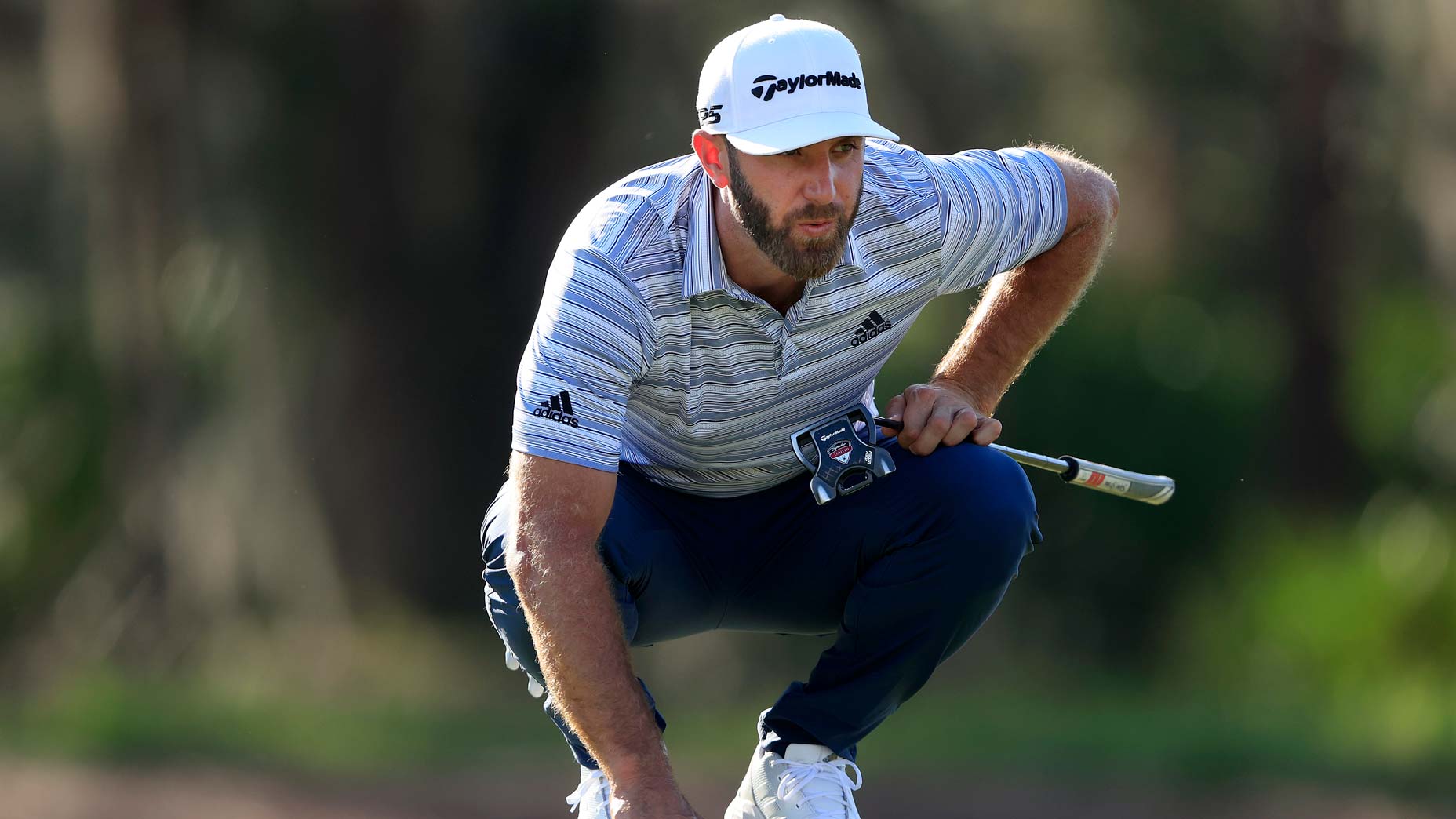 FanDuel Sportsbook lists Johnson as the +1200 pick to win the Players Championship, the lowest number in a field without a clear man to beat.
Johnson prefers Sawgrass in the spring
Ten golfers are posted at +2500 or less, with another 13 under +5000. In a field featuring virtually all of the world's best players, there is no shortage of contenders.
But the world's No. 1 player tops the list. Johnson has a history of poor results in the Players Championship, though that has been changing in recent years. He finished in the top 20 in both 2017 and 2018, then tied for fifth in 2019. Last year's tournament was halted after the first round early in the COVID-19 pandemic.
Johnson says he's become more comfortable with TPC Sawgrass over the years, particularly at this time of the year.
"Obviously the rough's a little thicker, it plays longer, but the greens are a little more receptive, you can actually hit some shots," Johnson told reporters on Tuesday. "So I think the course plays better overseeded and playing this time of year and I definitely like it better."
Jon Rahm (+1700) comes into the Players as the second choice, just ahead of Rory McIlroy (+1800), the defending champion from 2019. McIlroy has been inconsistent as of late, and has fallen outside of the top 10 in the world rankings for the first time in three years.
"Just trying to get the bad golf a little better because the good golf is always there, and the good shots will always be in there," McIlroy said on Tuesday. "It's just when you're not feeling quite 100%, that's when you need to just be able to manage it a little better, and I just haven't managed it well over the last few weeks."
DeChambeau rules in place for Players Championship
Bryson DeChambeau (+1900) won the Arnold Palmer Invitational last week and will look to bring his power game to bear at TPC Sawgrass. The PGA Tour has already taken measures to mitigate his distance a bit, creating a local rule that won't allow a player to hit into the ninth hole while playing the 18th – something DeChambeau said he was considering.
But DeChambeau says he'll need to be cautious to win the Players Championship.
"There's a lot of cross bunkers and water that crosses the fairway, and places where you kind of just have to hit it into a certain specific area," DeChambeau told reporters. "I can't just bomb it out there."
---
Players Championship Odds (via FanDuel Sportsbook)
Dustin Johnson: +1200
Jon Rahm: +1700
Rory McIlroy: +1800
Bryson DeChambeau: +1900
Justin Thomas: +1900
Patrick Cantlay: +2100
Collin Morikawa: +2200
Webb Simpson: +2200
Xander Schauffele: +2400
Viktor Hovland: +2500
---
FanDuel lists Justin Thomas at +1900. Thomas missed two cuts in his last four tournaments and admits he's been distracted by a variety of factors – including the controversy over his utterance of a homophobic slur during the Tournament of Champions, and Tiger Woods' car accident – this season.
"I'm not playing as well as I'd like," Thomas told reporters. "But I've been working and kind of tweaking things here and there, just trying to figure out what's going on."