It may have taken an extra day to finish, but Phil Mickelson didn't mind waiting until Monday to win the AT&T Pebble Beach Pro-Am for the fifth time in his career.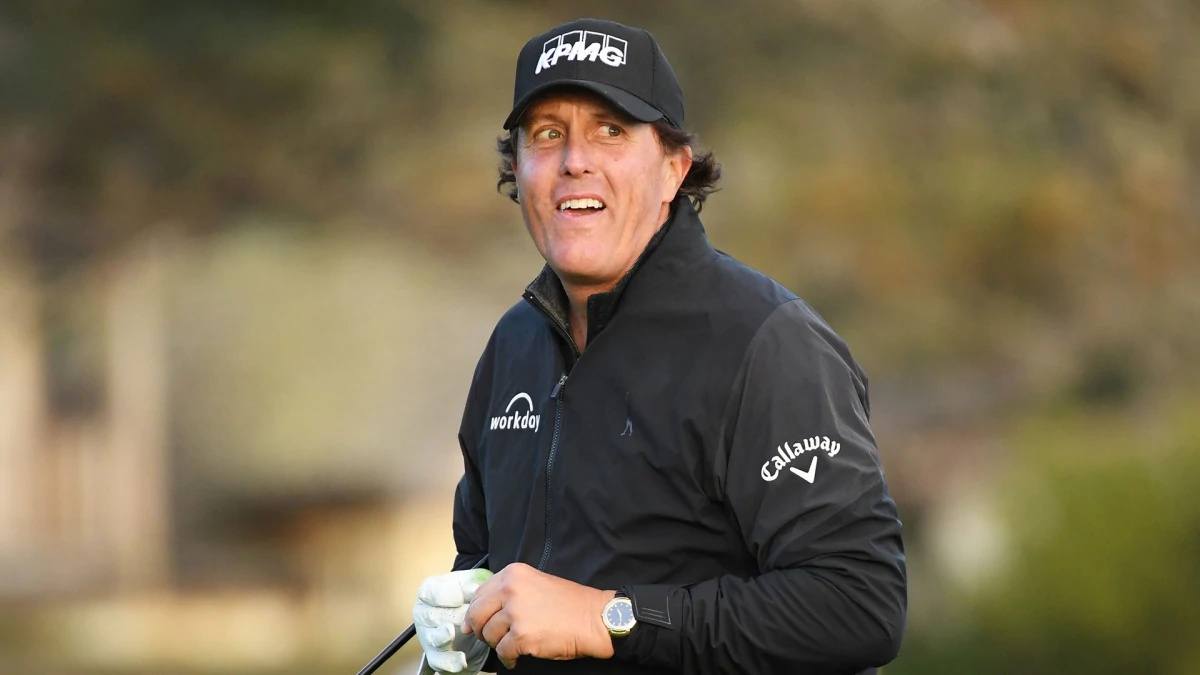 Mickelson carded a final round 65 to earn the 44th victory of his PGA Tour career and his first win of the 2019 season.
Darkness Delays Tournament Finale
Mickelson looked all but assured of victory on Sunday night, holding a three-shot lead over Paul Casey after 16 holes. But because of weather delays throughout the day, darkness was setting in, and officials decided to call off the round when the final pairing had just two holes left to play.
At the time, Phil argued vehemently that the tournament should finish on Sunday evening rather than forcing the players to carry over into Monday.
"I can see fine," Mickelson told a rules official as twilight began to set in. "I don't want to put Paul in a bad spot."
At the time, Casey was tied for second place at 15-under-par, three shots back of Mickelson. Both men birdied the final hole, allowing Mickelson to win the tournament at 19-under-par, while Casey finished 16-under.
That was critical for Casey, as it allowed him to finish in clear second and won $152,000 more than he would have had he tied Scott Stallings for the runner-up position. Casey also walked away with the Pro-Am title alongside his partner Don Colleran, who serves as the chief sales officer for FedEx.
Casey was in favor of ending play on Sunday night. At the time, Mickelson seemed annoyed by the decision, shaking his head when the horn sounded to end play while he was ready to tee off on the 17th hole. But after the action concluded on Monday, Phil was gracious in victory.
"He really protected both of us," Mickelson said of Casey while speaking to CBS Sports' Peter Kostis. "The greens were beat up. We had a chance today to come out on fresher greens, better weather, and I was really appreciative of that."
Pebble Beach Win Lowers US Open Odds
Pebble Beach has always been a special course for Mickelson. He made his professional debut there in 1992 during the US Open, and has enjoyed playing on the course since then.
The win resulted in some early speculation about how the 48-year-old Mickelson might fare in June when the US Open is once again hosted at Pebble Beach. But while Phil would love to complete his career Grand Slam by picking up a US Open title, he was the first to say that his performance this weekend – on a much less challenging setup – shouldn't be too indicative of how he might play the next time he visits.
"It's nothing like the course we'll see [for the Open]," Mickelson told reporters. "I'll deal with that in six months."
Oddsmakers aren't jumping entirely on the Mickelson bandwagon, but they've certainly factored the Pro-Am win into their odds. William Hill has dropped their odds on Phil winning the US Open to just 20/1, only slightly behind the lead group of favorites like Dustin Johnson (10/1), Tiger Woods (12/1), and Jordan Spieth (12/1).