It is a party disguised as a golf tournament, and no one has been the guest of honor at the Waste Management Phoenix Open more than Phil Mickelson. The 48-year-old has played in the event for the last 29 years as a professional.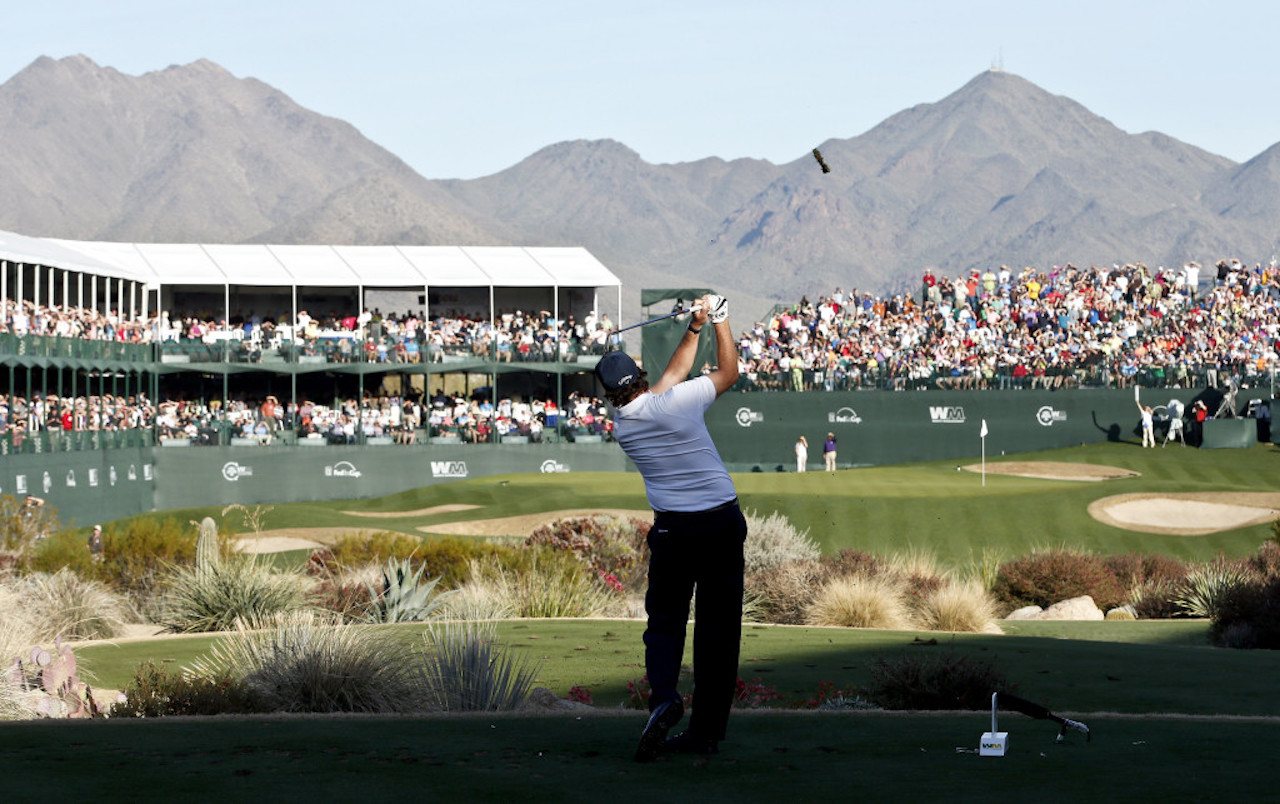 As he embarks on his 30th tournament at TPC Scottsdale, Mickelson hopes he can win here for the first time since 2013. He also won in 1996 and 2005. He, along with Mark Calcavecchia, Gene Littler, and Arnold Palmer are the only three-time winners here. Mickelson also owns or shares 15 tournament scoring records and has 11 top-10 finishes.
Getting the fourth victory is possible, but oddsmakers have him listed as a 20/1 pick to win, well behind favorite Jon Rahm at 7/1. Justin Thomas is at 9/1, and two-time winner Hideki Matsuyama is at 10/1.
Mickelson owns a home in Scottsdale and has become a favorite son under the desert sun. He usually signs autographs after a round until his arm just about falls off, and the chants of "Phil" are heard around the golf course.
Largest Crowd in Golf
No where are the chants more evident than when Mickelson strides to the 16th hole. The famous par 3 made Mickelson a star, and vice versa. The rabid fans, many from his alma mater Arizona State, cheered so loud it could be heard on most of the other holes.
The layout used to be some stands along the tee box and a natural grass amphitheater near the green. The heckling can be brutal at the hole, which can attract more than 16,000 fans, with skyboxes now lining the hole.
Present and past tournament directors credit Mickelson for making the 16th one of the most popular in golf, though he downplayed his impact.
"I don't know to what extent I was involved in that," Mickelson said five years ago. "It was so different back when I started playing as an amateur. There were no corporate tents. It was just an amphitheater effect of grass mounds around the green. A lot of college fraternities and sororities would come out, and they had beer stands right there. So it was pretty rowdy back then, even though there weren't as many people."
Matsuyama Hit with Fans
Another golfer who has taken a liking to the tournament is Matsuyama, who won here in 2016 and 2017. The Japanese golfer won both his titles here in a playoff, and said the atmosphere was nothing like he had ever experienced.
"I love it here. Being able to win twice the last two years have been really memorable for me and quite an honor," Matsuyama said last year.
Unfortunately, Matsuyama didn't get a chance to win his third championship, suffering a wrist injury in the first round. He was forced to withdraw. Now, though, he is fully healed and ready. He had a good showing last week at the Farmers Insurance Open, where he tied for third.