Four more fighters will book their spots in the 2021 Professional Fighters League finals on Friday, with the semifinals of the light heavyweight and featherweight tournaments playing out on PFL 9.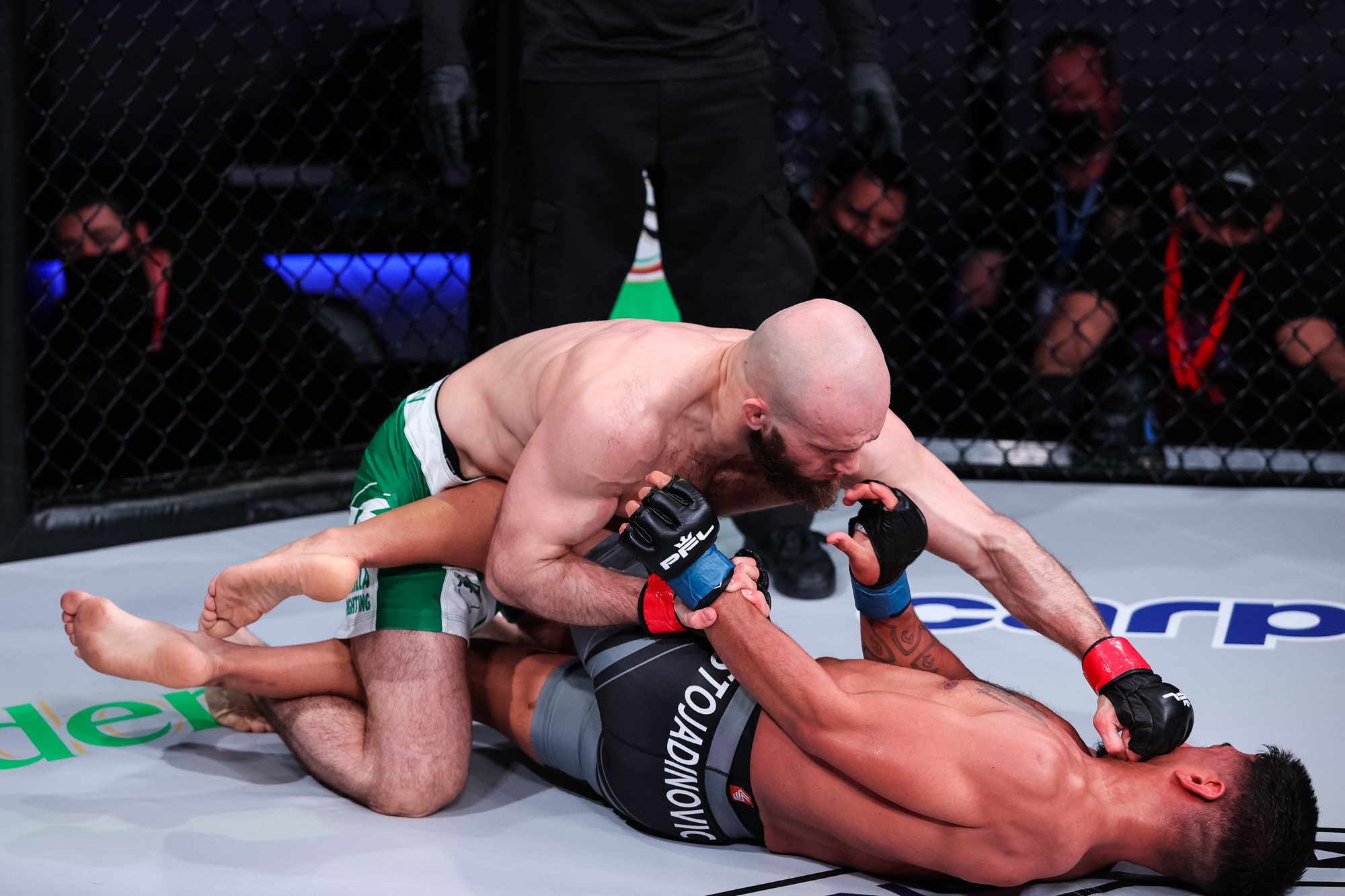 After six preliminary fights, the main card will kick off with a light heavyweight semifinal between No. 2 seed Cezar Ferreira and No. 3 Marthin Hamlet.
Ferreira blames painkillers for Camozzi loss
Both Ferreira and Hamlet went 1-1 during the PFL regular season, but scored bonus points thanks to finishing their victories early to move on to the playoffs.
Ferreira (14-9) dropped a unanimous decision in his most recent fight, losing to Chris Camozzi. But Ferreira warned Hamlet (7-2) that he'll be a very different and healthier fighter for the semifinals.
"I never want to give any excuses, but that fight that I had against Camozzi should have been canceled, but I didn't cancel because I would be pulled out of the tournament," Ferreira told MMA Junkie Radio. "Ten days before the fight, I couldn't even walk because of some back pain problems I had. I had to take a lot of painkillers, a lot of medication that made me kind of intoxicated."
DraftKings Sportsbook rates Hamlet as the -155 favorite over Ferreira (+135) in their matchup.
The winner will take on either Antonio Carlos Jr. (-170) or Emiliano Sordi (+150), who clash in the second light heavyweight semifinal. Carlos (11-5) scored a first-round submission over Tom Lawlor, then fought to a no-contest due to an accidental groin strike with Vinny Magalhaes at PFL 5. He now enters the PFL playoffs as the top seed in his division and expects to find success against Sordi (23-8).
"He's a champion, it won't be an easy fight," Carlos said of Sordi in an interview with Cageside Press. "In his last two fights I saw a lot of mistakes, he can't do that against me."
PFL playoffs experience could benefit Wade
The PFL featherweight playoffs feature four fighters who went 2-0 during the regular season. The first matchup pits Chris Wade (+160) against Bubba Jenkins (-190) in a battle of American fighters. Wade (19-6) may come in as the underdog, but he's also fought twice before in the PFL playoffs and says his experience will help him against Jenkins (16-4).
"I'm going in there to really try to put punishment on Bubba and hurt him, and finish him in the fight," Wade told Cageside Press.
---
PFL Playoffs Odds (via DraftKings Sportsbook)
Cezar Ferreira: +135
Marthin Hamlet: -155
Antonio Carlos Jr.: -170
Emiliano Sordi: +150
Chris Wade: +160
Bubba Jenkins: -190
Brendan Loughnane: +120
Movlid Khaybulaev: -140
---
In the main event, No. 1 PFL featherweight seed Brendan Loughnane (21-3) takes on Movlid Khaybulaev (17-0-1). Despite coming in as the lower seed, the undefeated Khaybulaev stands as a -140 favorite. Khaybulaev says he wants to succeed as a tribute to his coach, the late Abdulmanap Nurmagomedov.
"I owe him a lot because he's the one who put a lot of time into us," Khaybulaev told MMA Junkie. "Definitely, he's a big inspiration for me and I'm going to carry his legacy."
Friday's winners will advance to the PFL Finals on Oct. 27. The winner of each division will earn a $1 million prize.