New York Mets rookie Pete Alonso spoiled a record-breaking performance by Vladimir Guerrero Jr. to win the 2019 Home Run Derby on Monday night.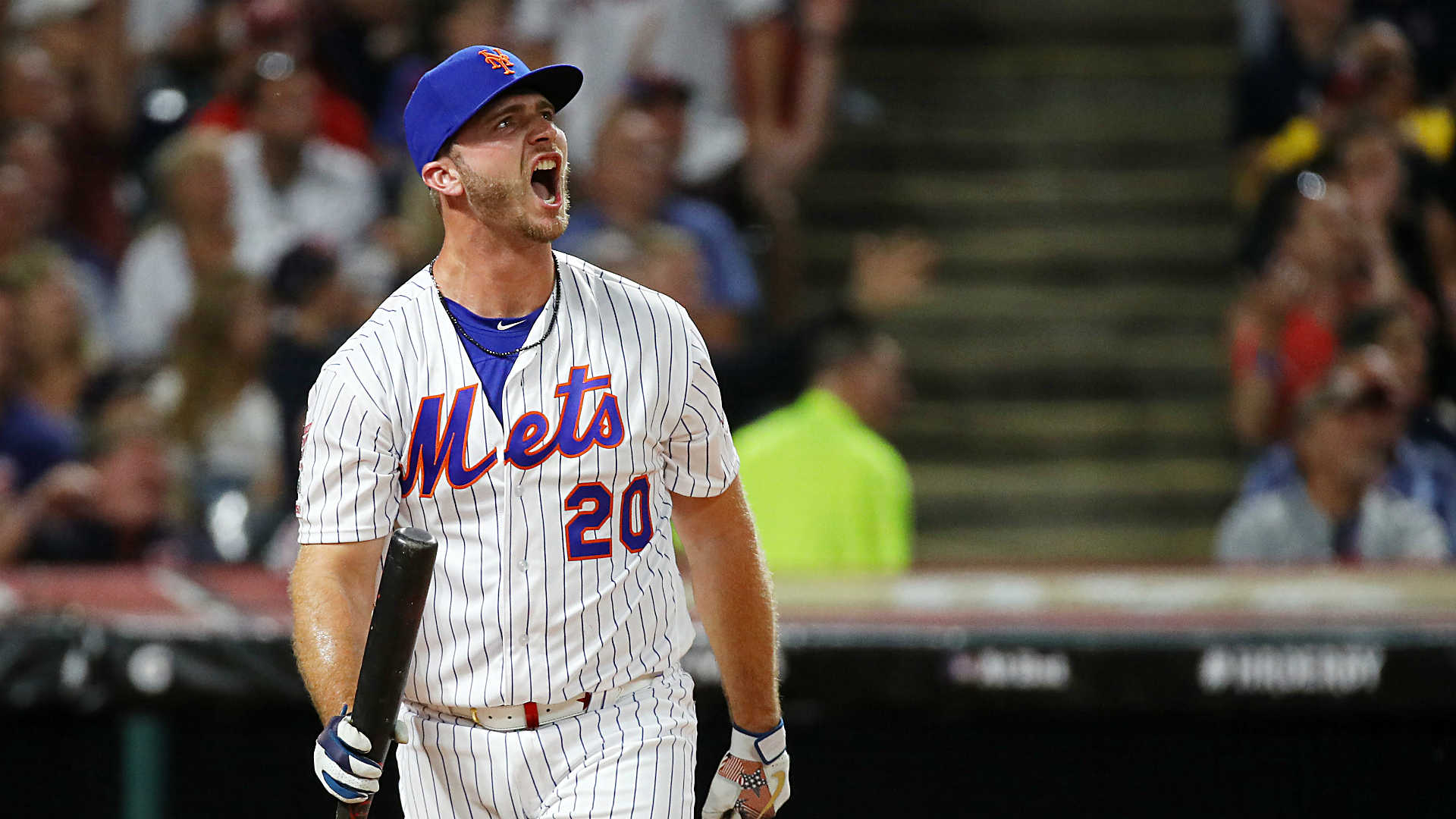 Alonso earned the million dollar prize for winning the pre-All Star Game contest by hitting 23 home runs in the final round, one more than Guerrero.
Alonso Conserved Energy in Early Rounds
But Alonso's win wasn't quite as close as those numbers make it seem. After watching Guerrero's effort, Alonso hit his winning 23rd dinger with a few seconds left in his four-minute round, but also had a 30-second bonus period available since he had hit at least two balls over 440 feet in the final.
In fact, Alonso – who has picked up the nickname "Polar Bear" – never had to use his extra time, going second in each of his three rounds. He hit 14 homers in the first round to defeat Carlos Santana of the Indians, drawing boos from the hometown crowd. Then, he reached 20 home runs late in his semifinal appearance to eliminate Ronald Acuna Jr. and advance to the final.
"I'm just happy that I didn't need the extra time, because that's extra swings," Alonso told reporters after the contest. "That could have possibly carried over into the next round. So I'm happy that I was able to conserve as much energy throughout the event, and that was huge."
Alonso came into the event as the No. 2 seed after hitting a Mets rookie record 30 home runs in the first half of the season, and was the higher seed in each of his matchups, allowing him the opportunity to go second and see what his opponents did before he stepped up to the plate. He had entered the contest as a 9/2 choice to win the Home Run Derby, according to Boyd Gaming.
Guerrero, Pederson Put on Semifinal Show
The Mets slugger spoiled what had been an impressive, unprecedented display from Guerrero, who was looking to join his father as a Home Run Derby winner.
Guerrero broke the record for the most homers in a single round right out of the gate, as he defeated Matt Chapman 29-13 in his opening contest. That set up an epic semifinal between Guerrero and Pederson, in which both men hit 29 in their rounds to set up a one-minute tiebreaker session.
Incredibly, both men hit eight more home runs in that added minute, which took the contest to a "swing-off." With each competitor getting three swings, both managed exactly one home run on their first attempt. In the second swing-off, Guerrero homered twice, while Pederson only connected once, finally putting the Blue Jays rookie through to the final.
"That was elite hitting," Alonso said of the incredible performance. "I think that was even better than the Josh Hamilton round because both of them going back and forth, and clawing back the way that Joc did, he had his work cut out of him."
For Alonso, the $1 million prize is a major bonus, as he will only make the league minimum of $555,000 in his rookie season. But while the money might be valuable to him, the NL Rookie of the Year candidate will still be making donations of $50,000 each to the Wounded Warrior Project and Tunnel to Towers charities.
"That's what I want to do," Alonso told SNY back in May. "I feel really lucky and I feel like all of us are, because without brave men and women who have served this country, we wouldn't be able to do what we do…I just want to recognize all the good things those men and women do for this country."