YouTuber Jake Paul easily won his first two professional boxing bouts, but he's never stepped into the ring against a trained fighter before. That's something that will change on Saturday night when he takes on retired MMA fighter Ben Askren at Mercedes-Benz Stadium in Atlanta.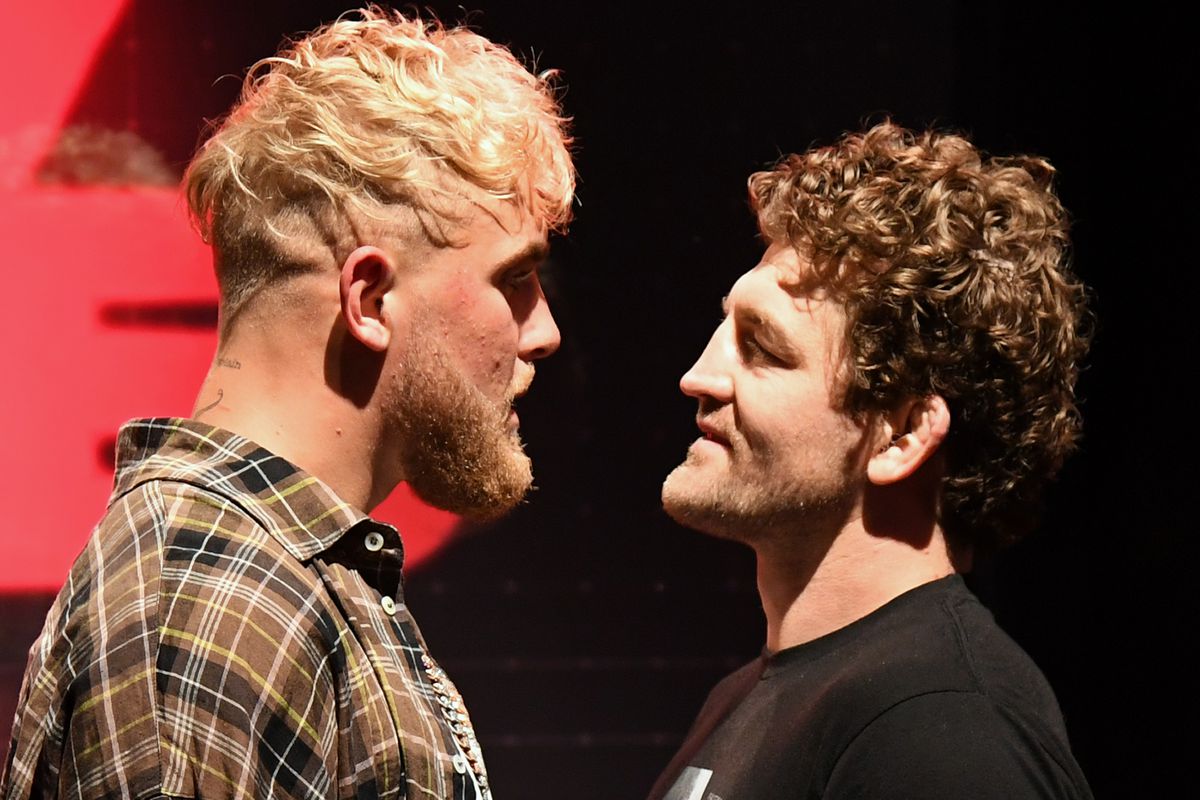 Paul and Askren will headline the Triller pay-per-view card in a bout that could tell fans and bettors a lot about what to expect from Paul in future fights.
Paul favored despite Askren's fighting background
Askren never showed elite boxing skills during his MMA career. He boasted a strong wrestling background, winning two NCAA Division I national championships and representing the United States at the Olympics in freestyle wrestling. But only six of his 19 professional MMA wins came by knockout.
Still, Askren proved he could at least compete in standup fighting with other professionals, and won welterweight titles in both Bellator and ONE. Paul has never faced that level of competition.
It comes as something of a surprise, then, that Paul is the favorite for this bout. DraftKings Sportsbook lists Paul at -200, with Askren pulling in +150 odds as the underdog.
---
Jake Paul vs. Ben Askren Odds (via DraftKings Sportsbook)
Jake Paul: -200
Ben Askren: +150
Method of Victory
Jake Paul by KO/TKO: -118
Ben Askren by KO/TKO: +450
Jake Paul by Decision: +550
Ben Askren by Decision: +350
Draw: +1200
---
Of course, those numbers come with a ton of uncertainty, given Paul's lack of experience and Askren's transition over to the boxing ring. Askren says he's in the crowd that isn't buying that the YouTuber can really fight against seasoned pros.
"Jake thinks he's a high-level boxer. I think he's fairly delusional," Askren told USA Today.
But Paul (2-0, 2 KOs) says that he's been working hard on his boxing behind the scenes. That work, he says, makes him a lot more than a gimmicky fighter who can pull in pay-per-view numbers.
"It motivates me more than words can explain," Paul told USA Today Sports, speaking of those who doubt his boxing ability. "There's some days where I don't feel like practicing or stretching, or doing ice baths or eating flavorless chicken with rice. But I just remember all these people, all these millions of people, waiting to see me fail."
Dana White: MMA experience will be decisive
UFC president Dana White is among those skeptical of Paul's credentials. On Mike Tyson's Hotboxin' podcast, White said that he's willing to put his money where his mouth is when it comes to Askren's chances.
"I hope you can bet on this thing because I will bet $1 million that he [Paul] loses this f—ing fight," White said. "This guy is a f—ing YouTube kid. The kid he's going to fight is a decorated wrestler who has fought real guys, he's been a world champion with another organization."
One potential pitfall for Askren could be transitioning from MMA to boxing. Paul claims that the bout contract includes a clause that forbids Askren from using MMA moves, and that Askren would forfeit his entire purse if he tried. But sources told MMA Fighting that the actual situation isn't nearly that dramatic.
This is false https://t.co/G0RzMwb6qF

— Funky (@Benaskren) April 14, 2021
"Obviously, Ben is a former MMA fighter, so we'll have a conversation with him in the locker room to note that it's boxing," Georgia Athletic and Entertainment Commission executive director Matt Woodruff told MMA Fighting. "But in terms of sanctions or anything Jake has said, nothing has been relayed to us. We'll have a rules meeting with all the fighters individually before the fight."