In the latest injury update, Kansas City Chiefs quarterback Patrick Mahomes underwent an MRI on Friday which revealed no other damage to his knee after he dislocated it against the Denver Broncos on Thursday Night Football. Team officials estimate Mahomes will miss at least three games and hope he can return between 4 to 6 weeks.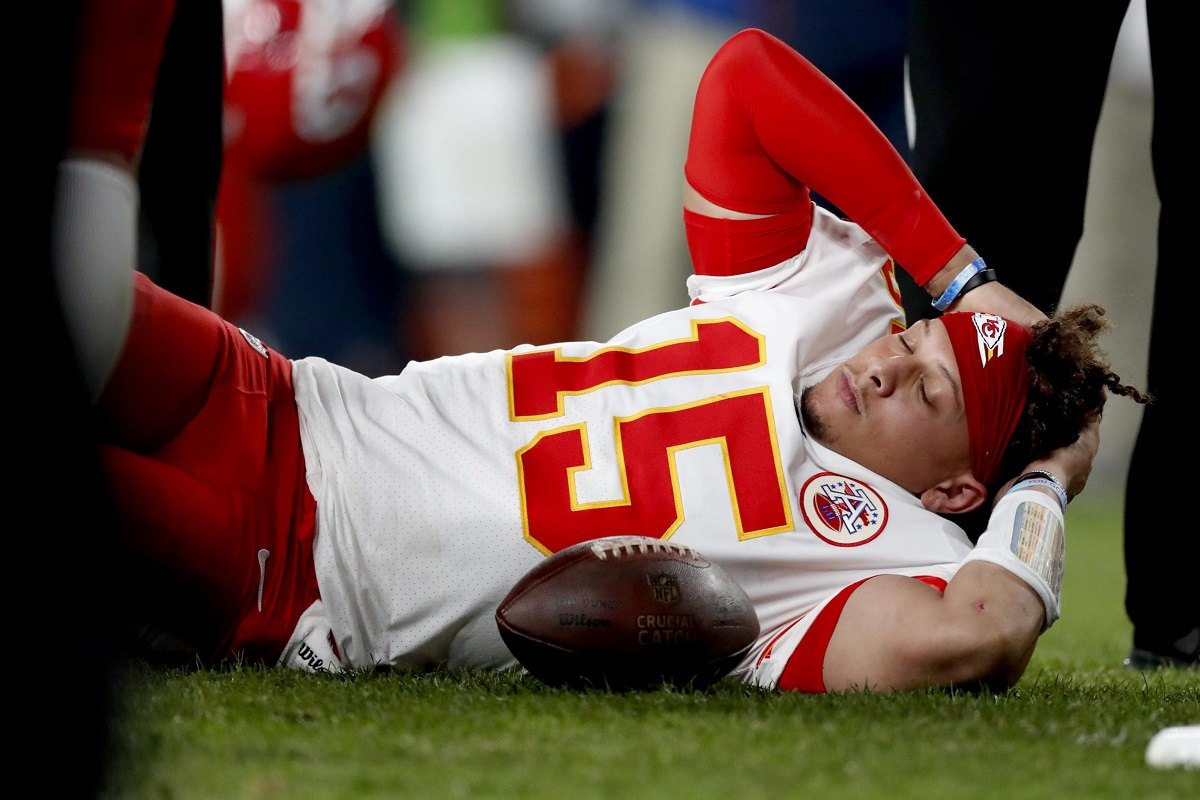 According to the Westgate SuperBook in Las Vegas, Super Bowl odds for the Kansas City Chiefs (5-2) jumped from 8/1 to 10/1 on the news of the injury. Meanwhile, the New England Patriots improved from 5/2 to 2/1 odds to win the Super Bowl.
KC fans saw their Super Bowl vanish before their eyes when they saw medical staff rush out to the field. They might have unleashed a collective sigh of relief when the staff popped Mahomes' knee back in and he walked off the field without assistance.
Bill Barnwell from ESPN summed it up best, "Everyone loses, at least on some level, with Mahomes sidelined. You don't need me to tell you that the Chiefs are a drastically different team without their star passer."
The New England Patriots were already the overall favorite to win Super Bowl 54. With Mahomes out for up to a month, the Patriots stiffest competition in the AFC now becomes the Houston Texans or the Buffalo Bills. Yes, the Buffalo Bills.
Bad Luck, Good Luck
Very few KC fans slept last night while worrying about Mahomes impending MRI. They rejoiced when KC officials release a Mahomes injury update that confirmed no serious damage.
Losing Mahomes was certainly a bit of bad luck. But the fact he did not do any serious ligament damage to his knee is a huge stroke of good luck.
"The kid had the MRI and we don't have all the information. That's what I can give you," said Kansas City Chiefs head coach Andy Reid. "Once we get the information, we can give you everything that kind of happened and what's going on down the road. The whole deal."
Detroit QB Matt Stafford dislocated his kneecap and missed four weeks of action. That seems to be the industry standard for dislocations similar to what Mahomes incurred against the Broncos.
Fantasy Outlook
I feel bad if you grabbed Mahomes early in your fantasy draft. He was underperforming this season due to his ankle injury. Now he's expected to miss three or more games.
Anyone who had Mahomes on their fantasy football rosters, or any Chiefs players for that matter, his injury status is of the utmost importance going forward.
It's too early to crank out Week 8's Waiver Wire Pickups, but it's safe to say that Matt Moore will be at the top of the list.
Moore is a veteran backup that held his own in relief. At this point, you have to trust the Andy Reid offensive scheme. They won with Alex Smith under center, so Matt Moore should be fine once he gets the hang of the playbook.
"It's hard to do, really the whole thing he's done, coming in late to us," said KC head coach Andy Reid said. "Then it's hard to be a relief pitcher. He's done it before. There's a certain way to prep for that and he understands that. It paid off for him. The best part is we didn't have to change up a lot of things. The hard thing is if the guy comes in, the backup, and you have to change the whole offense."
We've seen several big-time quarterbacks go down this season but their backups stepped up without skipping a beat. Both Kyle Allen and Teddy Bridgewater are a 4-0 each since replacing All-Pros Cam Newton and Drew Brees.
Down in Jacksonville, Gardner Minshew and his mustache achieved cult status for stepping into the starting role for the Jaguars when Nick Foles busted his clavicle in Week 1.
Now it's Matt Moore's turn to shine.
Shutting Down Mahomes
The wise decision would be to shut Mahomes down until he properly heals. Mahomes seems like a once in a generation player, so why risk a franchise QB by rushing him back?
We've already seen what it's been like with Mahomes nursing sore ankles (e.g. back-to-back losses). It seems like a no brainer to shut down Mahomes for as long as it takes.
According to the team, it looks like they will re-evaluate Mahomes in a couple of weeks and get a proper update on his injury before deciding if he can return before the bye week.
It seems foolish to rush him back before the bye week. That will give him five weeks of rest before he returns to a full week of practice to take on the Oakland Raiders in Week 13.
KC SCHEDULE
Green Bay (Week 8)
Minnesota (Week 9)
Tennessee (Week 10)
LA Chargers (Week 11, MNF)
BYE (Week 12)
Oakland Raiders (Week 13)
Kansas City hosts two home games against NFC North teams Green Bay and Minnesota. Both have winning records and will provide a good test for backup Matt Moore.
In December, the Chiefs have two tough road games at New England (Week 14) and Chicago (Week 16). They  finish December with home games against AFC West foes Denver Broncos (Week 15) and LA Chargers (Week 17).
With Mahomes out for a while, the AFC West is back into play if Chucky and his Raiders make a run. The Oakland Raiders (3-2) are in second place but pose a legitimate threat to the AFC West pecking order. The Broncos (2-5) are the basement dwellers in the division. Phil Rivers and LA Chargers looked like crap the last couple of weeks. if Matt Moore can hold the line for Mahomes, the Chiefs should still be at the top of the AFC West.