While tracks throughout North America were able to reschedule races in the coronavirus era, Parx Racing in Pennsylvania announced Wednesday it canceled the Grade 1 Pennsylvania Derby and Grade 1 Cotillion Stakes.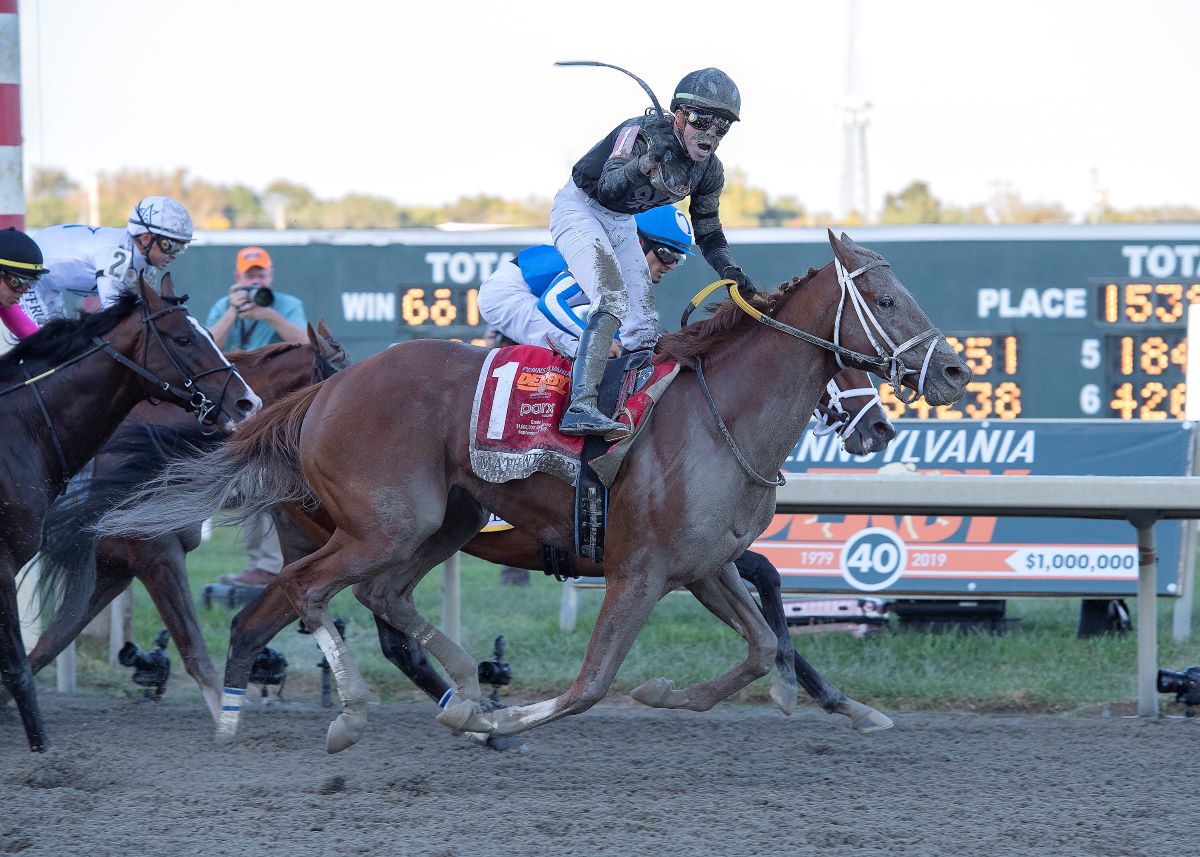 Both $1 million races, along with the Turf Amazon Stakes, the Parx Dirt Mile, and the Grade 2 Gallant Bob Stakes were on Parx's Sept. 26 card. But Parx racing secretary David Osojnak told the Thoroughbred Daily News the track canceled all open stakes races this season.
"We will be going on hiatus. The virus, the plague, just wiped out everything. We think we will be able to come back stronger in 2021," Osojnak told TDN.
What wiped out this year's Pennsylvania Derby, the track's marquee race and a major fall stop for 3-year-olds, were byproducts of the COVID-19 pandemic. First, was the scheduling. Normally run in mid-September – between Saratoga, Del Mar, and the Breeders' Cup – the Pennsylvania Derby gets decent fields.
You've Seen Some Quality 3-Year-Olds Here
The Philadelphia-area track drew the Kentucky Derby champion twice since 2014, and recent winners include McKinzie (2018), West Coast (2017), and Breeders' Cup Classic champion Bayern (2014), who beat Kentucky Derby champion California Chrome that year. War of Will, who won last year's Preakness, finished third in last year's Pennsylvania Derby to 31/1 long shot Math Wizard.
This year, however, with the Kentucky Derby moved to Sept. 5 and the Preakness to Oct. 3, the Pennsylvania Derby simply was a victim of scheduling circumstances and its place in the racing food chain.
"It was 50-50. As soon as they moved the Derby, we had a problem," Osojnak said. "We would have to run three weeks after the Derby and a week before the Preakness. The way things were working out, it just didn't make any sense to do so, from a financial standpoint or from where the calendar fell."
Parx Illustrates Again Casino Closures Hurt Purses
The second shoe fell with Parx's on-track casino closing for more than three months as of March 16. While it re-opened on June 29, state regulations only allow it to operate at 50% capacity. That cuts a healthy chunk out of track purses. Osojnak said he'll use the stakes-bound money to keep purses for overnight races relatively stable.
He told TDN they will be near their 2019 levels, and that a comparison with nearby tracks such as Laurel Park in Maryland, Monmouth in New Jersey, and Delaware Park showed they were comparable, "plus or minus a few thousand dollars."
"We are doing OK, and if the casino revenue picks up, I anticipate that the purses will go back up," he said.
What Osojnak did with purses is similar to what the New York Racing Association did when it opened Belmont Park's postponed spring/summer meet in early June. It took money out of stakes events and reallocated it to everyday races including maiden claimers, maiden special weights, and allowances.
Parx does plan on keeping stakes races for Pennsylvania-bred horses. Five of those are scheduled for Sept. 7.