The San Diego Padres need a big performance from starting pitcher Zach Davies on Thursday night if they want to stay in their National League wild-card series with the St. Louis Cardinals.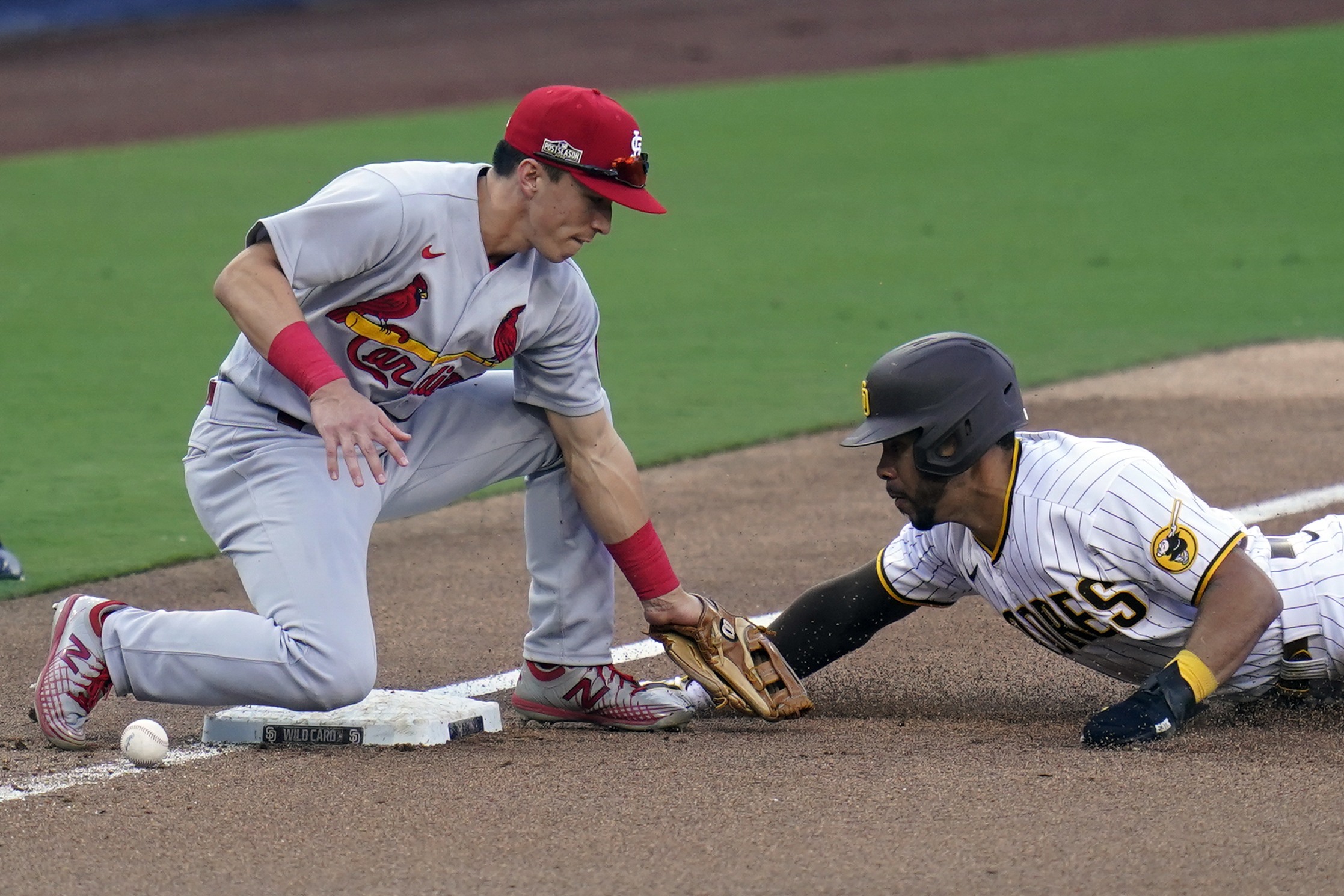 The Padres face a must-win situation after losing Game 1 of the series 7-4 to the Cardinals on Wednesday.
Paddack Chased Early in Game 1
The Cardinals jumped on Padres starter Chris Paddack early, going up 4-0 in the first inning to earn a lead they would never relinquish.
"We're right where we want to be, as far as this first game," Cardinals shortstop Paul DeJong told reporters. "We showed them that we're ready to play, and we sent a message."
The message? No matter what the odds say, St. Louis doesn't consider itself an underdog. San Diego came into the series without its two top pitchers, as the Padres left both Mike Clevinger and Dinelson Lamet off their roster due to injury. Despite those absences, the Padres entered as a significant favorite, and bookmakers pegged them to win Game 1 as well.
Game 2 offers more of the same. BetMGM lists San Diego as a -162 favorite over St. Louis (+145) as of Thursday afternoon. The Game 1 result didn't dissuade the public, either, as BetMGM reported that more than 75% of all tickets were on the Padres to win outright. On the run line – with the Padres (+120) giving 1.5 runs – over 90% of tickets took San Diego.
---
Padres vs. Cardinals Odds (Game 2)
Money Line
Cardinals (Wainwright): +145
Padres (Davies): -162
Run Line
Cardinals (+1.5): -150
Padres (-1.5): +125
Over/Under: 8.5
Series Odds
Cardinals: -179
Padres: +150
Odds via BetMGM
---
Davies may be inspiring some of that confidence. The right-hander went 7-4 with a 2.73 ERA on the year over 69.1 innings pitched. The Padres need Davies to pitch some quality innings on Thursday after the team used seven relievers in Game 1.
"We need Davis to set the tone tomorrow," Padres manager Jayce Tingler told reporters after Game 1. "But everyone will be available. We need to play our best game of the season."
Wainwright Takes the Hill for St. Louis
The Cardinals will respond by starting veteran Adam Wainwright. The 39-year-old put together another solid season, going 5-3 with a 3.15 ERA. Wainwright worked his way back from the brink of retirement after injuries limited his availability and effectiveness back in 2018.
"If someone would have told me in 2018 that I would be starting a playoff game, a pivotal game, against the Padres and Petco in 2020, I would have bet big money against it," Wainwright told reporters. "It's a tremendous blessing. It's a complete surprise. Trying to take advantage of the opportunity because it's an opportunity I never thought I would have again."
Should the Padres win on Thursday, the two teams will turn around quickly to play Game 3 on Friday. The winner of the series will take on either the Los Angeles Dodgers or the Milwaukee Brewers in the NLDS.