The Los Angeles Dodgers come into the playoffs as the consensus favorite to win the World Series, but the biggest threat to their title run could come in the first round of the playoffs when they'll have to survive the randomness and volatility of a best-of-three wild-card series against the Milwaukee Brewers.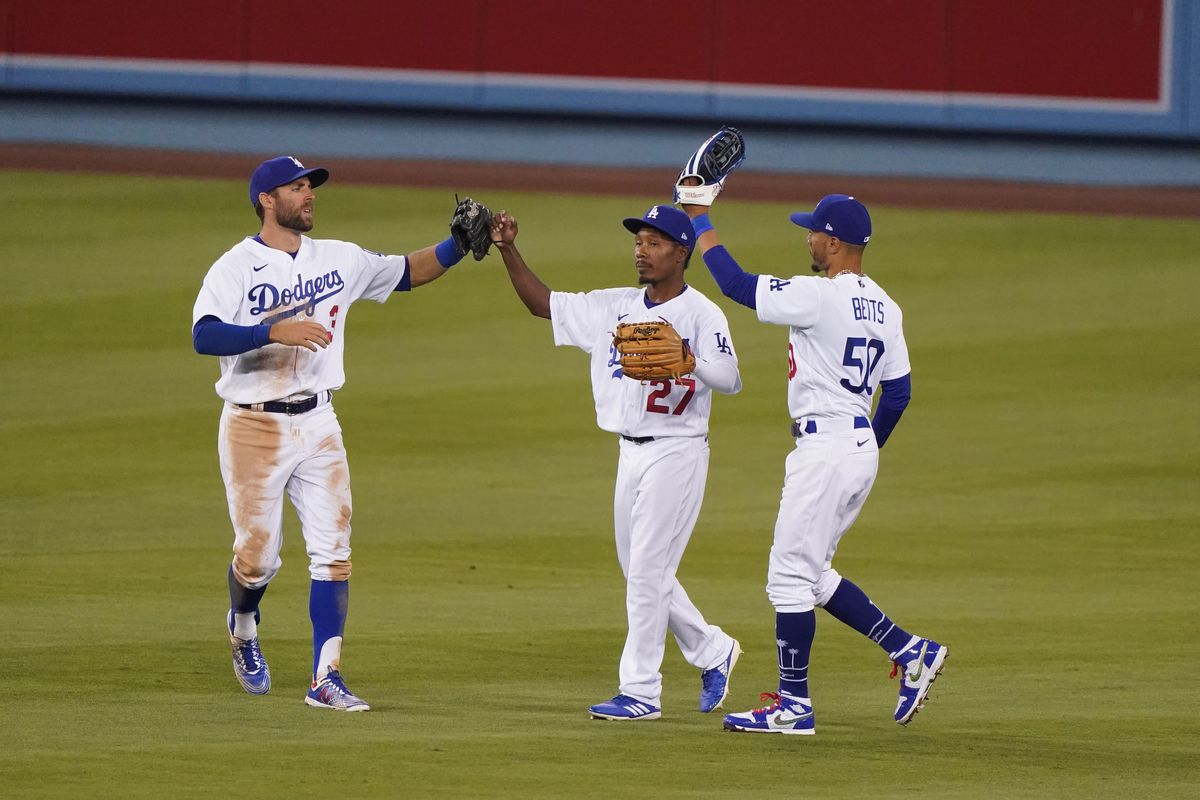 The Dodgers start the playoffs as a +350 pick to win the World Series, according to FanDuel Sportsbook. They're listed ahead of teams like the New York Yankees (+600) and Tampa Bay Rays (+650).
Roberts: 'World Series or Bust' for Los Angeles
That number represents a high level of respect for Los Angeles, which put together a monster 43-17 regular-season record. The Dodgers earned the top seed in the National League, meaning they get to play the No. 8 seed Brewers, who went just 29-31, in the first round.
---
Dodgers vs. Brewers Odds
Moneyline
Brewers (Suter): +205
Dodgers (Buehler): -240
Run Line
Brewers (+1.5): -104
Dodgers (-1.5): -112
Over/Under: 8
Series Odds
Dodgers: -360
Brewers: +290
Odds via FanDuel Sportsbook
---
And yet, the Dodgers are just a -360 favorite to beat the Brewers (+290) over the course of three games at Chavez Ravine. Anything can happen in a short, three-game series, and both teams know it.
"We really have nothing to lose, and I think that makes us pretty dangerous," Brewers infielder Jedd Gyorko said, via The Los Angeles Times. "We expect to win, but a lot of people don't think that. Hopefully we'll play well, and if we play the game we know how to, I think we'll be fine."
Nobody doubts the Dodgers have the better team. But after having World Series expectations in each of the past two years, and coming up short, Los Angeles knows it can't use an expanded playoff format as an excuse if it fails to bring home a title in 2020.
"It's kind of World Series-or-bust ever year," Dodgers manager Dave Roberts told the Times. "This year, I think, certainly would be more special, if it could even be possible. But we've all gone through a lot. The whole industry has."
Buehler, Suter Get Game 1 Nods
For Game 1, the Dodgers will hand the ball to Walker Buehler who missed significant time in September due to a blister on his right index finger. Buehler went 1-0 with a 3.44 ERA in 36.2 innings in the shortened season.
The Brewers will start Brent Suter (2-0, 3.13 ERA) in what promises to be a bullpen game for Milwaukee. Suter pitched well in four appearances as an opener this year, but only earned the Game 1 job after Corbin Burnes (4-1, 2.11 ERA) strained his left oblique last week.
"I mean, it's a dream as a kid, for sure," Suter told the Milwaukee Journal Sentinel when asked if he ever thought he'd be starting Game 1 of a playoff series. "But realistically, no."
The Dodgers and Buehler enter as a -240 favorite over the Brewers (+205) in Wednesday's Game 1. The series winner will take on either the San Diego Padres or the St. Louis Cardinals, who also kick off their wild card series on Wednesday.