Released 9/3/2019: Overtime: Jim Harbaugh and the Michigan Wolverines at the Crossroads of College Football by John U. Bacon. William Morrow, HarperCollins Books, N.Y., N.Y.
If you're a Michigan football fan, this book is a must read. If you're a college football fan, but not dipped in maize and blue, there's still a lot to recommend this book. No major Division I program has allowed this level of access to an author and, as a result, there are insights into every aspect of Michigan's football machine that reflect on other big-time football programs.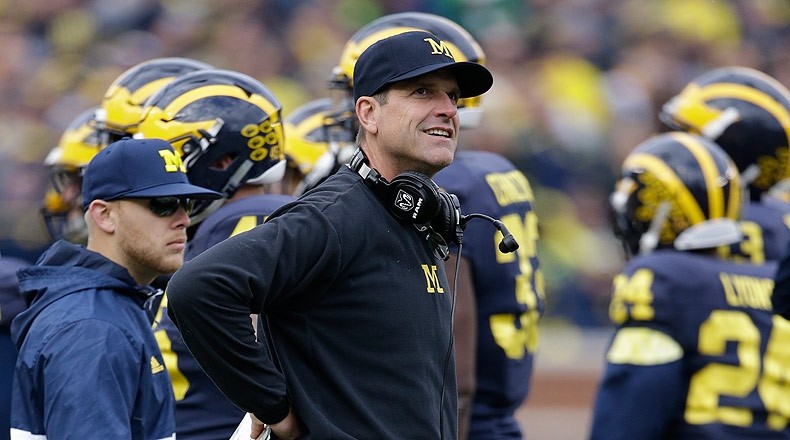 Coach Jim Harbaugh, the early years, are chapters non-Michigan fans might want to skim over. Though his time at Stanford and with the San Francisco 49ers shed some light on those programs as well.  What is most intriguing, however, are the nuggets of insider looks at the football operation inside Bo Schembechler Hall where a couple of hundred staffers run the famed football program, which has the most wins in NCAA history.
The book is crafted around the 2018 Michigan season, which opened with a loss to Notre Dame and finished losing the Peach Bowl to Florida (41-17) after a soul-crushing, 62-39 loss to Ohio State in the Big Game. So, this is not at all a heart-warming story being told. All the warts and bruises are on display. The recruiting process is detailed, the controversial transfer of Shea Patterson from Mississippi is covered. The cover might be glossy, but the events are real and often gritty.
Chapter Highlights
Chapter 12: Student-Athletes – A constant message throughout the book is that Michigan does not coddle its players academically. Not only are recruits actually required to qualify for admission to the academically rigorous university., they're expected to maintain an academic presence — and not simply in the bachelor of general studies degree program.
When a staffer from an elite football program in the South joined Michigan's staff, he was stunned to hear about a starting player who failed a class and got sent home during a bowl trip. The staffer said at his previous school, if a starter flunked a class, "the professor would be run off — by the faculty!" p. 134
Chapter 22: The Eye in the Sky Never Lies (The Video Staff)  – Want to see all the third-and-short plays against the defense last week? You got it. How about all the plays involving just the outside linebackers, or maybe just one particular player? The video staff consists of the head of video operations, his assistant, seven paid students, four student interns, and several volunteers.
They're in charge of the 200-plus computer monitors and TV flat screens that cover just about every desk and wall of Schembechler Hall. About half of the 200 screens in the building have been registered with a $2,500 license per computer to receive the XOS video program, which allows every subscriber to do just about anything they'd ever want to do with football video, including identify all 22 players on every play in practice that afternoon. p.218
Chapter 30: If Football is Taken Away – Anyone who has had knee surgery or knee replacement should not read this chapter. The squeamish also might want to skip this one. No spoiler alert here, the kid got really badly injured, and the surgery and recovery is described in cringing detail.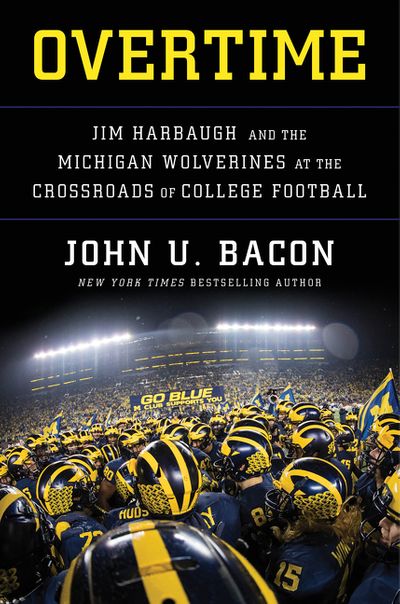 The Crossroads of College Football
Unfortunately, the title of this really interesting book does not, in the end, deliver. Sure, it's a good read, especially for Michigan Fans. But, the elusive "Crossroads of College Football" promised by the author is never found. Still, the inside-look at a big-time college football program is enlightening. The sheer number of coaches, staffers, and money the programs need to function is mind-blowing. All of that so a bunch of young guys can play a game with a funny shaped ball.