In a close game against Baltimore Ravens, Drew Brees threw a touchdown pass to tight end Benjamin Watson to reach 500 touchdowns for his career. With that end-zone connection, Brees joined an elite group of current and future Hall of Famers, the 500 TD Club, which consists of only three other members: Brett Favre, Peyton Manning, and Tom Brady.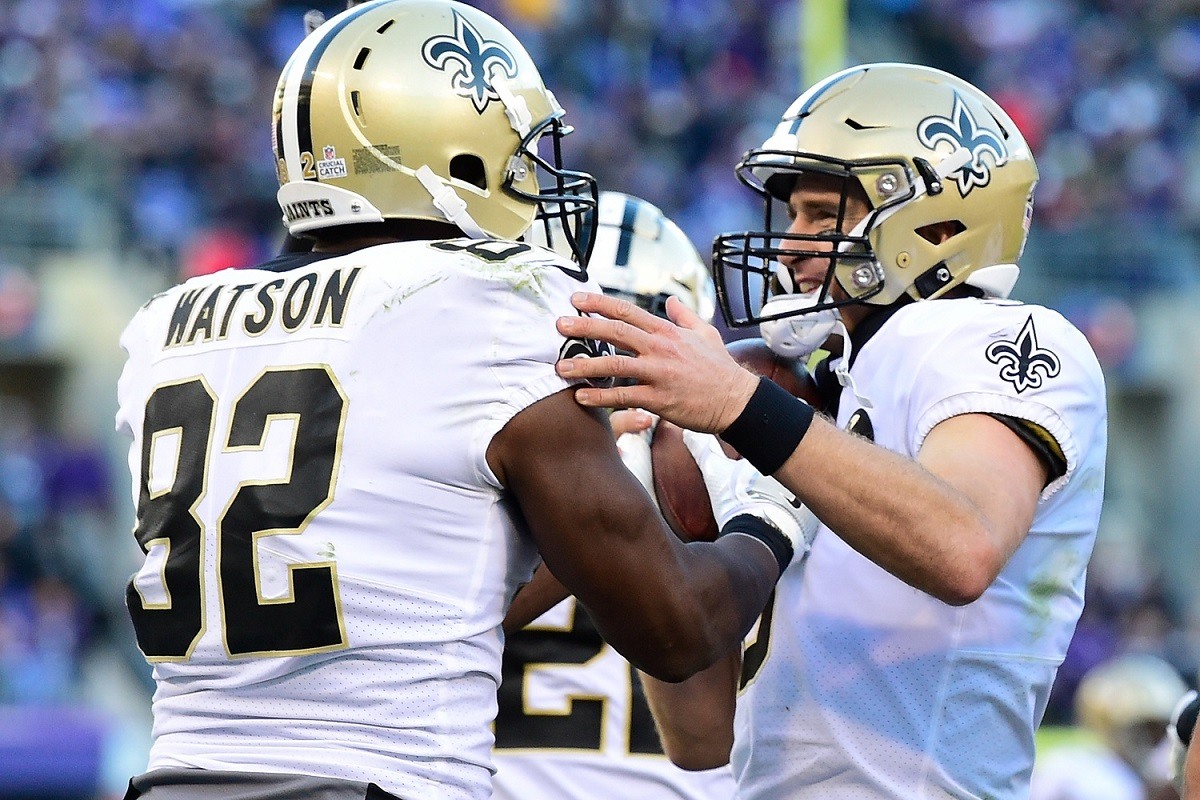 500 TD Club
Brees became the fourth quarterback in NFL history to pass 500 touchdowns. Brett Favre accomplished the 500 mark first and retired with 508 touchdowns. Peyton Manning did it second, but broke Favre's record. Manning retired with 539 touchdowns.
Tom Brady became the third player in NFL history to join the 500 TD Club. Brady cracked the milestone in Week 5 in a game against the Indianapolis Colts. Brady currently has 504 touchdowns.
With less than two minutes remaining in the second quarter, tight end Benjamin Watson caught a 1-yard touchdown pass from Drew Brees on a play-action fake. The touchdown capped a 75-yard drive and put the Saints ahead of the Ravens 10-7.
Brees finished the game with two touchdowns and 501 overall touchdowns.
Congratulations, @DrewBrees!

His 500th career touchdown pass! ???

?: FOX #GoSaints pic.twitter.com/5kkF0BaxzT

— NFL (@NFL) October 21, 2018
Another Milestone for Brees
During Week 5's Monday Night Football broadcast against the Washington Redskins, Brees broke Peyton Manning's record for passing yards. Manning ended his career with 71,940 yards. Brees broke the record late in the second quarter on a 62-yard touchdown strike to rookie WR Tre'Quan Smith.
Chasing Peyton
Brees already has one all-time NFL record, but both he and Tom Brady are chasing Manning's all-time record for touchdowns. Both should pass Brett Favre in the upcoming months.
At this point, whichever player extends his career the longest will end up with the record.
NFL All-Time Passing Touchdowns

Peyton Manning 539
Brett Favre 508
Tom Brady 504 *
Drew Brees 501 *
Dan Marino 420
Philip Rivers 359 *
Eli Manning 345 *
Fran Tarkenton 342
Ben Roethlisberger 341 *
Aaron Rodgers 325 *

* Active Player
Future Members of the 500 TD Club?
Brees and Brady are the only active quarterbacks in the 500 TD Club. They do not have much competition from their peers. Only four other active quarterbacks are listed in the top 10 for overall passing touchdowns.
Phil Rivers is the closest active QB to joining the 500 Club, but the 36-year old QB from the L.A. Chargers is 141 touchdowns short.
Eli Manning is currently 194 touchdowns shy of his brother's record. With Eli Manning's job under fire with the New York Giants, his overall future is in doubt.
Ben Roethlisberger from the Pittsburgh Steelers is 159 scores shy of 500. Big Ben almost retired this year, so who knows how many more years he's willing to play.
Aaron Rodgers is only 34-years old, but he's been plagued with injuries the last few seasons. Rodgers seems like the logical choice as the new player to make it to 500, but he's currently at 325 touchdowns or 175 short. If Rodgers' health will determine if he can make it to the 400 club, let alone 500 TD Club.
420 Club
Only 5 players have 400 or more touchdown passes. Hall of Fame QB of the Miami Dolphins Dan Marino ended his career with 420 touchdowns. The other members of the "420 TD Club" are Peyton Manning, Brett Favre, Tom Brady, and Drew Brees.