One gambler on Friday learned the painful adage that there's no such thing as a sure thing during March Madness. Historically speaking, it was an impossible bet to lose. But in the 2018 NCAA Tournament, it was just one of several shockingly bad beats suffered at the betting window.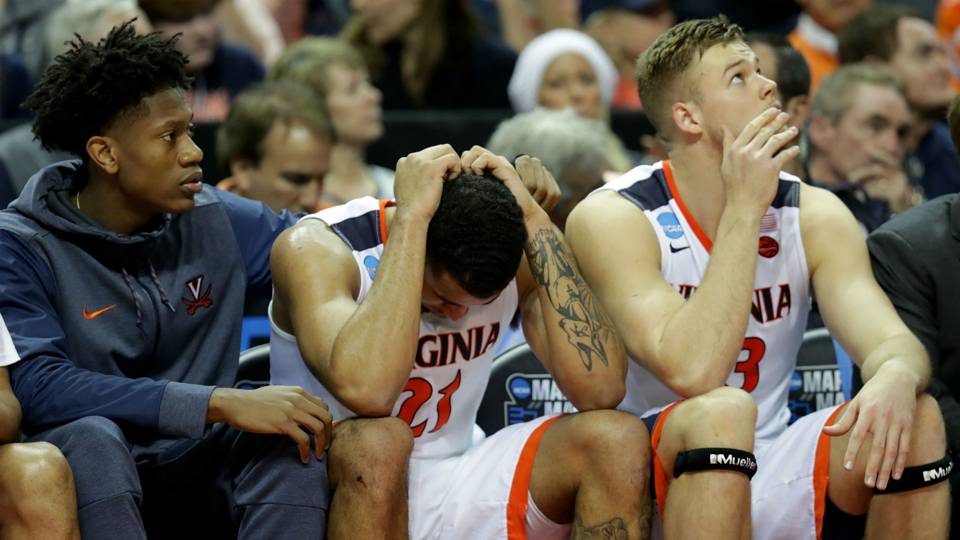 The now infamous anonymous bettor in Las Vegas reportedly put down $20,000 on a moneyline parlay, taking Purdue, North Carolina, and Virginia in the first round — which would've paid out just $870 in profit.
All three were double-digit favorites to get past their opening round opponents. The Boilermakers and Tar Heels complied, but the Cavaliers watched in horror as the University of Maryland, Baltimore County Retrievers became the first team since the introduction of a 64-team to upset a No. 1 seed. (And they did so handily, 74-54.)
It didn't take long for a social media flogging of an unknown loser to ensue.
Another "sure winner" was supposed to be No. 4 Arizona. The Wildcats had more bets in Las Vegas sportsbooks to win the title than any other team. They were playing lightly regarded No. 13 Buffalo in the first round and were favored by 9 points.
According to William Hill, at least one gambler put down $10,000 on Arizona at -500, and instead of seeing a $2,000 return, they instead saw they're brilliant investment vanish when the Bulls won, 89-68.
Retrievers Mania
While CG Technology, which operates sportsbooks at eight Las Vegas casinos, collected an easy $20,000 from one bettor they also had to pay out around that amount to people who had bet on the historic defeat. There were several $50 and $100 bets reported with not only them, but other sportsbooks that were paying anywhere from 20/1 to 25/1.
One alum from UMBC told ESPN.com that he and seven friends pooled their money and made an $800 bet at the Venetian on their college to win.
"I go with my boys to Vegas every tournament, and we did pretty well on Thursday," Barger said. "Me and my buddy Dan went to UMBC, so we spent all day talking up how much we were going to bet."
They couldn't believe it when the ticket cashed and the group walked away with a $16,000 profit. To further their good fortune they took $200 apiece put it on a roulette table and won another $1,900.
One winning ticket on UMBC might not get cashed even though it is worth $2,000. Mikal McCulley told Covers.com that he is considering it more valuable to keep it.
"I'm not sure yet. I might," McCulley said. "It'd be worth more to me in 30 years, and the story that goes along with it if I don't cash it, than the $2,000."
Gut Instinct or Gut Punch?
Las Vegas Review-Journal live bloggers revealed one bet of $90,000 that paid just $10,000 in profit for a three-team moneyline parlay on North Carolina, Cincinnati and Xavier. It hit,
Less fortunate was the big bettor who they reported put a $100,000 three-team moneyline parlay on Cincinnati, Michigan State, and Wichita State. That bet was ready to pay an "easy" $26,000 until the No. 4 Wichita State Shockers got shocked by No. 13 Marshall, when the Thundering Herd bested the 13.5-point favorites, 81-75.
In the second round, No. 7 Nevada had fallen behind No. 2 Cincinnati by 12 points after one half, and eventually would be down by 22 before the Wolfpack mounted their comeback. William Hill posted a +2200 in-play odds for the deficit and 35 took up the book's offer and collected. Two Wolfpack fans put up $100 and walked away with $2,200 each as the Bearcats walked away in tears.