This week's One Bet, $100, will be placed on the Oklahoma Sooners visiting UCLA. OU quarterback Jalen Hurts, who has vaulted up the betting board as a Heisman Trophy pick, leads a Sooner offense that has steamrolled two opponents.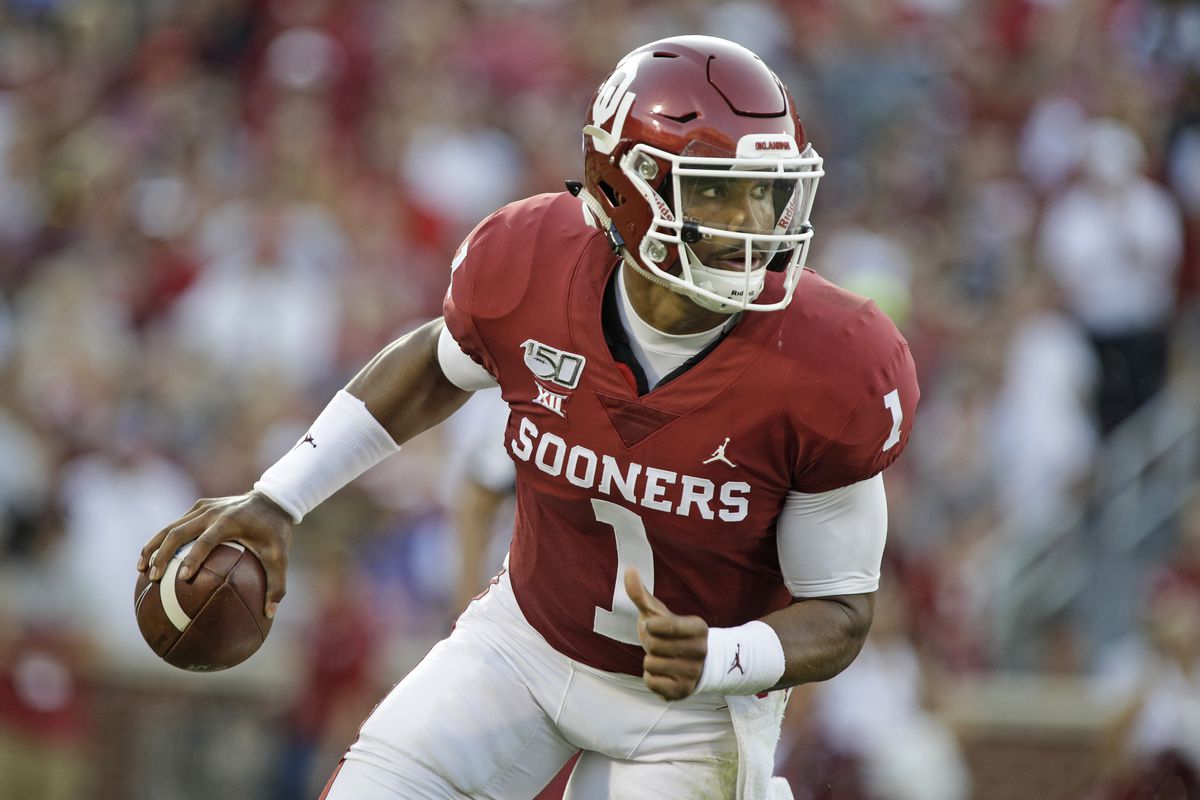 Last week Oklahoma defeated South Dakota State, 70-14. The opening game was a 49-31 victory over Houston. Some would argue that UCLA is looking more like South Dakota State than Houston. The Bruins have been awful.
One Bet, $100

This Week's Pick           Last Week's Result         Season Total

Oklahoma -23                Won Central Florida       2-0, Up $180
They lost their opener on the road against Cincinnati. UCLA was a 2.5-point underdog, and lost by 10. Last week the Bruins were 7.5-point favorites to San Diego State, a team that had never beaten them in 22 previous meetings. The Aztecs made it look easy, going into the Rose Bowl and winning, 23-14.
Offensive, Defensive Woes for Bruins
Now UCLA has to host the No. 5 team in the country, who is scoring points seemingly at will. The Sooners have put up 119 in two games. They have had a total of three punts in two games, as well as two field goal attempts.
The Bruins defense is 86th, allowing an average of 267.5 passing yards against two pretty pedestrian teams. Hurts has been incredible in two games, posting a passing completion rate of 82.6 percent. He has thrown for six touchdowns, and rushed for three more.
UCLA has scored a total of 28 points in two games. The offense is in disarray, ranking 123rd in the nation. They could slip even further against an Oklahoma defense that is much better than last year.
Bruins coach Chip Kelly has said he isn't going to panic, that the team's woes were based on the fact that they are a young team.
"I think we all live in a society where we want a quick fix and an instant pill, but it doesn't exist," Kelly said. So you just can't say right now, 'Hey, let's run an entirely new defense and an entirely new offense.' You do that and you'd probably lose by 1,000."
He might think about doing just that, because obviously the current offense and defense aren't working.
 Why Oklahoma Will Win
UCLA has been extremely reliable to football bettors, but for all the wrong reasons. The Bruins first two games of the season have been debacles. Poor play on both sides of the ball and questionable coaching has made head coach Chip Kelly the rumors of an early season firing.
His quarterback is worse in these two games than he was last year. Regressing is never a good thing for a coach who might be coaching for his job.
Oklahoma is playing strong, and getting stronger. Hurts is going up against a defense that is susceptible to the pass. Of course if he can't beat the Bruins through the air, he can use his legs.
This has the makings of a route. I could easily see Oklahoma hanging 60 points on the Bruins, but even if they only score seven touchdowns, UCLA's offense probably won't be able to put more than 14 on the board, like they did against Cincinnati and San Diego State.