South Korea has dominated every aspect of Olympic archery in recent years, and that trend is continuing at the Tokyo Olympics, where the nation swept the team competitions. Now, two Korean archers will try to maintain that streak as they enter the final 16 of the women's individual archery competition as favorites to win gold.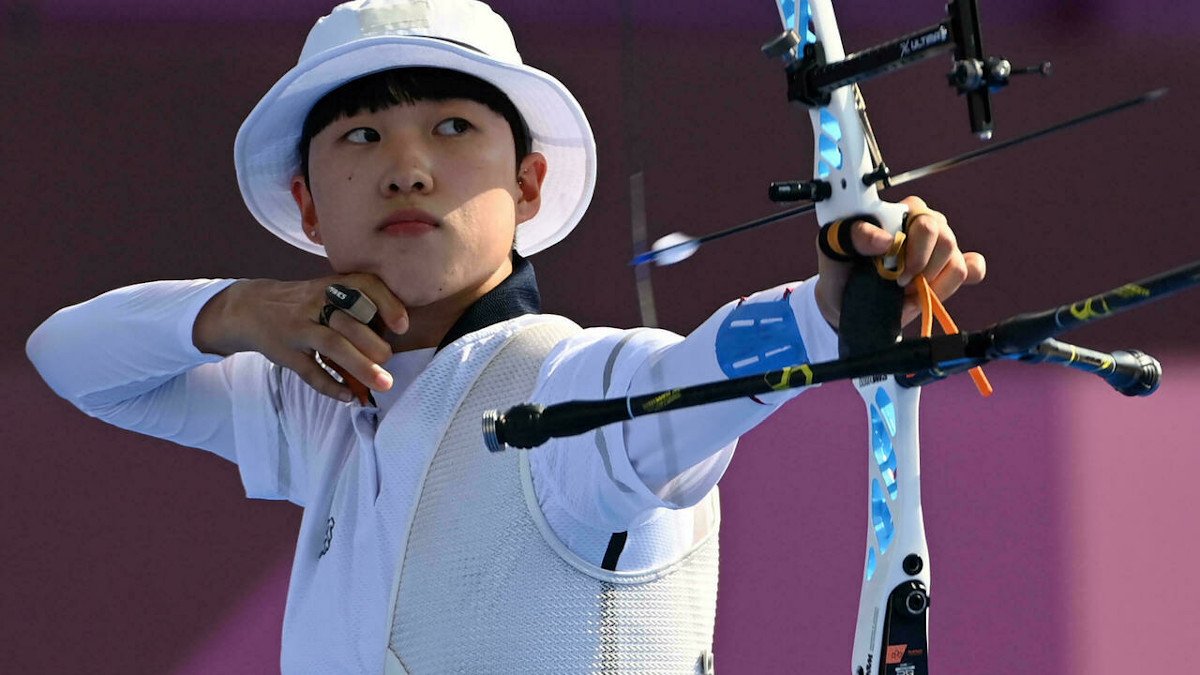 An San and Kang Chae-Young come into the final rounds as the top two picks to win gold in women's archery, ahead of world No. 1 Deepika Kumari of India.
An sets new Olympic record in qualifying
FanDuel Sportsbook rates An as the +110 favorite to win the gold medal. An already has two golds in Tokyo, one for the women's team archery competition, and another in the debut mixed team event.
The 20-year-old An scored a new Olympic record in the ranking portion of the event, scoring 680 points from 72 arrows to take the No. 1 seed. While she surprisingly dropped her first set against Marlyse Hourtou of Chad, she rebounded quickly to win both of her preliminary matches and reach the round of 16, where she'll face off against Japan's Ren Hayakawa (+5000).
Perhaps the only thing that has gone wrong for An at the Olympics so far has been the messages some anti-feminists in Korea have posted online about her short hair. But she's even taken that situation in stride.
"While you're sending messages in your room driven by your inferiority complex, I'm winning two gold medals at the Olympics," An wrote on Instagram.
An's biggest competitor is Kang (+380), who entered the field as the No. 3 seed following the ranking round. Their countrywoman, Jang Min-hee, took the No. 2 spot, but fell in the second round to Japan's Miki Nakamura (+5000). Kang and Jang were both part of the Korean women's archery team that won gold in Tokyo, and Kang also won gold as an individual at the 2019 World Cup.
Kumari biggest threat to Korean women's archery gold
Kumari (+550) holds the best odds of any non-Korean archer. She's twice finished second at the World Championships, both in 2011 and 2015. While she's scored relatively low in her first two matches, difficult wind conditions contributed to those results.
"I can't say I've judged well," Kumari told reporters. "The weather is not in your hands, it keeps changing every second. Let's hope for the best."
---
Olympic Women's Archery Individual Odds – To Win Gold (via FanDuel Sportsbook)
An San (South Korea): +110
Kang Chae-Young (South Korea): +380
Deepika Kumari (India): +550
Alehandra Valencia (Mexico): +1100
Lisa Barbelin (France): +1100
Mackenzie Brown (USA): +1100
Ksenia Perova (ROC): +1800
Elena Osipova (ROC): +3400
---
Americans have a strong medal hope in Mackenzie Brown (+1100), who is joint fourth choice at FanDuel along with Mexico's Alehandra Valencia and France's Lisa Barbelin. Brown qualified fifth and will face off against Lei Chien-ying (+4200) of Chinese Taipei in the round of 16.
"It was a good day," Brown said after winning her two opening matches. "I feel really good, I feel like what my focus is on really helps in this finals field and I think that will help me going into these next matches."
The women's archery competition concludes on Friday with the medal rounds, while the men's individual competition will wrap up on Saturday.