When the best men's downhill skiers face off at the Winter Olympics on Sunday, they'll be facing a course they've never seen before this week. That limited training time and harrowing conditions could lead to unpredictable results on the podium.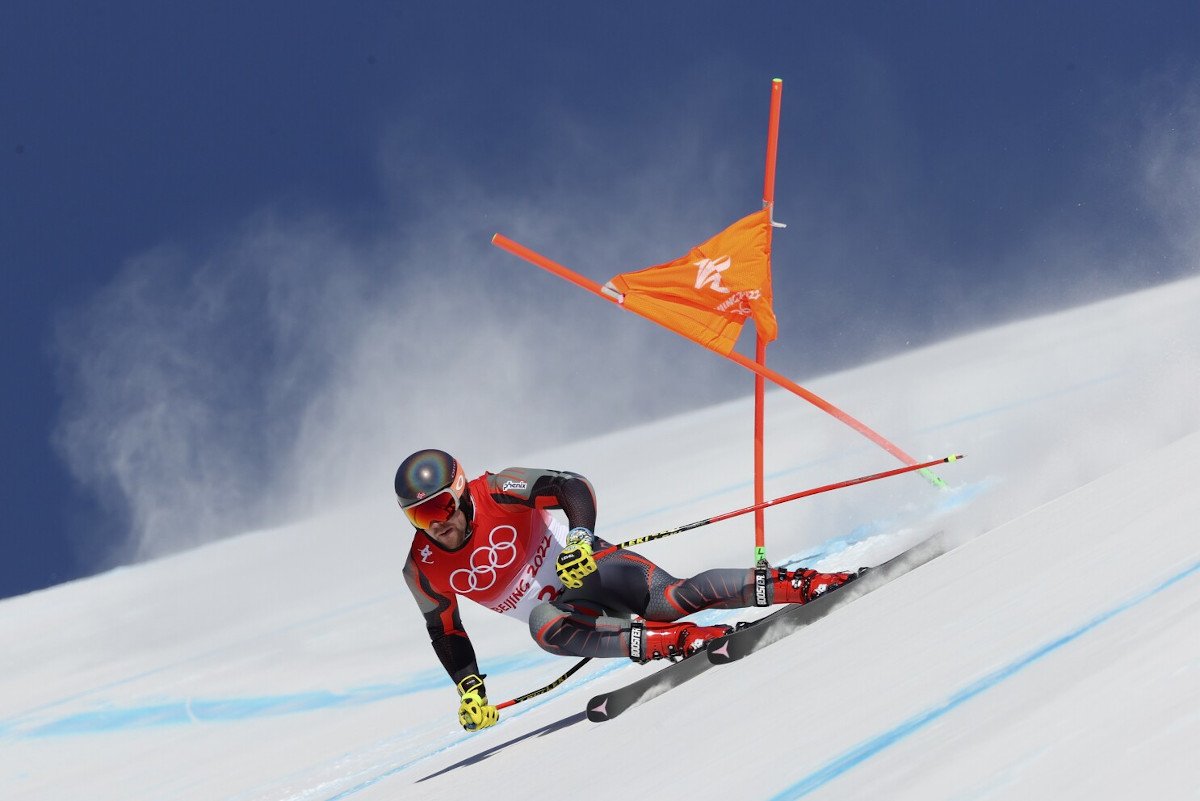 A total of 43 skiers will compete in the men's downhill competition on "Rock," a difficult course that could become even more dangerous thanks to windy conditions that have already scuttled one practice session.
Most of field misses third training run
On Saturday, organizers canceled most of a men's downhill training session due to high wind gusts that created dangerous and unpredictable conditions. That means most racers only got two practice runs on the course.
However, three skiers did get to try the course for a third time. That includes favorite Aleksander Aamodt Kilde. The Norwegian comes in as the +185 favorite to win gold, according to DraftKings Sportsbook.
The fact that Kilde enjoyed an extra round of practice, while other top contenders did not, has already sparked controversy ahead of the men's downhill race.
"It's just not fair," Switzerland's Marco Odermatt (+1200) told reporters. "And for me, the big, big issue is how they communicate to us athletes…they don't even ask what we think. After two or three sentences we spoke with [the International Ski Federation], the jury, they turned off the radio and didn't answer any more."
Fellow Norwegian Kjetil Jansrud (+5000), who holds two men's downhill Olympic medals, also blasted the decision.
"You notice in the whole field, myself included, that there is a big difference between those who have had a third trip down and those who have not," Jansrud told Discovery Plus. "I think as a collective you feel as if you were robbed from the opportunity to get some practice today, so it is the way it was handled that is a bit problematic."
Kilde dominating men's downhill this season
Kilde hardly needs any added advantage. While he is still seeking his first Olympic medal, he has won three World Cup downhill races this season, along with three more Super-G titles. The 29-year-old has built a reputation as a physical marvel, outpacing his fellow skiers in the weight room and getting results on the slopes as a result.
"Kilde is a freak of nature," Norway's team physical trainer Daniel Tangen told the Associated Press. "He dominates physical training. He's the perfect athlete. He is incredibly strong in every aspect. Also, his endurance and power and anaerobic power is beyond me."
---
Olympic Men's Downhill Odds (via DraftKings Sportsbook)
Aleksander Aamodt Kilde: +185
Beat Feuz: +350
Matthias Mayer: +650
Dominik Paris: +750
Vincent Kriechmayr: +1000
Marco Odermatt: +1200
Max Franz: +1800
Niels Hintermann: +2200
Johan Clarey: +2200
Daniel Hemetsberger: +2500
---
There are plenty of challengers who could upset Kilde for gold in Beijing. Swizerland's Beat Feuz (+350) rates as the second choice at DraftKings. He won bronze at the 2018 Winter Olympics, and recently won a World Cup downhill competition in Austria, one of five podium finishes for Feuz this season.
There's also Austria's Matthias Mayer (+650), who won gold in men's downhill back in 2014. Mayer hasn't been racking up wins at a fast pace lately, but did take first in a World Cup downhill race last November.
While the course and weather conditions could cause chaos, many are still looking forward to the race.
"We trained for this our whole lives, and it's about being prepared when we're in the start," American hopeful Ryan Cochran-Siegle (+3500) said. "Also, not many people get to do this. So it's a rush."