Ole Miss wide receiver Elijah Moore found himself in the doghouse after his dog pee celebration when scoring the potential tying touchdown against rival Mississippi State on Thursday. The sophomore caught a 2-yard TD pass with four seconds left to make the score 21-20 in the annual rivalry game called the Egg Bowl.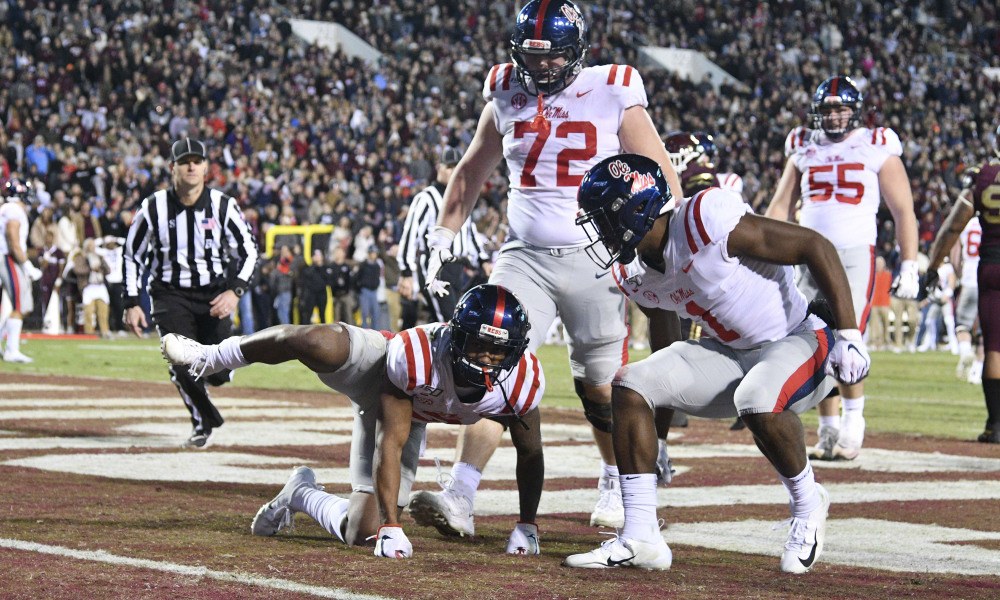 It was Moore who ended up with egg on his face. The receiver got on all fours in the end zone and imitated the dog pee celebration. The stunt was performed by an Ole Miss player two years earlier. On Friday, Moore issued a statement apologizing for the incident.
"I apologize to my teammates, coaches, and Rebel Nation for my actions at the end of the game," Moore said through a team spokesperson. "It was an emotional moment, and I deeply regret it. It does not represent who I am or who we are as a team, and I will grow stronger from this mistake."
While his skit was classless, it was also costly. Moore was tagged with an unsportsmanlike penalty that moved the ball back 15 yards. The ensuing PAT (point after touchdown) was negatively affected by Moore's PAT (pee after touchdown). The conversion attempt was missed, and Ole Miss became man's best friend to Mississippi State. It was the first time the Bulldogs have won on the road against the Rebels since 2013.
Dog Pee Celebration Hurts Bettors
Moore's dog pee celebration had negative implications for those that bet on the game. The line opened at 2.5-points in MSU's favor, and those holding tickets lost out on a chance to cover in the overtime. Those that got in on the action when the line dropped to 1.5 lost, while those that had a ticket at one had a push.
The line swung to 1.5-points in favor of Ole Miss at game time, so those who bet on the spread still collected.
Those that had the moneyline and the over got burned when Moore screwed the pooch with his dog pee celebration.
The Bulldogs were a +105 on the moneyline, and with no overtime, they lost out on a chance to collect. The over/under line was 58.5, and, with no overtime, a chance to collect on the over was shot.
Coach, Quarterback Defend Moore
Rebels coach Matt Luke was more disappointed than pissed off at Moore's antics. He told reporters after the game that it was uncharacteristic of the player.
"That's not who we are. We've been a disciplined team all year, and so just disappointed that happened," Rebels coach Matt Luke said. "That's not who he is. Elijah is a good kid, and he just got caught up in the moment."
Quarterback John Rhys Plumee threw his teammate a bone, and said Moore was just a little overexcited.
"I think everybody was excited we scored a touchdown," Rhys Plumlee said. "When you're excited and make a big play, I think you celebrate a little bit. They just didn't call it our way."