Undefeated Oklahoma at #6, and undefeated Clemson at #1, are the only two teams with clear paths to the College Football Playoffs. All they have to do is win out. While that may seem obvious, seven other top-10 teams are also undefeated, but not all of them can run the table. There are a lot of top-10 clashes coming up.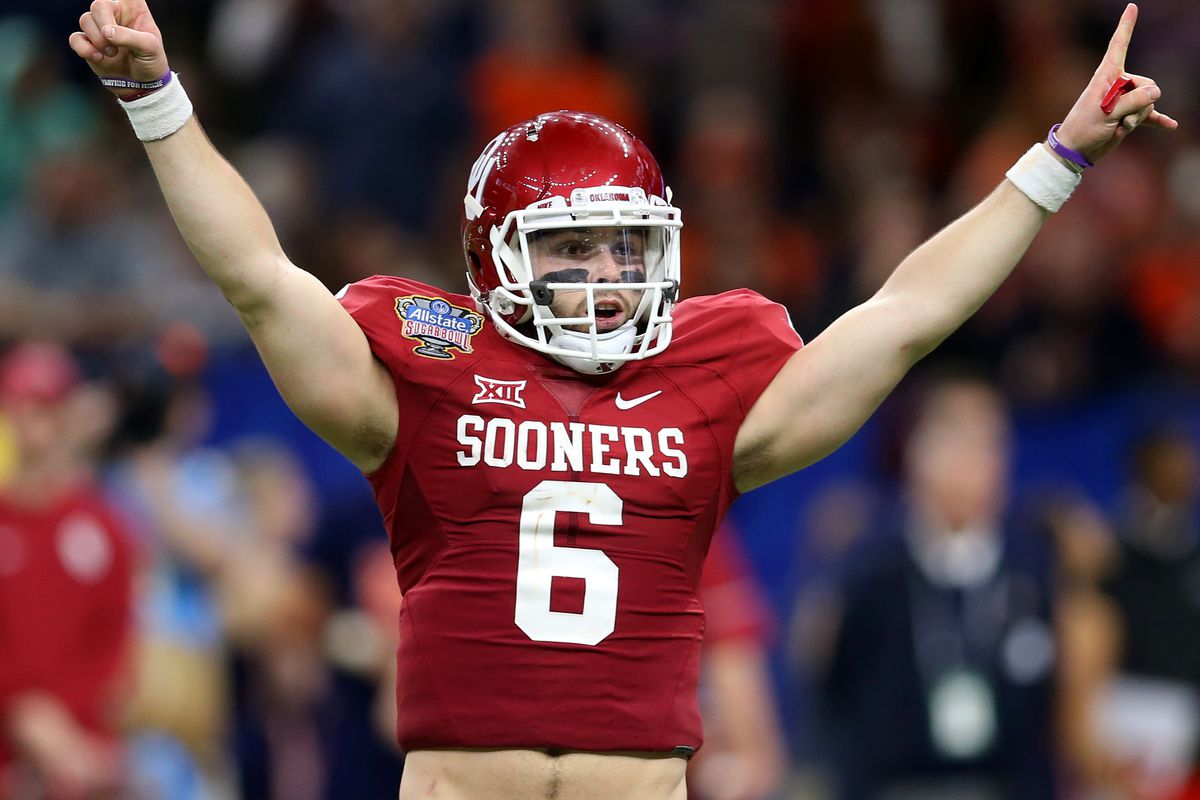 If any of the top-nine teams in the AP poll win out, they are in the College Football Playoffs. Done, finished, absolutely in the playoffs. But how can nine undefeated teams fit into a four-team playoff? They can't. There are more than enough head-to-head battles among the undefeated squads to whittle the top-nine undefeated teams down to a final four. And it is highly likely that one or more teams will make the playoffs with one loss on their record.
#6 Oklahoma and #1 Clemson – First the Easy Schedules 
Oklahoma has one more big hurdle standing in the way of an undefeated regular season. The Sooners play #11 Texas in Austin on Oct. 12. If Oklahoma wins that game, they have clear sailing to Big-12 championship game, which might well be a rematch with Texas.
Clemson, on the other hand, plays no team in the top ten, top 25 or top 40. At least not until the ACC title game, which is shaping up to be the fifth consecutive conference title for Clemson. The big challenge in the title game could well be #36 Pittsburgh.
That leaves seven other undefeated teams in the AP top 10. All of them have at least one game against another top-10, undefeated team.
#5 Ohio State vs. #8 Wisconsin – The Big Ten Matchup
The Big Ten is heading for a showdown game between Ohio State in the East and Wisconsin from the West. The winner of that game could well be the undefeated favorite heading for the Big Ten championship game in December. The Badgers play the Buckeyes in Columbus on Oct. 26.
This isn't to say either of these teams have clear sailing before or after their heads-up meeting. Ohio State also has Michigan State, Penn State, and Michigan on their schedule. Wisconsin has to play West division rivals Iowa and Nebraska, along with Michigan State.
Last year, Ohio State's run to the CFP was derailed by a 49-20 blowout loss to unranked Purdue.
#7 Auburn Tigers vs. nearly everyone – The Toughest Road
Want a spot in the College Football Playoffs? Just beat a lot of top-10 teams. Auburn, at #7, has a bunch of opportunities to improve their ranking. The Tigers play #9 Florida, #4 LSU, #3 Georgia, and #2 Alabama. Win those four games, and Auburn would be ranked at least #2. Possibly even #1. But that is one tough schedule. The postseason fate of many SEC teams will have to run around, or through, the Auburn Tigers squad.
#4 LSU and #9 Florida – Three Hurdles to Cross
While Auburn has to play four, undefeated, top-10 teams, LSU and Florida each have three to play. They face each other on October 5, and they both play Auburn. LSU also lines up against Alabama, while Florida has Georgia on their schedule.
Florida also has the season-ending rivalry game with Florida State.
#3 Georgia and #2 Alabama – The Likeliest Contenders
Georgia already has a statement win over #10 Notre Dame. Besides the Auburn matchup in November, the Bulldogs have #4 LSU in late October. Alabama will also play Auburn and LSU, both in November.
Georgia wraps up the regular season with Georgia Tech, which this year, doesn't appear to be a potential upset game. Alabama must also not overlook their tough matchup on Nov. 23 against West Carolina.
Once all the dust clears from the regular season matchups, there is still the matter of the SEC title game.
SEC Championship Game
Standing in the way of an undefeated season and/or a College Football Playoff slot is the SEC title game on Dec. 7 in Atlanta. Potentially undefeated teams in that game include:
#2 Alabama
#3 Georgia
#4 LSU
#7 Auburn
#9 Florida
Only two of them can make it to the title game. Florida or Georgia from the East division, and Alabama, Auburn or LSU from the West.
While it's too soon to tell, it is possible that both the winner and the loser of the SEC title game could get a bid to the CFP final four. Or, the SEC teams could trade wins and losses, opening up a slot in the CFP for a team not currently in the top 10.